Scorpio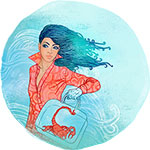 Oct 23 - Nov 21
---
Today's Horoscope
This week
This month
---
Scorpio Weekly horoscope for Sep 25 to Oct 1, 2023
The lines between the past, present and future are not only blurred but are paper thin, allowing you to travel between each realm and back again. Firmly focused on the present is not just Mercury, who in his last full week in your friendship sector is making this an important weekend for all aspects of connecting, but Venus and Juno as they move into the new working week aligned in your career sector. However, even here there are links to the past, with Mercury spending the week at a friendly aspect to both planets in retrograde motion in your relationship sector, while Friday's Full Moon in your work sector has a close association with planets in retrograde motion there. Professionally and when it comes to communication, friendship and relationship building you are grounded in the here and now but with doors to the past still open. At the same time, having the North Node in your work sector is a window into the future while as she moves into her second week in Scorpio, the dwarf planet Ceres is updating your needs and priorities ahead of new doors set to open over the coming weeks.
Love & Romance
While the Moon will visit both your romantic and relationship sectors this week, even before then the stars are shining more favourably on both. The week begins with the Moon just wrapping up its monthly visit to your communication sector, its last while Pluto is in retrograde motion here, its first since both planets in your relationship sector turned retrograde and since Mercury, the planet of communication turned direct. With Mercury forming a friendly aspect to Jupiter in your relationship sector at the start of the week and to Uranus there over the weekend, the Moon is giving voice to an already good week for friendship and relationship building. This is something that the Moon can help you capture when it returns to your relationship sector on Sunday. Meanwhile, it is in the heart of the working week that the Moon will return to your romantic sector, where there is just as much support and where with both planets here in retrograde motion the doors are open to the past and second chances.
Business & Career
On Monday Venus will not only move into the final two weeks of her longest visit to your career sector in our lifetime, but just as she has caught up and aligned with the asteroid Juno, the queen of commitment. After coming together briefly earlier in the month, this time Venus is back in direct motion and able to keep pace, something that will not only keep them aligned all week, but this will be at its tightest in the heart of the working week. This is giving you the confidence and resolve to follow your heart as not only Venus' four month visit draws to a close but all planetary activity on the career front. However, there is still plenty to squeeze into these final weeks and the Moon's return to your work sector on Friday as a Full Moon will help with that. This is going to give both job and career matters a boost just as Venus moves into her final 10 days in your career sector, with her and Juno able to capture and run with the momentum this can create.
Money
While the Moon left your income sector over the weekend, this is something that will always be an advantage. As well as allowing you to move into the new working week with a sharp nose for money from the start, you have begun to unpack a download of information, something that as your subconscious processes will continue to send the right clues, hunches and insights at the right time. Moving into any new working week this will always be an advantage but especially when the week not only begins with Venus and the asteroid Juno aligned in your career sector but still aligned with the Moon returns to your work sector on Friday as a New Moon. With Venus, the planet of money moving into her final two weeks in your career sector on Monday she was always going to use that intuitive sense of where the money is to steer the rest of this professional year onto a lucrative course that it can maintain.
Health
The Moon will return to your health sector every four weeks and for the few days that it takes to move through this will give you an intuitive read on what your body is telling you. However, once a year and always at some point during the month long wind down of your old solar year, which began over the weekend, it will clash with the Sun to create a Full Moon. This is what will happen when the Moon returns as a Full Moon on Friday, something that might put your physical resources to the test but not leaving until Sunday, with time on the other side to let this sink in.
---
You may also like