Scorpio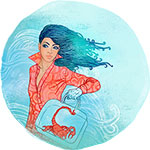 Oct 23 - Nov 21
---
Today's Horoscope
This week
This month
---
Scorpio Weekly horoscope for Oct 18 to Oct 24, 2021
A combination of Jupiter and Mercury both turning direct in the early hours of the week brings us to a major turning point in the year and for you, the timing couldn't be better. What began with Pluto's direct turn 12 days earlier, will end with Mercury's direct turn and by Tuesday, the four planets holding things back will have all released their brakes. Why the timing is significant for you is that it comes just as you are moving into the final days of this old solar year and by the time the Sun returns to Scorpio on Saturday to begin your birthday month and new solar year there will be a tailwind at your back. With Mars returning to Scorpio later next week for the first time in two years, where life has been sluggish things will soon be racing ahead. In the final days of your old solar year, there is a call to stay in the slow lane though a lead up to a Full Moon in your work sector on Wednesday could get the week off to a busy start.
Love & Romance
While the Moon will leave your romantic sector on Monday there is something about the wishful thinking this may inspire that hints at things to come. Before leaving on Monday the Moon will align with dreamy Neptune, something that it does once a month and will always see the tail end of these romantically charged lunar vibes inspire your confidence and a lot of wishful thinking. The difference this time is that as the Moon and Neptune align Jupiter turns direct, making a U turn that will see him return to your romantic sector at the end of the year. At the moment the Moon is inspiring wishful thinking on the romantic front, the scene is set for a reunion between the planets of luck and dreams here later in the year. It is between Thursday and Saturday that the Moon will return to your relationship sector, with a chance to become more emotionally engaged.
Business & Career
The Moon's return to your work sector on Monday was always going to be an advantage, giving you an intuitive read on work and job matters during the first half of the new working week. The Moon returns every four weeks and as well as giving you an intuitive edge this can act as a trigger, making these the most potentially active and significant days on the job front in any month. However, this is no ordinary monthly visit, with the build up to a Full Moon midweek able to give work and job matters a boost. This is the Full Moon that falls halfway between the Sun's last visit and the next and with the Sun now on the other side of the sky, the pressure between them can be the push that a breakthrough needs. For the first time in eight years, Venus' early return to your income sector means she will be on hand to make this something that could give both income and job potential a boost.
Money
By the time you move into the new week Venus, the planet of money has been in your income sector for 10 days but is about to get a massive boost. Last year Venus didn't return until December so to have her here this early in the year is an advantage that will become a lot more significant when the Moon returns to your work sector on Monday. This is no ordinary visit, with the Moon returning to create the Full Moon that will always fall at this time every year. Because Venus is rarely in your income sector at this time of year, to be here during this Full Moon and especially as the Moon will form a friendly aspect as it moves through, could be a catalyst for income and job matters. It has been eight years since Venus was last here during this Full Moon, with a lot of energy on the income and job fronts between Monday and Wednesday. This is something that Venus will continue to take advantage of until she leaves early next month.
Health
When the Moon returns to your health sector each month this will always give you a better read on what your body is telling you. However, when it returns on Monday it will be to begin the lead up to a Full Moon that will always fall at some point during the month long wind down of your old solar year and also halfway between the Sun's last visit and the next. A Full Moon is a clash between the Sun and Moon and this can flush out any issues. However, this will also make you more aware at a time when there is an opportunity for a reboot.
---
You may also like