Scorpio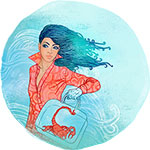 Oct 23 - Nov 21
---
Today's Horoscope
This week
This month
---
Scorpio Weekly horoscope for Sep 26 to Oct 2, 2022
The Sun's return to a nostalgic and reflective part of your chart on Friday began the month long wind down of your old solar year and with it a chance to start closing old doors. Yet the four weeks that Mercury had already spent here before retrograding back out just hours after the Sun's return means that you have already begun that process. This means that when the Moon returns to Scorpio on Wednesday, there will be a chance to start looking to the future. This will not only be the Moon's last visit before your birthday month and new solar year begins but before it returns as an eclipsing New Moon, with clues to what lies ahead. Meanwhile, Mercury has retrograded back into your friendship sector with the planet of communication on hand to make the most of Venus' final days here before she leaves on Thursday. Despite the wind down of your old solar year needing more time to hear yourself think, this is a good week for connecting, friendship and relationship building.
Love & Romance
While the Moon is just leaving a social and serendipitous part of your chart as we move into the new week, its alignment with Venus over the weekend will ensure her final days are some of the best. Throughout the planet of love's time here she will be working the laws of attraction and synchronicity to put you in the right place at the right time and thanks to the Moon, heart and gut are not in close communication. This comes just as Mercury, the planet of communication has retrograded back in and while both he and Venus are in close contact with planets on the communication and relationship fronts. Until Venus leaves on Thursday the potential is high for serendipitous moments and/or encounters but also a good time for friendship and relationship building. Meanwhile, the Moon's return to Scorpio from Wednesday to Friday is a chance for a personal check in but can also energise things on the romantic and relationship fronts.
Business & Career
While the call from the Moon at the start of the week is to slow down and pace yourself, thanks to Monday's New Moon in a nostalgic and reflective part of your chart, the timing couldn't be better. This is going to stop you from rushing into the new working week, giving you a better chance to get the most out of the dwarf planet Ceres' final days in your career sector. It is Ceres' departure on Thursday that will not only bring her last deep dive into your professional needs and priorities for another four years to an end but all planetary activity on the career front for the year. A slower start to the week gives you time to focus more on the message when it comes to professional satisfaction and a sense of purpose. With Jupiter moving into his final month in your work sector on Wednesday but then returning again before Christmas, the professional gods are playing a long game. It is the Moon's return to your income sector on Friday, a day after Ceres leaves that could have lucrative implications but will also be a valuable chance to regroup.
Money
This will prove to be an important week on both sides of the financial fence though it is not until the second half of the week that this will become clear. However, things get off to a good start when the Moon not only returns to an intuitive and imaginative part of your chart on Monday but as a New Moon. This is the Moon's second visit since Mars' return to your financial sector and a friendly aspect before leaving on Wednesday can fuel your financial confidence, instincts and imagination while adding fuel to his financial passions and fighting spirit. After nearly six weeks in your financial sector, these should be Mars' final days but instead of leaving, by the time the Moon leaves on Wednesday he will not only be slowing down but will have formed a friendly aspect to Saturn. This brings Mars' warrior spirit and Saturn's steely sense of resolve together, just as there is a chance to take your financial power back. Meanwhile, the Moon's return to your income sector from Friday to Saturday can sharpen your nose for money and act as a trigger.
Health
The Moon is making this a week of two halves for the planets in your health sector. Monday's New Moon is going to put how well you know when to keep your work hat on and when to take it off to the test just as you move into the first full week of the month long wind down of your old solar year. This is always an important point in any year for slowing down and making time to hear yourself think, with the Moon sending the right message at the right time. Yet from Friday to Sunday the Moon will move into a friendly aspect to all three planets in your health sector, boosting your confidence and your energy levels.
---
You may also like