Scorpio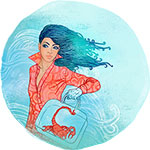 Oct 23 - Nov 21
---
Today's Horoscope
This week
This month
---
Scorpio horoscope for May 2023
Change is in the air and the area of your life this will be most pronounced is on the relationship and professional fronts, but with money matters and the playful, creative and adventurous side of life's fence also well represented. What makes the changes on the professional front so significant and such a standout is that within the space of just four days, from 17th May to 22nd May, the whole dynamics of this professional year are set to change. Until then, Jupiter's final weeks in your work sector are likely to keep you busy, as a 12 month quest for job growth and expansion moves into the home straight, but with a chance first to gain the kind of momentum that will be easy to maintain but with less urgency.
This should and does see things dial back but it is just four days later that Mars will return to your career sector on 21st May. This is Mars' first visit in two years and the warrior planet of the cosmos will return in time to seize the momentum and hard work already invested on the job front as he looks to new heights on the career front. What makes the timing significant is that Mars will be here when Venus returns early next month for what should be a 24 day visit, but instead not leaving until October will be her longest in our lifetime. After just four days, the professional gods are shifting their resources from job and onto career matters.
Before then Mars will be doing his best to make the most of his final three weeks in your sector of adventure, travel, learning and discovery, though with Venus returning on 8th May and then here for the rest of the month, this will be easy to maintain and can ensure life doesn't become all work and no play. Helping with that is not only having Saturn and Neptune in a playful and creative part of your chart but Venus will move into a friendly aspect to both as she moves through. Meanwhile, four days after Jupiter leaves your work sector and returns to your relationship sector the Sun will leave on 21st May, though not before a New Moon on 20th May offers a chance for new beginnings and to draw a new line in the sand.
Love & Romance
Because the Sun will always spend the first three weeks of May in your relationship sector, the solar spotlight is always on your relationships at this time of year, though with some major differences this time. To start with it is business as usual though with Mercury, the planet of communication in retrograde motion here until 15th May you are not only looking back but with a chance to give your relationships, the past and unsaid words a voice. It was early last month that Mercury returned for what is normally a 14 to 15 day visit, one that would have seen him leave before the Sun even returned, let alone still here for the major developments that are set to take place in the second half of the month.
Apart from an eclipsing Full Moon in Scorpio on 6th May that will see it clash with the Sun, putting a balance between your personal and relationship needs to the test, it is business as usual in the first half of the month. Mercury will be on hand to give anything the lunar eclipse might flush out a voice but slowing ahead of his direct turn on 15th May and with the Sun keeping the solar spotlight on your relationships and on the road ahead, there is nothing to suggest the big changes ahead. It is from Mercury's direct turn on 15th May that things start to change, firstly with the planet of communication taking the brakes off and shifting his focus onto the future as well.
Mercury will be back in direct motion when two days later Jupiter, the planet of luck and expansion returns to your relationship sector on 17th May to begin your biggest year for relationship growth and expansion in over a decade. A day later the Moon will not only return to your relationship sector, ensuring you are emotionally engaged during Jupiter's early days here, Mercury's early days in direct motion and the Sun's final days, but to begin the lead up to a New Moon on 20th May. The Moon is here from 18th May to 20th May and in those critical handover days between Jupiter's return on 17th May and the Sun's departure on 21st May. Meanwhile, while matters of the heart have already got some heavy duty support Venus, the planet of love's return to an adventurous part of your chart on 8th May will add to that.
Business & Career
While the Sun left your work sector last month, even if Jupiter wasn't still here and in the final weeks of a 12 month quest for job growth and expansion, an eclipsing New Moon just before he left would have created more than enough momentum to keep the wheels turning. However, what the Sun's departure did was shift the focus from the spotlight that this puts on your work situation and job matters at the same time each year and onto Jupiter's longer term objective. While Jupiter returned in May 2022, most of the momentum that will get work and job matters up to speed and the wheels turning for months if not years to come has all happened in the last three months.
By the time the Moon returns on 15th May, Jupiter will be in his final 48 hours and staying on for a few hours after he leaves and until it too leaves on 17th May, it will be here to ensure your instincts are sharp and you are emotionally and intuitively engaged as things finally ease back. Before leaving the Moon will align with the dwarf planet Eris, who as the warrior princess of the cosmos will keep the momentum going but with a lot less urgency. With Jupiter and the Moon both leaving on 17th May this will be a chance to catch your breath and exhale, knowing that you have just run the race of a decade.
However, you won't be able to rest on your laurels for long and in fact, you have just four days before this professional year not only picks up speed again but in a completely new way. It is on 21st May that Mars, the planet of passion and the warrior planet of the cosmos will return for his first visit to your career sector in two years, with the Moon's return from 25th May to 27th May giving you an early read on his work passions, fighting and competitive spirit and of where to channel this. However, this is just the start of something special, with Venus returning next month to begin her longest visit to your career sector in our lifetime.
Money
While the Sun won't return to your financial sector until 21st May, it is a given that the solar spotlight will always be on your financial situation and money matters by the end of this month. However, things have not only gotten off to an early start but with planets that can distance themselves from the Sun's more realistic take on money matters and the month long financial housekeeping that he will begin on 21st May. The planet that is benefiting from this the most is Venus, who last year returned to your financial sector after the Sun had been and gone and when most of your financial intentions and resolutions had been banked.
This year Venus not only returned ahead of the Sun but when she returned last month it had only been 17 days since Mars had wrapped up a seven month visit. Where Mars had spent from August 2022 to March 2023 firing up your financial passions and fighting spirit, something that he will normally get to spend just six weeks doing, you not only had a lot of momentum but the warrior planet had cleared the path ahead of obstacles, roadblocks and barriers, whether real or imagined. As the planet of money, Venus knows how to exploit financial potential and also how to fuel your financial confidence. Until leaving on 8th May, this also leaves Venus free to update your financial desires and expectations, knowing that the Sun and Mercury, when he returns next month can focus on the when, where and how.
What will not only keep the momentum going after Venus leaves and before the Sun's return on 21st May but will give you time to turn her desires into resolutions will be the asteroid Juno, the queen of commitment's return on 2nd May. Meanwhile, with no planetary activity on the income side of the financial fence but a big month on the job and career fronts, the Moon's return to your income sector from 7th May to 9th May will be more than just a chance to check in. The Moon can sharpen your nose for money and act as a trigger and returning just as Jupiter moves into his final 10 days in your work sector the timing couldn't be better.
Health
Until Jupiter leaves your health sector on 17th May the focus is on investing in the future and especially when it comes to knowing what you need for your physical and mental wellbeing and having something to commit to. This isn't about a quick fix, a fad diet or an overnight cure all, but recognising what you need long term and putting practices and intentions in place that will provide a guide for months if not years to come. Jupiter expands what he touches and this includes your intentions and any health issues that need your attention so that you can address them. It is Eris the warrior princess of the cosmos who will stay on to help you stick to your intentions. You will get a better read on this and of what your body is telling you when the Moon moves through your health sector from 15th May to 18th May.
---
You may also like