Scorpio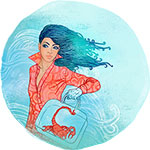 Oct 23 - Nov 21
---
Today's Horoscope
This week
This month
---
Scorpio horoscope for October 2021
October will always be a transition month for you, as well as a month where the lines between the past, present and future will at some point begin to blur. This is also a month where there is a lot of contrast between where things start and where they end. The month long wind down of your old solar year has always just begun by the time you move into October and the focus is on closure, endings, completion and also on reflection as you process the journey this has taken you on. Yet you will end the month with the Sun in Scorpio in a new solar year underway, with the focus on new beginnings and on embracing a new journey.
The point where the focus shifts from one to the other is 23rd October, when the Sun leaves Libra and returns to Scorpio, ending one solar year and starting the next. Regardless of when your actual birthday falls and whether you are an October or a November born Scorpio, this is when your birthday month and new solar year begins and with it a chance for a reset. Yet the lines are a little more blurred than usual this year, with Mars not returning to Scorpio until 31st October and Mercury not until early next month. This will keep the doors open to the past all month. Yet you also begin the month with Venus already in Scorpio, where she is already opening new doors and giving you a chance to do some window shopping before your birthday month and new solar year begins.
Venus is also giving you a glimpse into what you can expect from your new solar year when it begins, with many of the themes that will dominate the coming year already making their presence felt or starting to. Clear from the start is that this will be a big year for home, family and/or property matters but also with clues that matters of the heart and all things fun, playful, romantic and creative are set to play a bigger part in your life. In the meantime, Venus' departure from Scorpio and return to your income sector on 8th October is good news for income and job matters.
Love & Romance
While all planets on the romantic and relationship fronts are in retrograde motion and looking to the past, starting the month in Scorpio Venus, the planet of love is looking to the future. By the time you even move into the new month, Venus has already interacted with planets on both fronts. A clash with Uranus, in retrograde motion in your relationship sector and a friendly aspect to dreamy Neptune, in retrograde motion in your romantic sector has already given Venus' mission to update your romantic and relationship desires and expectations the insight it needs. Until she leaves on 8th October, Venus is asking that you listen to your heart.
Venus' job is to update your romantic and relationship desires and expectations for your new solar year and she will normally be here during your birthday month. However, with the Sun not returning to Scorpio until 23rd October and Venus been and gone by then, she is looking to the future in a way that calls for some blind faith. Yet, with Uranus in retrograde motion in your relationship sector and Neptune in your romantic sector, she will also work to exploit the doors open to the past and second chances on both fronts before leaving. It is after Venus leaves that the Moon will bring a chance for a deeper dive into both.
The Moon will make its monthly visit to your romantic sector from 16th October to 18th October and while Venus will no longer be in Scorpio, dreamy Neptune will still be energised from her time there. With Neptune still in retrograde motion in your romantic sector, there will be a lot of romantic nostalgia in the year. The Moon will make its monthly visit to your relationship sector from 21st October to 23rd October. As well as a chance to become more emotionally engaged, this will be a chance to reflect on the better understanding of what you want from your relationships and what they need from you that Venus will leave you with.
Business & Career
While it is business as usual on the job front this month and for the majority of the month fairly quiet, there is not only reason for confidence but times when things will come alive across the income, work and career fronts. This is a point in this professional year where there all of the faster planets have moved through your work and career sectors and a skeleton crew is keeping the momentum going. A key member of that skeleton crew is the dwarf planet Eris, who year after year and decade after decade is keeping the wheels turning and as the warrior princess of the cosmos, your competitive spirit alive.
Eris will spend the rest of the year in retrograde motion and while her warrior spirit is there to draw on, she will mainly stay in the background until energised by external forces and this is what creates pockets of excitement this month. The biggest boost is Venus' return to your income sector on 8th October, kicking off what could be the most lucrative months of 2021. Over the month this will see Venus draw closer to a friendly aspect to Eris, increasing your confidence on the income and job fronts. Both will get a boost when the Moon visits your two professional houses.
When the Moon moves through your career sector from 1st October to 3rd October, as well as fuelling your professional instincts and imagination a friendly aspect to Eris will give you a read on both job and career matters. It is when the Moon returns from 28th October to 31st October that this will bring Venus into the loop, making the final days of the month especially positive across the income, work and career fronts. There will be an even bigger impact when the Moon not only moves through your work sector from 18th October to 21st October but when as a Full Moon this could act as a catalyst for income and job matters.
Money
It might be a coincidence, but just a day after Venus returns to your income sector on 8th October the dwarf planet Ceres will turn retrograde in your financial sector. While they will still clash in the middle part of the month by Ceres moving her mission to update your financial needs and priorities into review mode, this leaves the way clear for Venus to focus on new income potential. With the Sun not returning to your income sector until later next month, this is early in the year to see signs of new movement on the income front but the reality is, things have been on a slow boil all year.
With the lunar nodes spending the whole of 2021 in your two money houses and with both sides evenly balanced over recent months, Venus will return to find that everything is set up and ready to exploit. While you have had the South Node and its focus on untapped income potential in your income sector since May 2020, it was the asteroid Juno's return late last year that allowed you to move into the year with a sense of resolve and commitment. Returning every four years for what is normally a three month visit Juno, the queen of commitment should have left in the early months of the year but instead, a retrograde turn has kept her here.
Last year Venus didn't return until December and didn't leave until early January and having started the year with Juno here, returning to find her still here will give the planet of money a running start. Venus is slowing down so will spend nearly a month in your income sector and will be working to make her time here, from 8th October to 6th November as lucrative as possible. What Venus begins this month Mars, who will return in December for the first time in two years, will have until well into January to bring home.
Health
In the final weeks of your old solar year, you are often running on empty and that can put both your energy levels and your immune system under pressure. This is why this is always an important point in the year to listen to your body and especially when it comes to how far you can and can't push yourself. This is likely to linger even after the Sun returns to Scorpio on 23rd October, with a nearly two year long Mars cycle not running its course until 31st October. The Moon's return to your health sector from 18th October to 21st October will give you a better read on what your body is telling you. However, as a Full Moon, this will be harder to ignore or dismiss.
---
You may also like