Gemini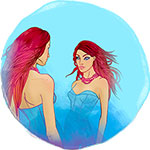 May 21 - Jun 20
---
Dec 9, 2023
Dec 10, 2023
Dec 11, 2023
---
Find out more about Gemini
Geminis are curious and intellectual by nature. They are forever exploring people and places in their quest to attain knowledge. Bright, witty and outgoing, the Gemini charm guarantees they will be the center of attention in any crowd. Matching their intellect is a well-developed imagination.
The duality of the Gemini personality can make it difficult to know just whom you are dealing with. They sometimes appear fickle, flighty and susceptible to whim. These traits often make it difficult for Geminis to finish much of what they start. The other side of their dual personalities is they have an innate ability to multi-task, which is good since their interests are many and varied.
The Gemini Intellect is the key to their being, and provides the foundation for their skills in the art of communicating. Geminis are not born leaders and will usually defer that position to another. However, their clear thinking and creativity allow them to contribute positively to any project. While Geminis love to talk, they also make for a great audience. Overall, their light spirit and interest in almost everything make them wonderful company.
Gemini in love
Geminis love intelligent conversation, so the way to the Geminian heart is through the head. The Geminian is best involved with a steadier, stronger personality who will tolerate and enjoy their butterfly socializing, yet still be there for them when the cards have all blown down. They are willing to experiment with all manner of relationship styles; and as long as their partner is articulate, tolerant, exciting, adventurous and willing to discuss their exploits in detail, they will be ecstatic.
Because Gemini is not above straying, they are rather divorce prone. However, typically they think the joys of an occasional adventure more than make up for the risks involved. Geminis are exciting companions who crave excitement and variety. They assume they will be able to easily smooth over troubled waters with their silver tongue--they are tolerant of the peccadilloes of their partners, so long as they are not stolid or boring.
Famous Gemini Include:
H.R.H. Philip (Duke of Edinburgh), Sir Arthur Conan-Doyle, Marilyn Monroe, Judy Garland, Bob Hope, John F Kennedy, Walt Whitman, Al Jolson, Bob Dylan, Thomas Hardy, Miles Davis, Bob Dylan, Stravinsky, Confucius, Kirk Kerkorian and Paul McCartney
Ideal Jobs:
Geminis are well-suited to be explorers, writers, merchants, translators, publicists or talk show hosts.
Personality Traits:
Adaptable, Versatile, Communicative, Witty, Intellectual, Eloquent, Youthful and Lively
Negative Personality Traits:
Nervous, Tense, Superficial, Inconsistent, Cunning and Inquisitive
Lucky Numbers:
3, 12, 21, 30, 48, 47
Planet:
Mercury
Star Stone:
Moss Agate
Element:
Air
Most Compatible With:
Libra, Aquarius, or Gemini
---
You may also like