Gemini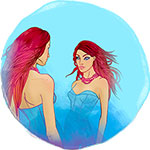 May 21 - Jun 20
---
Today's Horoscope
This week
This month
---
Gemini horoscope for September 2022
With your birthday month well and truly behind you and this new solar year underway for months now, you wouldn't expect any new developments on the personal front this late in the year. However, it was late last month that everything changed when after two years, Mars returned to Gemini to begin a new two year Mars cycle. Normally, that would mean that Mars would spend six weeks fuelling your passions, drive, competitive and warrior spirit as he looks for something to channel this into. This is a time for starting new quests, projects or just for throwing yourself into anything that excites you, knowing that what you can start in these early weeks will help shape and define the two year Mars cycle ahead.
Mars is a planet that wants things to happen now and this can create urgency, a rush mentality and at times such a frenetic pace that it feels like you are chasing your own tail. Instead, Mars is already slowing down ahead of a retrograde turn later next month and by the time he eventually leaves in March 2023, he will have spent seven months here, his longest time in your sign in eight decades. This is unknown territory, giving you time to explore vastly more options while taking away the normal urgency. You have time and you have the warrior planet of the cosmos on speed dial for the rest of the year. Meanwhile, Mars is helping to inspire other areas of your life, namely on the playful, creative and adventurous fronts.
This is thanks to Mars' association with Saturn in your sector of adventure, travel, learning and discovery, both now and over the coming months and with the faster planets returning to a fun, playful, romantic and creatively charged part of your chart this month. While a Full Moon on 10th September will give both job and career matters a boost, things are stable and settled on both fronts so there won't be the demands. This means there is no reason why you can't have it all, especially if you make work/life balance a priority. This is something that the Full Moon on 10th September might put to the test but at a time when you have the incentive to get it right.
Love & Romance
The Sun's return to your romantic sector on 23rd September is the point in each year when the solar spotlight shifts onto matters of the heart and all things romantic. However, things got off to an early start when Mercury not only returned late last month but to begin the first planetary activity on the romantic front this year. Apart from the Moon's monthly visits, no planet has paid any attention to matters of the heart this year but that has all changed. As the planet of communication, Mercury has returned to spend what is usually 14 to 15 days working to give your heart a voice and to put heart and mind on the same page. As Mercury has already been here for six days by the time you move into the new month, he should be long gone by the time the Sun returns on 23rd September.
Instead, a retrograde turn on 10th September will not only keep Mercury here long enough to ensure he is still here and there is continuity but while he will retrograde back out less than 12 hours after the Sun returns, he will return for a second visit next month. This creates a month where the focus is on matters of the heart and all things romantic but in three distinct chapters. Until turning retrograde on 10th September, Mercury is looking to the future and after no planetary activity in your romantic sector for so long, on bringing the spirit of romance alive. From 10th September to the Sun's return on 23rd September Mercury is alone and in retrograde motion, this puts the focus onto the past.
It is the Sun's return on 23rd September and Mercury's departure just hours later, that will put the focus back onto the future again. It is also in this third chapter that the magic happens. It begins with the Moon's return on 26th September, with romantically charged lunar vibes in play until 28th September. However, it is the New Moon this will create on 26th September that can create an opportunity for new beginnings or just a lot of forward momentum. However, the real magic begins on 29th September when Venus, the planet of love returns to begin what can be the most romantically charged weeks of any year, something that by then you will have spent over a month preparing for.
Business & Career
While this is a fairly quiet month on both the job and career months, this is the calm before the storm and a chance to catch your breath before things fire up on both fronts and in a spectacular way. For now, while there has been no planetary activity in your work sector this year, the South Node has been here since January, quietly keeping things on track but also biding its time, waiting for the Sun's return next month and the solar eclipse this will trigger. At the same time, since Jupiter left your career sector in May, Neptune and the asteroid Juno have kept things on track but with both in retrograde motion, they are taking advantage of this lull to backtrack and regroup. This month won't be too much different to last month except that you no longer have Venus in your income sector.
Apart from that it is business as usual but with a chance to pull back as you prepare for some major changes on both fronts. Next month will not only see the Sun, Venus and Mercury all return to your work sector, beginning the first planetary activity on the job front this year but having the South Node here will turn a New Moon here later next month into a solar eclipse. Eclipses give a New Moon a lot more power, mainly because it is a trigger for everything that the South Node has been working towards. However, what will make the timing auspicious is that it will come just as Jupiter retrogrades back into your career sector, where he will spend just under two months tying up loose ends and bringing things home.
Coming up are not just the most significant months of the year on the job and career fronts but some of the most significant in decades, with September a chance to prepare for what lies ahead and to take advantage of a chance to not only explore your options so you are ready to hit the ground running but with a chance to first go back over old ground. This also makes the Moon's visits to your two professional houses a lot more important. The Moon will move through your work sector from 1st September to 3rd September, giving you an intuitive read on work and job matters as you move into the new month while returning from 28th September to 30th September to do the same. This time, it will be for the last time before the Sun returns. Meanwhile, a visit to your career sector from 9th September to 11th September will create a Full Moon on 10th September, something that could act as a trigger and a catalyst for both job and career matters.
Money
Late to arrive and therefore late to leave, Venus didn't finally wrap up this year's planetary activity in your income sector until last month. With the Moon having already made its first visit since Venus left, this has given you a chance to tie up loose ends but also revisit her expectations, the momentum created over previous months and the lucrative sense of direction that the planet of money had left you with. While all the planetary activity has now shifted to the other side of the financial fence, this leaves you with everything needed to ensure that you don't miss out on an opportunity. However, this has also ended the competition between income and money matters and this is just part of the reason for a new sense of financial confidence.
The other factor is the support that Pluto, in his last full month in retrograde motion in your financial sector is getting. It was a friendly aspect to Mars last month that brought the planets of war and revolution together, something that really fired up your motivation as well as your financial confidence, instincts and imagination. This month a lot of that confidence is coming from the Sun, who will always spend the first three weeks of September in your financial sector. This is something that will not only see them form a friendly aspect just before the Sun leaves on 23rd September but with Mercury retrograding back in at the same time to continue that support. This will create positive conditions for financial matters on the home front.
In the meantime, while the planetary activity is now all in your financial sector, the Moon will continue to visit your two money houses, giving you a better read on both sides of the financial fence. The first is the Moon's return to your financial sector from 5th September to 7th September, something that can fuel your financial instincts and imagination while allowing you to become more emotionally and intuitively engaged. It is when the Moon moves through your income sector from 18th September to 21st September that it will sharpen your nose for money and act as a trigger and not just financially. This will see the Moon form a friendly aspect to forces on the job and career fronts as it moves through.
Health
While it is not until next month that the Sun and the faster planets will return to your health sector for the first time this year, with the South Node here since January this is quietly keeping things on track. Along with its partner the North Node, the South Node is all about balance and this includes all aspects of your health but especially when it comes to a balance between rest and activity. The Moon will give you a chance to check in with this and with what your body and your gut as telling you when it moves through your health sector from 1st September to 3rd September and then again from 28th September to 30th September.
---
You may also like