Gemini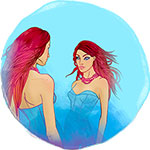 May 21 - Jun 20
---
Today's Horoscope
This week
This month
---
Gemini horoscope for February 2023
February is when the Sun will always spend the majority of the first three weeks in your sector of adventure, travel, learning and discovery before returning to your career sector. A month that begins with the solar spotlight on the more adventurous side of life will end with the spotlight on your professional life, but things are never that clear cut. On the one hand, while Venus and Mercury travel with the Sun they can be slightly ahead or behind, which is the case this month. On the other hand, because Saturn has been in an adventurous part of your chart since 2020 and Neptune in your career sector since 2012, neither ever goes completely off the boil.
This year Venus is racing ahead of the Sun and while he won't turn the solar spotlight onto your career and professional situation, matters and options until 19th February, she not only starts the month here but will leave a day after he returns. A New Moon on 20th February will peak 50 minutes before Venus leaves, giving her time to first work with Neptune to fuel your professional dreams, desires and expectations. With Saturn returning next month, it looks like this is where the pendulum is set to land. However, with Pluto returning to an adventurous part of your chart just a few weeks after Saturn leaves, that balance will be retained.
In addition, held back by a retrograde phase, Mercury won't leave your financial sector and return to an adventurous part of your chart until 12th February. Until then, Mercury is giving you the smart head for money and the means to make smart financial choices, decisions and plans as after nearly 15 years, Pluto reaches his last full month here. Mercury will spend the rest of the month in an adventurous part of your chart, the Sun in your career sector and Venus with Jupiter and a line up of planets in your friendship sector. These are set to be the three most dominant areas of your life in 2023.
Love & Romance
While this is not a particularly active month on either the romantic or relationship fronts, each gets something that they need and also a lot of support from the Moon. That means that there are narrow windows that need to be seized. There is more focus on matters of the heart, with the dwarf planet Ceres spending her last full month in your romantic sector before retrograding back out next month. While not a power player, Ceres' deep dive into your heart's needs and priorities will shift its focus onto the past when she turns retrograde on 4th February. It is five days later that the Moon will make its second visit to your romantic sector for the year, with the romantically charged lunar vibes from 9th February to 12th February amplifying a sense of romantic nostalgia.
Before then, the Moon will not only move through your communication sector from 4th February to 7th February but will become a Full Moon on 6th February. With no planetary activity in either your communication or relationship sectors, this is something that will give both the communication lines and your relationships a boost. While there is no planetary activity in your relationship sector, the Sun only left just before Christmas, so a sense of what you want from your relationships and what they need from you is still fresh.
Therefore, a little bit of communication support will go a long way. It is a week after the Moon leaves your communication sector that it will make its monthly visit to your relationship sector from 14th February to 16th February. This is always a chance to become more emotionally engaged and a week on from the only Full Moon in your communication sector this year, you should still find it easy to give your emotional responses and relationships a voice. As the Moon will clash with Mars in Gemini as it moves through, this couldn't be more important.
Business & Career
Regardless of how active the professional gods were going to be this month, with Mars not only in his first full month in direct motion in Gemini but his last before leaving next month, his warrior and competitive spirit would be looking for an outlet. Fortunately, the professional gods are giving him one, as a new chapter of professional growth and expansion opens up. It was just before Christmas that Jupiter left your career sector, finally ending a visit that had begun in May 2021 but had seen him come and go three times.
This was a disjointed visit, but each time Jupiter returned to plant more seeds and to spend time with Neptune, the planet of dreams and fantasies. Jupiter had left before you moved into the New Year but with the asteroid Juno, the queen of commitment in the final weeks of her nearly eight month visit, there was no shortage of motivation. Neptune was back on his own when Venus returned late last month and until the Sun returns on 19th February, the planets of desire and dreams have a chance to add even more fuel to a sense of what's possible that Jupiter left you with. What makes that important is that while the Sun will always turn the solar spotlight on your career and professional situation, matters and options at this time each year, Saturn will be just weeks away by then.
It is early next month that Saturn will not only return to your career sector but will spend the next three years working to turn those dreams into reality. The Moon will not only move through from 20th February to 22nd February, ensuring your professional instincts are sharp as Venus leaves on 20th February, but just 50 minutes before she leaves it will align with the Sun to create a New Moon, ushering in the next phase. In the meantime, while things aren't as active on the job front, the Moon's return to your work sector from 12th February to 14th February will be a valuable chance to check in and can act as a trigger.
Money
On both sides of the financial fence, there is a growing sense of confidence, even though there is only planetary activity on one side. For now, all the action is in your financial sector, the side of the financial fence where the focus is more on what you do with and how you manage the money you have. That is always the case at not just this time of year but even when there is planetary activity on the income front, there will still be a need to keep an eye on the bottom line. Or at least that has been the case, with your sixth sense picking up on change in the air that is fostering a sense of anticipation on the income front, even though there is no planetary activity there.
With the Sun not returning to your income sector until towards the end of June each year and the faster planets always travelling with him, it is rare to have planetary activity here at this time of year or even on your radar. However, what you are picking up on is the implications from Mars' direct turn in Gemini last month, something that is good news for you personally, but also means that the warrior planet is finally on his way back to your income sector. Mars won't return until later next month, but his return two days after Pluto leaves your financial sector means he will have a completely clear run.
This is already creating a sense of anticipation, that as well as sharpening your nose for money and acting as a trigger the Moon will amplify as it moves through your income sector from 2nd February to 4th February. This will see the Moon clash with Mercury and Pluto in your financial sector, something that happens with every monthly visit. However, with Mercury leaving on 12th February and after nearly 15 years Pluto is in his last full month, the long reign of money matters over income potential is coming to an end. First though, this is a month for getting your financial ducks in a row, which the Moon will help with when it moves through your financial sector from 16th February to 18th February.
Health
The lunar nodes are continuing to police a need for balance and especially a balance between rest and activity, knowing when to push yourself and when to pull back. This is something that will be especially important this month, for with Mars in his first full month in direct motion in Gemini and as he is picking up speed and confidence as the month progresses, life is likely to become a lot busier. A lot of this will be self driven, for with his longest retrograde phase in your sign in eight decades behind you, the planet that thrives on action and activity is getting restless. This is a great month for shaking out the cobwebs, though with a need to be mindful of a need for balance. You will get a better read on how far you can and can't push yourself when the Moon moves through your health sector from 12th February to 14th February.
---
You may also like