Gemini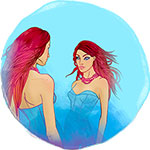 May 21 - Jun 20
---
Today's Horoscope
This week
This month
---
Gemini horoscope for May 2023
There is change in the air this month and after the big changes in March and things had a chance to settle in April, you are ready for another round. One of the biggest changes for you or the biggest event will be Jupiter's departure from your sector of friendship, teamwork and networking on 17th May and return to a nostalgic and reflective part of your chart. This is the start of the 12 month wind down of your current Jupiter cycle of expansion as you prepare for the planet of luck and expansion's return to Gemini in May 2024 and the start of a whole new cycle. Jupiter will return during the final days of your current solar year, a point in any year when you are reflecting on the past.
However, with the Sun returning to Gemini on 21st May to begin your birthday month and new solar year, this will shift a lot of your focus onto the future as you open new doors. As Jupiter's return is less an event and more the start of a journey and unlike the wind down of a solar year where you have just four weeks to sum up the year that has been, this is something that will continue for the next 12 months and in that time, life will go on. This will also give you time to complete what you have begun over the last 11 years. Meanwhile, the month not only begin with Venus already in Gemini, but she will leave on 8th May, though not before first giving your heart a voice.
It is then that Venus will join Mars in your income sector, with the planets of money and war joining forces nearly seven weeks into the warrior planet's war against glass ceilings, roadblocks and barriers, whether real or imagined. While Mars' weapon of choice is a sledgehammer, Venus' weapon of choice is the laws of attraction. This allows Mars to take a sledgehammer to roadblocks while Venus can attract the income potential on the other side. Venus will stay on after Mars leaves on 21st May but will join him in your communication sector early next month, where she will once again benefit from his sledgehammer approach, this time to communication barriers.
Love & Romance
With no planetary activity in your romantic or relationship sectors and none expected until the second half of the year, it is the Moon's monthly visits that will keep you emotionally engaged and connected. This also makes it a lot more important to pay attention during the few days that the Moon will spend in each. Because the Moon will make an early return to your romantic sector there will be time for it to double back before the month ends, meaning that it will make two visits this month. However, it is the first visit that will be the most significant because it will be while Venus, the planet of love is still in Gemini, with a friendly aspect as it passes through giving the spirit of romance a serious boost.
Venus is only in your sign until 8th May, with the Moon's return to your romantic sector from 2nd May to 5th May coming just in time to exploit her influence. As Venus is on a mission to update your romantic and relationship desires and expectations for the coming year, these romantically charged lunar vibes will help to raise the bar. The Moon will return to your relationship sector on 7th May, during Venus' last full day and in time to ensure you are emotionally engaged and as you set your relationship expectations, but not in time for them to clash. Because Venus will leave a day later and before they can move into opposition, this gives you insight into your relationships without creating any relationship tension.
By the time Venus leaves Gemini on 8th May you will have a good sense of what you want from love and your relationships, much of it gained during her final days. By the time the Moon comes full circle and returns to your romantic sector on 30th May, where it will see out the month, Venus will be long gone but with these romantically charged lunar vibes bringing with them a memory of her influence. This will end the month on a romantically charged note and with your birthday month and new solar year underway by then, with a reminder of what you want from love.
Business & Career
There is a lot to be excited about as you move into a month that is ripe with potential across the income, work and career fronts but is also part of an evolving partnership that will continue to evolve for months to come. It began with Saturn's return to your career sector in March, followed by Mars' return to your income sector a few weeks later. While Mars and Saturn formed have already formed a friendly aspect they have both also formed a friendly aspect to the South Node, the force that will turn a Full Moon in your work sector on 6th May into a lunar eclipse. There is already such a tight bond in place that whenever the Moon returns to your income, work or career sectors it will involve all three, each time cementing the partnership and increasing the potential.
You will experience this when the Moon moves through your work sector from 5th May to 7th May, creating an eclipsing Full Moon but also moving into a friendly aspect to Mars in your income sector and to both Saturn and Neptune in your career sector as it moves through. While Mars will leave your income sector on 21st May, Venus' return on 8th May will ensure that this three sided partnership is not only maintained but will continue to evolve. This is just Saturn's second full month in your career sector and here now for the next three years, this is getting things off to an empowered start.
Meanwhile, while the Moon's return to your career sector from 13th May to 15th May is an ordinary monthly visit, this will do more than just fuel your professional instincts and imagination. A week on from the eclipsing Full Moon in your work sector and with Venus in your income sector by then, this will once again bring things together from across the income, work and career fronts. What is triggered on a Full Moon and especially on a lunar eclipse will take weeks to fully play out but with Saturn slowing ahead of a retrograde turn next month, you have nothing but time.
Money
With the Sun not returning to your income sector until later next month, the point in each year when the solar spotlight shifts onto your income situation, matters and options, this is early in the year to have planetary activity here. Yet things have not only gotten off to an early start, the conditions are ideal for making May not only the most lucrative month of 2023 but with implications for months to come. It was in March that Mars returned for his first visit to your income sector in two years and held back for seven months by his retrograde phase in Gemini, he was late to return and has been fighting to make up for lost time ever since.
By the time you move into the new month Mars has been in your income sector for nearly six weeks, with his war on glass ceilings, roadblocks and barriers, whether real or imagined as he urges you to fight for what you deserve already having a lot of support. That support has come from a friendly aspect to Saturn in your career sector and to the South Node in your work sector. An eclipsing Full Moon in your work sector on 6th May is going to energise things across the income, work and career fronts, making Mars' job a lot easier. However, it is a day after the Moon leaves that things will take an even more lucrative turn when Venus, the planet of money returns to your income sector on 8th May.
Where Mars gives you the drive to fight for what you deserve, Venus works through the laws of attraction and working in tandem for the first time here in two years, this and the support from the professional gods is what makes this such a potentially lucrative month. Mars will leave on 21st May, but Venus will stay on, making the most of the last full month this year when there is no planetary activity on the other side of the financial fence to compete with. The Moon's return to your income sector from 22nd May to 24th May will be a chance to regroup after Mars leaves, while at the same time this can act as a trigger at a point when the laws of attraction are in effect.
Health
The Moon will make just one visit to your health sector this month, but it is set to make a significant impact. When the Moon moves through your health sector from 5th May to 9th May this will give you a better read on what your body is telling you, as it does with each monthly visit. The difference this time is that with the Sun on the other side of the sky, they will clash to create not just a Full Moon but a lunar eclipse. This is a Full Moon that will always fall at some point during the month long wind down of your old solar year, putting your physical resources to the test at a point in the year when they can be at their lowest ebb. The Moon isn't here long enough to be a challenge but it brings important wakeup calls and reminders.
---
You may also like