Gemini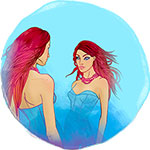 May 21 - Jun 20
---
Today's Horoscope
This week
This month
---
Gemini Weekly horoscope for Oct 18 to Oct 24, 2021
A massive turnaround at the start of the week might create a case of Mondayitis but with it an underlying hint of a major professional sea change ahead. It is on Monday, just a week after Saturn's direct turn here that Jupiter, the planet of luck and expansion will turn direct in your sector of adventure, travel, learning and discovery. After months in retrograde motion and due to leave at the end of the year, this is the point when the largest and most powerful planet in the solar system comes out of hibernation, determined to make his final months here count. It is just hours later that Mercury will turn direct in a fun, playful, romantic and creatively charged part of your chart, where the Sun and Mars are ready to take things forward. However, with the Sun in your work sector by the end of this week, Mars by the end of next week and Jupiter in your career sector by the end of the year, this also hints at a sea change ahead. This makes it even more important to make the most of these playful, creative and adventurous influences while you can.
Love & Romance
While this is an important week on both the romantic and relationship fronts, where one moves into its final phase the other is still in the early part of just the first phase. It is on the romantic front that things enter their final phase or at least they will when Mercury returns direct in your romantic sector. The week begins with Mercury still in retrograde motion but just hours away from turning direct already has his hand on the doors to the past, ready to close them. With the Sun leaving your romantic sector on Saturday, Mars later next week and Mercury early next month, planetary activity on the romantic front is running its course and needs to be seized. Meanwhile, while the Sun and Mercury won't return to your relationship sector until next month and Mars not until December Venus, the planet of love is already here and is just starting to work her magic. That Venus has returned while a romantic chapter is still running its course is a chance for your relationships to benefit from this.
Business & Career
Even though the Moon will leave your career sector on Monday, this is one time when just beginning the week here is more than just a short term advantage. This will ensure you begin the week with your professional instincts and imagination fuelled from the start but it is an alignment with dreamy Neptune just before leaving that will have short and long term implications, the latter because of the timing. This is something that once a week will fuel your imagination and inspire wishful thinking, setting the week off on a confident note. However, what makes the timing auspicious is that it is just as the Moon and Neptune align that Jupiter turns direct. Having retrograded back out in July, this will see Jupiter fulfil a promise to Neptune that he would return, with your professional instincts picking up on a U turn that will see the planets of luck and dreams reunite before the end of the year. This will inspire wishful thinking just as your subconscious is picking up a shift that in just a few months can turn dreams into reality.
Money
By the time the Moon returns to an intuitive and imaginative part of your chart on Wednesday it has been nearly two weeks since Pluto's direct turn in your financial sector and by the time it leaves on Saturday, Venus will be just under two weeks away. Moving through halfway between Pluto's direct turn and Venus, the planet of money's game changing return to your financial sector early next month, the Moon will have a big impact on your financial confidence. The Moon returns to this intuitive and imaginative part of your chart once a month and will always form a friendly aspect to Pluto, something that can fuel your financial confidence, instincts and imagination. This first visit since Pluto's direct turn will alert you to a sea change while also picking up on a sense of anticipation ahead of Venus' return. It is early next month that Venus will return for what should be a 24 day mission to update your financial confidence, update your expectations and attract opportunities but instead she will stay here until March.
Health
Until the Sun returns to your health sector on Sunday, turning the solar spotlight onto your health needs, situation and matters, it is still more about holding onto the desires and expectations Venus left you with earlier in the month. Especially when it comes to a desire to look and feel good. The Sun's return will usher in a more objective phase while Mars' return later next week will begin a call to become more physically active. Until then, it is about nurturing the motivation that will be the starting point for a more proactive chapter.
---
You may also like