Gemini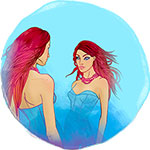 May 21 - Jun 20
---
Today's Horoscope
This week
This month
---
Gemini Weekly horoscope for Sep 26 to Oct 2, 2022
Starting the week with Monday's New Moon in a fun, playful, romantic and creatively charged part of your chart is not just getting things off to a good start but this is just a taste of things to come. The Sun only returned on Friday and this is just the start of a month long visit that is putting the focus on all things fun, playful, romantic and creative. Monday's New Moon is not just a chance for new beginnings but can create a lot of forward momentum. What makes the timing significant is that before leaving on Wednesday the Moon will not only form a friendly aspect to Mars in Gemini and Saturn in an adventurous part of your chart but just as they are coming together. This is putting a lot of focus on the playful, creative and adventurous side of life's fence but in a way that gives you something to channel Mars' warrior and competitive spirit into. Meanwhile, this is a good week for both home and financial matters and especially where the two come together.
Love & Romance
By the time the Moon returns to your romantic sector on Monday the Sun has only been here for three days and having returned just hours before Mercury retrograded back out, the focus has only just shifted away from the past and onto the future. The Moon returns every four weeks but as it aligns with the Sun to create Monday's New Moon, this will give the spirit of romance its biggest boost so far. The Sun had returned just a few hours before Mercury retrograded back out, shifting the focus away from the past and onto the future. Monday's New Moon takes this one step further, creating an opportunity for new beginnings. The Moon will leave on Wednesday but just a day before Venus, the planet of love is due to return these romantically charged lunar vibes are the perfect lead up to what can be the most romantically charged weeks of any year. Meanwhile, the Moon's return to your relationship sector from Friday to Sunday is a chance to become more emotionally engaged.
Business & Career
It is not only business as usual to start with but as you move into the new working week there is a lot of focus on work/life balance. It was over the weekend that both the Moon and Venus clashed with planets in your career sector, one bringing its monthly work/life balance reminder and the other the desire to get it right. While this is unlikely to be an issue now, with major developments on the job and career fronts next month this is an opportunity for some future proofing. Meanwhile, in a case of perfect timing, the Moon will return to your work sector on Wednesday. Right in the heart of the working week, the Moon will not only ensure you are emotionally and intuitively engaged but it can act as a trigger. This is also the Moon's last visit before the first planetary activity on the job front for the year begins next month and before it returns as an eclipsing New Moon. Before leaving on Friday the Moon will leave you with clues to what lies ahead.
Money
As Pluto moves into his last full week in retrograde motion in your financial sector, he is also moving into one of his best so far. It starts with a friendly aspect to the Moon, something that can fuel your financial confidence, instincts and imagination but in a way that it does every four weeks. The difference this time is that it comes just as Venus and Mercury are not only moving towards an alignment on Tuesday but as they are moving into a friendly aspect to Pluto. Pluto has come to a standstill and money matters may appear to be stalled but with an abundance of confidence. As the planet of money Venus is making the early part of the week especially good for financial matters on the home front and while Mercury is doing the same, in retrograde motion himself his intellectually savvy edge is especially suited to getting your head around the past or around old money matters.
Health
While the Sun is still four weeks away from turning the solar spotlight onto your health needs, situation and matters, the Moon will make its last monthly visit before then this week. The Moon returns every four weeks and this will always be a valuable chance to check in, especially with what your body and your gut are telling you. This is the Moon's last visit before the Sun returns but also before it returns as an eclipsing New Moon, something that next month will offer a chance for a reset. This makes it important to pay attention as the Moon moves through from Wednesday to Friday.
---
You may also like