Cancer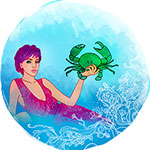 Jun 21 - Jul 22
---
Today's Horoscope
This week
This month
---
Cancer Weekly horoscope for Feb 6 to Feb 12, 2023
Monday might be a bumpy day but once the fog of war clears you will find that while it didn't seem like it at the time, the week has got off to an empowered start on both the financial and professional fronts. It is Jupiter, the planet of luck and expansion who finds himself in the centre of two oppositions that will both peak on Monday and this can fire up his quest for professional growth and expansion. Jupiter is definitely benefiting from a Full Moon in your income sector which will get your attention from the start and a friendly aspect to all four planets in your career sector before leaving on Tuesday can get things moving on both fronts. This comes just as Jupiter's clash with the dwarf planet Ceres peaks and as this is putting your work/life balance to the test, knowing where the money is can help you work smarter. In the meantime, the Moon's clash with the Sun in your financial sector might create some financial tension, but at a time when there is a very real chance to take your financial power back.
Love & Romance
Before the Moon left Cancer over the weekend, a clash with Mercury and Pluto in your relationship sector may have pushed some buttons and evoked some strong emotional responses and the timing couldn't be better. It comes two months after Mercury returned for what is normally a two week visit to your relationship sector, with a retrograde phase giving you a lot more time to work with the planet of communication to ensure the communication lines are open. Mercury will leave over the weekend, with a chance to give anything the Moon may have flushed out a voice. While Mercury's final days were always going to be important, having the Moon in your communication sector from Tuesday to Thursday will make that even easier. It helps that Mercury will also spend his final days aligned with Pluto, with the planet of change and revolution able to inspire a bold approach to pushing through any remaining barriers. It is just after Mercury leaves that the Moon will see the week end on a romantic note.
Business & Career
For a planet like Jupiter, to find himself under pressure from the dwarf planet Ceres is something he will barely feel, but as this peaks on Monday this couldn't be more important. This is a clash that will bring some work/life balance reminders and in fact the only real reminders as you move into some of the biggest months for professional growth and expansion in over a decade. Ceres turned retrograde motion in your home and family sector over the weekend before she could clash with any of the other three planets in your career sector and her clash with Jupiter has come just as she is turning back. This nearly didn't happen, but it not only happens just as you move into the new working week but just as a Full Moon in your income sector is forming a friendly aspect to all four planets in your career sector. This is something that can energise things financially and professionally but with an eye on where the money is, can also help you work smarter. This year is only going to get busier.
Money
Starting the week with the Moon in your income sector is always an advantage, even if it doesn't feel like it at the time. With no planetary activity on the income side of the financial fence, the Moon's monthly visits have become a lot more important, returning every four weeks to sharpen your nose for money and act as a trigger. However, this is no ordinary monthly visit and instead is the Full Moon that will always fall at some point during the Sun's month long visit to your financial sector. This can create some financial tension it is the pressure the Sun and Moon are putting on each other that can lead to a breakthrough on both sides of the financial fence. While this is a Full Moon that falls at this time each year and when the solar spotlight is always on your financial situation and money matters, for the first time in 12 years Jupiter is in your career sector, ready to turn any financial tension into motivation.
Health
While the Moon won't return for its next visit to your health sector until next week, which is when you will get your next chance to check in with what your body is telling you, you should be starting to feel that you have more energy. If you aren't yet bouncing off the walls and even if the mind is willing but the body is not, you will notice a shift. Mars is still in a nostalgic and reflective part of your chart and this makes it important to pace yourself, back in direct motion and on drawing closer to his return to Cancer, things are on the up. If you are not up to something just yet, you can start thinking about it.
---
You may also like