Cancer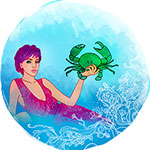 Jun 21 - Jul 22
---
Today's Horoscope
This week
This month
---
Cancer Weekly horoscope for Oct 18 to Oct 24, 2021
This is the week when things really start to come alive and across such diverse areas of your life such as on the job, career, home, relationship and financial fronts but also on the playful and adventurous fronts as well. After months of marking time or feeling that life itself had gone into hibernation, things start waking up. This week is not the start of the turnaround but it is the point when it reaches a tipping point. On the financial front, that turnaround began with Saturn's direct turn in your financial sector while on the relationship front it began with Pluto's direct turn four days earlier. The final brake comes off your financial situation and money matters when Jupiter turns direct on Monday, while home and family matters get the green light when Mercury turns direct just hours later. Meanwhile, the Moon will not only return to your career sector on Monday but already building towards a Full Moon that will give both job and career matters a boost.
Love & Romance
As you move into the new week it has been 10 days since Venus, the planet of love left your romantic sector and still the Sun has yet to return. The latter is a given, for the Sun's return on Saturday is the point in every year when the Sun returns, putting the solar spotlight on matters of the heart and all things romantic. What is not the norm is for the planet of love to have already been and gone this early in the year. This gave Venus a standalone chance to get in first and breathe new life into the spirit of romance. Until the Sun returns on Saturday it is all about nurturing the spirit of romance and the wishful thinking the planet of love has left you with. This is something that needs to be embraced with blind faith if need be, for with Mars returning later next week, his first visit in two years will make it easier to turn desires into reality. Meanwhile, as Pluto moves into his second week in direct motion in your relationship sector there is a new sense of confidence on the relationship front as well.
Business & Career
Things take an exciting turn when the Moon not only returns to your career sector on Monday to begin the lead up to a Full Moon but just 10 days after Venus' return to your work sector. This is a Full Moon that will fall here at around this time every year and halfway between the Sun's last visit to your career sector and the next, this is the boost that career matters need at what is often a slow point in any professional year. With the Sun not returning to your work sector until the latter part of November each year, this rarely overlaps planetary activity on the job front. However, Venus' early return means that for the first time in eight years she is here to take advantage of anything the Full Moon might trigger. As the Moon will engage with planets across the job and career fronts, the first three days of the week could jump start things on both fronts in a way that could have an impact for weeks if not months to come.
Money
While Saturn's direct turn in your financial sector last Monday was the beginning of a major sea change, with Jupiter still in retrograde motion the sea anchor was holding things back while keeping your focus on the past. For Saturn, a planet that is here until 2023 and is prepared to play a long and slow game, this was an advantage but the winds of change sweep in to change that. It is this Monday, a week after Saturn's direct turn that Jupiter, the planet of luck and expansion will turn direct and that changes everything. This is when the anchor is raised and the current can start sweeping things forward. While Saturn is here until 2023 and you have that long to take your financial power back, leaving in December Jupiter will be working to make his final months as expansive as possible. This is the week when the tide turns on the financial front and you move into what could be the most empowered months of this financial year.
Health
While on Monday, Venus has only been in your health sector for 10 days and she will spend four weeks fuelling a desire to look and feel good, this gets the kind of boost that could change the dynamics. It begins with the Moon's return to a competitive part of your chart on Monday and a friendly aspect to Venus before coming to a head as a Full Moon on Wednesday, which can give you the confidence to start setting goals. It is still more about the 'what' than the 'when, where and how' and a more practical approach will begin later next month, this is a chance to start turning desires and expectations into more specific goals.
---
You may also like