Cancer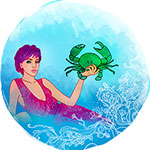 Jun 21 - Jul 22
---
Today's Horoscope
This week
This month
---
Cancer Weekly horoscope for Sep 25 to Oct 1, 2023
The Moon's departure from your relationship sector on Monday ends a visit that is packed with advantages, insight and collaboration from the start, something that is doing more than just allowing you to begin the week more emotionally engaged. This is a visit that began during the Sun's final hours in your communication sector and ends on Monday with its last alignment with Pluto while he is still in retrograde motion. This is always the Moon's last visit before Mercury, the planet of communication leaves your communication sector and just as he is about to spend his last full week here at a friendly aspect to both planets in your friendship sector. The Moon has made contact with and has helped you to become more emotionally engaged and connected with the planets that are set to make this a powerful week across the communication, friendship and relationship fronts. Meanwhile, the week not only begins with the stars aligned on the income front, but they will still be aligned when the Moon returns to your career sector on Friday as a Full Moon.
Love & Romance
The week begins with the Moon just wrapping up its monthly visit to your relationship sector, something that allows you to begin the week emotionally engaged from the start but with a lot to unpack. When the Moon returned over the weekend it was for its last visit while Pluto is in retrograde motion but also the first since Mercury, the planet of communication turned direct in your communication sector and the last before he leaves next week. The Moon returned during the Sun's final hours in your communication sector, managing to return while the solar spotlight was still on your communication but then going on to form a friendly aspect to Mercury. A friendly aspect to Pluto before leaving is a chance to capture the doors still open to the past while benefiting from the fact that the communication lines are now more open. While Mercury won't form a friendly aspect to Pluto until just before leaving next week, there is support from the start when it comes to giving your relationships, the past and unsaid words a voice.
Business & Career
While the Moon left your work sector over the weekend, this is something that at the very least would allow you to move into the new working week with an intuitive read on work and job matters while feeling more emotionally and intuitively engaged from the start. While this was an ordinary monthly visit and there is no planetary activity on the job front, the Moon not only made a friendly aspect to planets on the income and career fronts as it moved through but an important point in the year on both fronts. Two of those planets were Venus and Juno, who not only start the week aligned in your income sector and will remain aligned here all week but just as they are separating from a friendly aspect to planets on the career front but with more to come. This is something that will get a further boost when the Moon not only returns to your career sector on Friday but as a Full Moon. The Moon is too far away from the North Node at that stage to make this a lunar eclipse, but this could still make this Full Moon more of a wildcard than it would otherwise be.
Money
There might be some intensity and even a bit of financial tension at the start of the week, but this will not only pass but is likely to be empowering. It is on Monday that Venus not only moves into her final two weeks in your income sector but into the week aligned with the asteroid Juno. This is the second time since Venus returned direct earlier in the month that the planet of money and the queen of commitment have joined forces but this time this will be anything but fleeting, with the two remaining aligned all week and into next week. This makes the Moon's return to your financial sector from Monday to Wednesday and its clash with Venus and Juno as it moves through timely. A bit of financial tension just as you have the resolve and confidence to make these final weeks count, can easily turn this into motivation. Meanwhile, as well as fuelling your financial instincts and imagination the Moon is giving the other side of the financial fence some much needed attention.
Health
While the Moon left your health sector over the weekend, this not only allows you to move into the new week with a better read on what your body is telling you but of how far you can and can't push yourself. With no planetary activity in your health sector and the Moon only here for a few hours out of each month, your subconscious had to download a lot of information in a short period of time. So much so that this is something that you are still unpacking and processing, making it important to keep trusting your gut without overthinking things.
---
You may also like