Cancer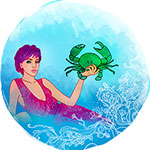 Jun 21 - Jul 22
---
Today's Horoscope
This week
This month
---
Cancer horoscope for February 2023
While this is a big month on a number of fronts and especially on the financial, professional and adventurous fronts, underlying everything is a sense of anticipation or that you are preparing for something. That something is Mars, who after his longest retrograde phase in a nostalgic and reflective part of your chart in eight decades is in direct motion again and is finally on his way back to Cancer. While Mars won't return until later next month, as you have been waiting for so long and as this is set to energise almost every aspect of your life for the two months he is here, this is something that your over the horizon radar is already alert to.
The Moon's return to Cancer from 2nd February to 4th February, the first since Mars' direct turn will amplify that sense of anticipation. You are already over five months into what is normally the six week wind down of a two year Mars cycle and you are ready to move on. In the meantime, while the Sun will always spend the first three weeks of February in your financial sector, with Saturn in this last full month of his nearly three year visit there is a lot more focus on taking your financial power back. This is something that an alignment between Venus and Saturn has already created the resolve to do.
Meanwhile, Venus begins the month alone with Neptune in an adventurous part of your chart and with Saturn teaming up with the planet of dreams here for the first time in our lifetime next month, this is a chance to work on the bucket list that they can spend the next three years working towards. The Sun will return here on 19th February, the day before a New Moon here but also the day that Venus will leave and join Jupiter in your career sector to get this professional year and a quest for professional growth and expansion moving. At the same time, until leaving your relationship sector on 12th February Mercury will be working to get the communication lines open as only the planet of communication can.
Love & Romance
While Venus left your relationship sector in the New Year and the Sun later last month, a retrograde phase has kept Mercury, the planet of communication here and the timing couldn't be better. Mercury returned in early December for what is normally a 14 to 15 day mission to get the communication lines open. Instead, it will be over two months later that Mercury will finally leave on 11th January. What makes the timing significant is that while it is a given that any planet moving through your relationship sector will connect with Pluto, that is about to change. After nearly 15 years Pluto, the planet of change and revolution has reached his last full month in your relationship sector and this year he is not settling for the status quo.
Pluto will leave just two days before Mars is due to finally return to Cancer next month, avoiding a clash but a call for change that has been a long time coming is full of communication support. While Pluto and Mercury won't align until just before Mercury leaves on 11th January, with the Moon moving through your communication sector from 7th February to 9th February, the communication support will ramp up in his final days. Mercury will be gone by the time the Moon returns to your relationship sector from 16th February to 18th February, but you will literally have had months of support from the communication gods by then.
Pluto has been on a journey to encourage the kind of changes that can help you get the most out of your relationships and while he will leave next month, he will return to check in a few months later and again next year, but just for a recap. Meanwhile, with no planetary activity on the romantic front, the Moon's monthly visit to your romantic sector was always going to be important. The Moon will move through from 12th February to 14th February, with these romantically charged lunar vibes the perfect lead up to Valentine's Day.
Business & Career
Since Jupiter's return to your career sector just before Christmas, there has been gradual but incremental growth, that by the end of the month will have reached a tipping point. When Jupiter returned in December it was less than eight months after he retrograded back out, returning in direct motion but with five months of experience already under his belt, not to mention the seeds planted in the five months between May and October 2022. However, still in his early weeks in direct motion and therefore not up to speed, having the dwarf planet Eris in retrograde motion here during the first two weeks of 2023 suited him just fine.
It wasn't just that Eris' retrograde phase had the brakes on more that in your career sector for nine decades now, it is when the warrior princess of the cosmos turns direct each year that your warrior and competitive spirit is awakened. It was the asteroid Juno, the queen of commitment's return a day later that saw a sense of resolve kick in just as Jupiter's quest for professional growth and expansion the green light. This is where things stand as you move into February, with the pace slowly picking up and momentum building, but without any urgency. There may even be a sense that you are waiting for something, which you are.
That something is Venus' return on 20th February, which will prove to be a real game changer. However, it is in the week leading up to this that the Moon will return to your work sector, something that from 14th February to 16th February will not only give you an intuitive read on work and job matters and act as a trigger but will see it form a friendly aspect to all four planets in your career sector. Venus' return to your career sector four days later and then the Moon's return from 22nd February to 24th February will build on from that, as the planets of attraction and luck come together to make things happen.
Money
While Venus left your financial sector late last month, she left you with your financial confidence fuelled and especially when it comes to the confidence to do whatever it takes for as long as it takes in order to turn financial desires into reality. This is thanks to Venus' alignment with Saturn in her final days and just days after the Sun's return had put the solar spotlight on your financial situation and money matters. With Saturn, the planet that can give you the power to move mountains if you have to, in his last full month in your financial sector and due to end his nearly three year visit early next month, this is something that this year you won't be paying lip service two.
It was just after Venus left that the Sun also aligned with Saturn and in the closing days of January this took over from where Venus left off, this time with the focus on where you need to take personal responsibility for doing whatever it takes for as long as it takes to take your financial power back. As you move into the new month it is still very much about the 'what' rather than any specific details and for a good reason. What you are waiting for is Mercury's return on 12th February. Held back by a retrograde phase, Mercury will return with the smart head for money needed to get your head in the game, think on your feet and to focus on the when, where and how.
Mercury will be here until just a few days before Saturn leaves, with his time here vital for making both short and long term financial choices, decisions and plans. This is something that the Moon will help with when it moves through from 18th February to 20th February, sharpening your financial instincts and ensuring you are emotionally and intuitively engaged. However, it is two weeks earlier that the Moon will return to your income sector from 4th February to 7th February. With no planetary activity on the income side of the financial fence, for a few days the Moon can sharpen your nose for money and act as a trigger. However, it is the Full Moon on 6th February that will make this a lot more potent, especially as it comes with the support of all four planets in your career sector.
Health
While you are likely to have a lot more energy this month, there will be times when you might find that while the mind is willing the body is not. This makes it important to ease into a quest to become more active, gauging how far you can and can't push yourself without being afraid of taking a step back if you need to. It is not until Mars returns to Cancer next month that your energy levels will not only be fully back to normal but beyond that, taking away any need to push yourself. However, just the fact that Mars is once again on his way is starting to fire up your motivation. As always, you will get a better read on what your body is telling you when the Moon moves through your health sector from 14th February to 16th February.
---
You may also like