Cancer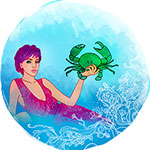 Jun 21 - Jul 22
---
Today's Horoscope
This week
This month
---
Cancer horoscope for October 2021
Whether you know it or not, what we all crave or need is balance. It is rarely about how many eggs we have in how many baskets but that this is evenly distributed. This is something that you are a lot more sensitive to and if you ever find yourself feeling stressed or just under pressure, it is likely that you have too many eggs in too few baskets and they simply need to be spread out a little. This is what is likely to make October a good month for you because nothing is too top heavy, there is plenty of variety and also a lot of cooperation between the planets. Because the Sun will always spend the first three weeks of October in your home and family sector, there is always a lot of focus on things close to home at this time of year.
This year you have Mars here and until 31st October he is giving you the drive and the motivation to make things happen and get things done. This would be a good month to take on DIY projects or just invest more time and energy into home, family and/or property matters. Yet even here things are balanced because while Mars can be impulsive and impatient, with Mercury in retrograde motion here until 2021 the brakes are on just enough to ensure you think things through. Until turning direct on 19th October, Mercury brings a chance to make up for lost time, for reunions or to reconnect with the past.
Meanwhile, too much focus on home and family has in other years led to feeling the burden of responsibility. However, with Venus not only starting the month in a fun, playful, romantic and creatively charged part of your chart but at a friendly aspect to Neptune in an adventurous part, there is room for fun and adventure. While Venus will leave on 8th November, the Sun will pick up from where she leaves off when he returns on 23rd October and Mars on 31st October. Yet the stars even have a balance between work and play covered, with Venus' return to your work sector on 8th October and a Full Moon in your career sector on 21st October set to give this professional year a boost. There is even the potential for a financial turnaround this month.
Love & Romance
While the Sun will always return to your romantic sector on 23rd October and this is the point in any year when the solar spotlight will shift onto matters of the heart and all things romantic, the love gods weren't prepared to wait this year. You not only begin the month with Venus in your romantic sector but the planet of love has already been here for nearly three weeks by then. Last year Venus didn't return until November, so to have had her not only return in September but gone before the Sun even returns not only gets things off to an early start but will extend the timeframe of this romantic chapter.
The Sun will always spend a month in your romantic sector and as Venus and Mercury return at around the same time, all planetary activity on the romantic front can be condensed into as little as five weeks. That is not the case this year, with Venus' early return giving things an early start while Mars' return on 31st October will extend the romantic influence out to December. With Venus leaving on 8th October she will never be here at the same time as Mars but what begins with the planet of love and ends with the planet of passion and the warrior planet of the cosmos has everything going for it.
There is a gap between Venus' departure on 8th October and the Sun's return on 23rd October but the asteroid Vesta is here during that time and as the goddess of the hearth, she can tend to the romantic flame during. Meanwhile, it is just a day before Venus leaves that Pluto will not only turn direct in your relationship sector but begin preparations for the planet of love's return early next month. Normally spending just 24 days in your relationship sector each year, Venus will return early next month but then not leave until March 2022, with Pluto's turnaround a chance to start looking to the future.
Business & Career
To begin with, it is business as usual and that includes on both the job and career fronts. This means that things might just be ticking over, with enough resources on both fronts to keep the wheels turning but in a low key way. With the dwarf planet Eris, the warrior princess of the cosmos in your career sector for decades now, your competitive spirit might wane from time to time but it is always there. With Eris in retrograde motion for the rest of the year, career matters might appear dormant but they are ticking over. It is the same case on the job front, with the asteroid Juno and the South Node quietly keeping work and job matters on track.
This has been the case for months now and as you move into October there is nothing to suggest that this is about to change. Instead, what you have is a month that has some exciting surprises on both fronts, starting with Venus' return to your work sector on 8th October. Last year Venus didn't return until December and with the Sun not returning until later next month, this is early in the year to see any new developments on the job front. Returning this far ahead of the Sun has implications and apart from giving Venus a chance to get in first and make it all about her agenda, it means she is being forced to slow down.
This will eventually see Venus turn retrograde but after she leaves your work sector next month. However, this means that instead of spending just 24 days in your work sector Venus will spend a month here, giving her time to fuel your job confidence, attract opportunities and steer things in a lucrative direction. Because this is not a cold start, this could see work and job opportunities open up fairly quickly. The Moon's return to your work sector from 10th October to 12th October will give you a better read on the implications this is having on the job and career fronts. That will also be the case when the Moon moves through your career sector from 18th October to 21st October, with the Full Moon this will create having the potential to act as a catalyst on both fronts.
Money
This is not just a month where there will be a turnaround on the financial front but where both sides of the financial fence will get a boost without conflicting with each other. Since the last planet left your income sector at the end of August there has been no planetary activity on the income side of the financial fence and there won't be until the middle months of 2022. Since then, all the focus has been on the other side of the financial fence, where the focus is more on your financial situation and money matters. With Saturn in retrograde motion in your financial sector since May and Jupiter having retrograded back in at the end of July, the focus has not only been on money matters but on the past.
Both are still in retrograde motion as you move into the new month, with Saturn focused on taking care of old financial housekeeping as well as on learning from the past while Jupiter is focused on gaining a sense of what's possible by looking back. The tide starts to turn with Saturn's direct turn on 11th October, followed by Jupiter's direct turn a week later on 18th October. Saturn is here until 2023 so his mission to see you take your financial power back is a lot slower and is a more long term mission. However, with the planet of luck and expansion leaving in December, Jupiter's direct turn will trigger a potential rise in financial growth.
With both planets in your financial sector well supported throughout the month, there is also likely to be a rise in financial confidence. However, while there is no planetary activity on the income side of the financial fence this also has the potential to be a lucrative month and especially by the time the Moon returns for its second visit to your income sector this month. The Moon will move through from 1st October to 3rd October and as always, this will sharpen your nose for money and can act as a trigger. However, it is when the Moon comes full circle and returns again from 28th October to 31st October that it will be to find Venus, the planet of money in your work sector. From her return on 8th October Venus will be on a mission to fuel your job confidence, attract opportunities and steer things in a lucrative direction.
Health
While the Sun doesn't return to your health sector until the later part of November each year and this is when the solar spotlight will always move onto your health needs, situation and matters, things get off to an early and less practical start. On 8th October, Venus will become the first of the faster planets to reach your health sector and as she will be gone by the time the Sun even returns, she doesn't have to focus on reality checks. Instead, Venus is more focused on fuelling a desire to look and feel good, which is a good place to start. The Moon will move through from 10th October to 12th October, giving you a better read on what your body is telling you during Venus' early days here.
---
You may also like