Cancer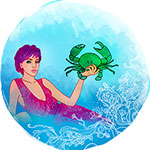 Jun 21 - Jul 22
---
Today's Horoscope
This week
This month
---
Cancer horoscope for May 2023
If it feels like you have been under the pump, either professionally or just to be on top of your game in multiple areas of your life, there is good news. Both because this will ease back once Jupiter leaves your career sector on 17th May and because while you may have to live life in the fast lane more often than you would like to before then, this will have ongoing benefits for months if not years to come. At the same time, you are learning how resilient you are and just how many balls that you can juggle. While Jupiter is ultimately working to create as much momentum as possible when it comes to professional growth and expansion, this will be felt in any area of your life where you are being called on to give your all.
When Jupiter leaves on 17th May he will leave behind the dwarf planet Eris, who after nine decades here and as the warrior princess of the cosmos how to keep the momentum going, but at a much slower pace. This is perfect for maintaining the momentum created while at the same time taking the pressure off. However, this could have unexpected implications and especially on the financial front, when just four days later Mars returns to your income sector on 21st May to begin his first visit to your income sector in two years. With Venus, the planet of money returning next month, the fact that the most lucrative months of 2023 will kick off just days after Jupiter leaves your career sector makes this more than auspicious.
Meanwhile, Jupiter will join the Sun in your sector of friendship, teamwork and networking just four days before he too is due to leave on 21st of May to begin the month long wind down of your old solar year. Together with a drop in pressure and an increase in focus on the social side of life's fence, this will make life feel more relaxed and with it a chance to breathe. Yet with Mars in Cancer until 21st May and Venus returning on 8th May, they are already in the business of opening new doors. However, this is being led by the heart and the things you are passionate about and has strong links to the playful, creative and adventurous side of life's fence.
Love & Romance
Since Pluto left your relationship sector in March it has been empty for the first time since 2008, but that won't be the case for long. Pluto's retrograde turn on 2nd May will see the planet of change and revolution make a U turn and begin his journey back to your relationship, something that will see him return next month and then remain here for the rest of the year, before leaving again in January. In the meantime, with Pluto gone this has not only given you a chance to take a break from overthinking things but it has meant Mars has been able to move through Cancer without clashing and this has given romantic matters a chance to get some much needed attention.
With Pluto returning to your relationship sector next month, this makes this month all about making the most of a chance to give matters of the heart and all things romantic your full attention, which the love gods are supporting. On the romantic front in the early part of the month, it centres around the Moon and Venus, the planet of love. Venus begins the month in a nostalgic part of your chart, where she is taking your heart on a nostalgic trip down love's memory lane before returning to Cancer on 8th July. Venus will still be here when the Moon moves through your romantic sector from 5th May to 7th May, amplifying a sense of romantic nostalgia.
However, this is no ordinary monthly visit, with an eclipsing Full Moon here on 6th May. This is the last lunar eclipse associated with the South Node's time in your romantic sector and leaving in July, this is not just the most romantically charged Full Moon of 2023 but there could be an element of fate involved. What makes the timing of this eclipsing Full Moon significant is that it is just a day after the Moon leaves that Venus will return to Cancer, ready for a fresh start and with a lot of supercharged romantic energy from the start. It is a few days later that the Moon will return to your relationship sector from 9th May to 11th May, with a chance to check in and become more emotionally engaged. A clash with Venus and Mars in Cancer might push some buttons, but as the planets of love and passion they can turn this into motivation.
Business & Career
The Sun's departure from your career sector last month may have taken the solar spotlight off your career situation and matters, as it does at the same time each year, rather than dial back the pace is likely to have accelerated to a point where it might feel that you a just a passenger as things take on a life of their own. Things will dial back but not until Jupiter leaves on 17th May, with his 12 month quest for professional growth and expansion now in its final weeks. While Jupiter returned in May 2022, he was already slowing down when he returned and before he could get far he turned retrograde, something that saw him retrograde back out in October.
Jupiter returned just before Christmas but was still at a near standstill, not really gaining any speed or momentum until he was joined by Venus in February. While this is a 12 month quest that is coming to a close all the action and momentum has taken place in the final three months. As the Sun, Moon and Venus passed through they all gave you a separate set of insight and resources, to a point where you are ready to invest everything you have into the first 17 days of the month, knowing that this is not just giving the rest of this professional year the momentum it needs but for years to come.
In a case of perfect timing, the Moon will return on 15th May, ensuring your professional instincts and imagination are sharp and you are emotionally and intuitively engaged during Jupiter's final days, then leaving just a few hours later. It is earlier in the month that the Moon will move through your work sector from 7th May to 9th May, giving you an intuitive read on work and job matters while a friendly aspect to Jupiter will make these a positive few days on both fronts. Meanwhile, it is just four days after Jupiter leaves and as things are dialling back professionally that Mars will return to your income sector on 21st May, with a chance to start exploring the income potential from all that has been invested professionally.
Money
While it is business as usual at the start of the month and past experience suggests that it will stay that way, by the end of the month the whole dynamics of this financial year will have flipped on its heels and it will stay that way for the rest of the year. For you, what business as usual looks like is ongoing planetary activity in your financial sector, the side of the financial fence where the focus is more on what you do with and how you manage the money you have and nothing on the income side of the financial fence, as has been the case since last August. While Saturn ended a three year visit to your financial sector in March, Pluto's return a few weeks later has kept the focus on money matters.
However, on 2nd May Pluto will turn retrograde and after less than six weeks here the planet of change and revolution will turn around and start heading back out again. While Pluto won't leave until next month, he will not only leave it empty, but it will remain empty for the rest of the year. This will be the longest period of time that your financial sector has been empty since 2019 and when you finally get planetary activity on the income front it means that it will have the full attention of the money gods, with room to grow and expand and you won't have to wait long for that to happen.
While the Sun won't return to your income sector until the latter part of July, the point in each year when the solar spotlight shifts onto your income situation, matters and options, this will be underway by the end of the month. It begins with Mars' return to your income sector on 21st May, with the warrior planet of the cosmos returning to not only begin his war on glass ceilings, roadblocks and barriers, whether real or imagined but to begin the first planetary activity on the income front in two years. That Mars will return just four days after Jupiter leaves your career sector on 17th May means there is a lot to capitalise on. However, with Venus returning early next month to begin her longest visit in our lifetime, this is just the start of something game changing. The Moon's return to your income sector from 25th May to 27th May will give you an early taste of this.
Health
You are under the influence of two contradictory forces, one that is calling on you to slow down and the other that is giving you the energy and drive to get moving while keeping you busy. If you can find the right balance between the two and you can get them working in harmony then this is something that could have long term benefits. Knowing when to rest and when to get moving will have a positive impact on body, mind and soul. It is when this is out of balance that you might feel stressed, but this is like static on a radio that tells you it needs fine tuning, making you aware of where things have come unbalanced. You will get a better read on this and of what your body is telling you when the Moon moves through your health sector from 7th May to 9th May.
---
You may also like