Aquarius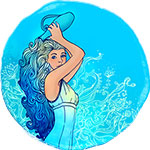 Jan 20 - Feb 18
---
Today's Horoscope
This week
This month
---
Aquarius Weekly horoscope for Oct 18 to Oct 24, 2021
To have four planets turn direct within the space of just 12 days brings us to a major turning point in the year but for you this is personal. Two of those planets are in Aquarius and after Saturn's direct turn last Monday, Jupiter's direct turn this Monday brings you to a major turning point in what is the foundation year for a new Saturn and Jupiter cycle. It will take Saturn until 2023 to lay down the foundations for this new three decade long Saturn cycle but Jupiter will finish laying down the foundations for a new 12 year Jupiter cycle of expansion in December. Monday is the point when the brakes come off and the call to embrace the future begins. It is just hours later that Mercury's direct turn will end the last Mercury retrograde phase of 2021, marking the point where the road to the end of the year becomes a smooth downhill run that will see the pace of life accelerate. Meanwhile, even before the Sun's return to your career sector on Saturday, there is a hint of lucrative developments ahead.
Love & Romance
Romantic and relationship matters both get a boost this week and in both cases, this is thanks to the Moon. While most of the focus recently has been on matters of the heart, with the dwarf planet Ceres' retrograde turn in your romantic sector supported by the heavyweights of the solar system, your relationships get their turn at the start of the week. Unlike matters of the heart, there is no planetary activity in your relationship sector and with the Moon not visiting until next week, there should be little if any focus this week. However, it is a Full Moon in your communication sector and the Moon's friendly aspect to Venus, the planet of love as it passes through that will give your relationships all the tools they need. Monday and Tuesday will be especially important days for having the communication lines open but also when support from Venus peaks. Meanwhile, the Moon's return to your romantic sector on Saturday sets the scene for a romantically charged weekend.
Business & Career
As you move into the new week it has been 10 days since Venus left your career sector and still the Sun has yet to return, creating what is set to become the biggest firebreak between the two in eight years. Venus will normally move through while the Sun is here, with her focus on updating your professional desires and expectations and getting a sense of what you want professionally happening in tandem with his more objective focus. Even Mercury, who has the intellectually savvy edge needed to focus on the 'when, where and how' has been held up by a retrograde phase. By the time the Sun returns on Saturday and turns the solar spotlight onto your work situation, job matters and options it will have been 15 days since Venus left, time enough to let her expectations develop and take hold. With Mars returning to begin his first visit in two years at the end of next week you have the means to turn those desires into reality. Until Saturday is it all about listening to your heart and daring to believe in what's possible.
Money
Even though the Moon will leave your income sector on Monday, just beginning the week here can be an advantage, giving you a sharp nose for money and a lucrative sense of direction from the start. However, it is the Moon's alignment with dreamy Neptune before leaving on Monday that is an ordinary event that could have extraordinary implications. Ordinary, because the Moon returns every four weeks and the last thing it does before leaving is align with Neptune, something that can inspire your imagination and wishful thinking. What creates the potential for extraordinary implications is that it is just as the Moon and Neptune are aligned that Jupiter will turn direct in Aquarius, something that will see him make a U turn and begin his trek back to your income sector. When Jupiter retrograded back out of your income sector in July he promised Neptune that he would return, with his U turn setting the scene for a reunion between the planets of luck and dreams later in the year.
Health
Your energy levels, motivation and life, in general, is set to get a boost when Jupiter turns direct in Aquarius on Monday. On the heels of Saturn's direct turn here last Monday, this is the point when there is a chance to shake off the lethargy of the past and before long you should start to feel the weight fall off your shoulders. This is something that will have a positive impact on body, mind and soul and marks a real turning point. This might not kick in overnight but this is the start of a slide towards feeling more energised and vibrant.
---
You may also like