Aquarius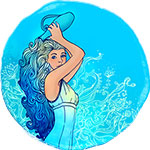 Jan 20 - Feb 18
---
Today's Horoscope
This week
This month
---
Aquarius horoscope for October 2021
It is right to call this a month of two halves and for different reasons but not in a way that suggests that there are watertight compartments. Instead, the lines between these two halves are fluid and blurred. One reason for calling this a month of two halves is because while the Sun will always begin October in an adventurous part of your chart he will always end it in your career sector, the most professionally charged and competitive part. While the Sun will leave your sector of adventure, travel, learning and discovery on 23rd October, there will be no sudden shift, with Mars continuing to fuel a passion for adventure until 31st October while things have already started to move professionally before you even move into the new month.
This is also a month of two halves because while Saturn and Jupiter will start the month in retrograde motion in Aquarius they will end the month in direct motion. With Saturn in retrograde motion until 11th October and Jupiter until 18th October, this creates a month where there is a lot of focus on the past in the first half before turning to face the future. Yet this month is dominated by a friendly aspect that Saturn and Jupiter are forming to not only the Sun, Mercury and Mars in an adventurous part of your chart but to the dwarf planet Ceres, in a fun, playful, romantic and creative part.
Just as even Mercury, in retrograde motion in an adventurous part of your chart turns direct on 19th October, Ceres is turning retrograde on 9th October. This will stop the doors to the past from completely closing, leaving them open and especially when it comes to matters of the heart and all things fun, playful, romantic and creative. This will help to balance out what is a growing sense of confidence and a rise in possibilities across the income and career fronts, both this month and over the coming months.
Love & Romance
When Venus, the planet of love returned to Libra in August it was not only earlier in the year than is normally the case, but to find planetary activity in Aquarius and in your romantic sector. Why that mattered is that it put Venus at a friendly aspect to both and this was when a sense of romance, adventure and nostalgia first started to come together. Venus has since moved on but you begin the month with the Sun, Mercury and Mars all in Libra and still making those same aspects. With Mars in the mix, Saturn and Jupiter still in retrograde motion in Aquarius and the dwarf planet Ceres turning retrograde in your romantic sector on 9th October, a mix of nostalgia, romance, passion and adventure is here for the rest of the month.
This is the dwarf planet Ceres' first visit to your romantic sector in four years and it is her retrograde turn that will keep her here until the end of the year. While there is always planetary activity in an adventurous part of your chart at this time of year there is rarely any in your romantic sector. Yet you not only have Ceres here but the North Node, giving your heart and the spirit of romance a sense of direction. While Venus herself has moved on, what is usually a short mission to bring the spirit of romance and adventure together not only lives on but has taken on a life of its own. The Moon's visit to your romantic sector from 23rd October to 26th October will add even more fuel to this.
Meanwhile, while there is no planetary activity in your relationship sector, your relationships will not only benefit from having the Moon start and end the month here but from Venus' return to your friendship sector on 8th October. To start with, for Venus this is more a chance to bring the laws of attraction and synchronicity together, something that increases the potential for serendipitous moments and/or encounters. However, it is when the Moon returns on 29th October that as well as a chance to become more emotionally engaged, a friendly aspect to Venus will see the month end under positive conditions for friendship and relationship building.
Business & Career
While the Sun will always end October in your career sector, with his return on 23rd October turning the solar spotlight onto your career and professional situation, matters and options at the same time every year, things have already got off to an early start. Venus not only begins the month in your career sector but has been here since 12th September, which is as early in the year as it is physically possible for her to return. Until she leaves on 8th October, Venus will work to fuel your professional confidence, attract opportunities and steer things in a lucrative direction in a way that she wasn't able to last year.
In 2020 Venus didn't return to your career sector until November and returning on the same day that the Sun left, was late to the party in terms of having any influence on the direction things took. Last year Venus was the last planet to arrive and while she still worked to attract opportunities, she was working with what had already been baked in. This year Venus was the first planet to arrive and this is giving your heart the first say in the direction you want things to take, creating a groove or a channel for the planets following in her wake. One of those planets is Mars, who will return to your career sector on 31st October for the first time in two years.
While Venus will have been and gone by the time the Sun and Mars return, they will return to find that you already have a sense of what you want and a rhythm they can slip into. Meanwhile, where Venus got things off to an early start, with Mars not leaving until December, this will extend out the other side as well, with the warrior planet of the cosmos continuing to fire things up professionally for the remainder of this professional year. With lucky Jupiter returning to your income sector in December, this is a chance to create the professional momentum that can help you prepare for the lucrative times ahead.
Money
The Sun's departure from your financial sector on 23rd September has been a win/win for both sides of the financial fence. This not only took the solar spotlight off your financial situation and money matters but ended all planetary activity on that side of the financial fence. However, after months of planetary activity starting with Mars' return in July, this has left you with all the insight and momentum needed to keep money matters on track. At the same time, this has not only taken the pressure off Neptune, in retrograde motion in your income sector but has seen all planetary focus shift to the income side of the financial fence, where it will stay for the rest of the year.
Neptune won't turn direct until 1st December and with Jupiter, the planet of luck and expansion not only returning on 29th December but spending much of 2022 here, for now, this is still a review period. This means that while there is less financial tension and income matters now have the full attention of the money gods there is no urgency or rush to move things forward. Instead, you are likely to find that there is a quiet sense of confidence as you look to the future and towards Jupiter's return. However, while Neptune isn't in a hurry to move things forward having Venus, a planet of money in your career sector until 8th October is helping to steer the remaining months of this professional year in a lucrative direction.
As the financial tides turn this also makes the Moon's monthly visits to your two money houses important. The Moon will move through your financial sector from 3rd October to 5th October and as always, this will fuel your financial instincts and imagination while giving you a better read on money matters. The Moon will return just 10 days after the Sun left and coming full circle from last month's New Moon will be a chance to tie up loose ends. It is two weeks later that the Moon will make its monthly visit to your income sector from 16th October to 18th October.
Health
With no planetary activity in your health sector, this is putting a lot of focus on the Moon's two visits this month. The Moon will start the month in your health sector and while it will leave on 1st October, it will not only begin the month here but having already spent two days giving you a better read on what your body is telling you. The Moon will come full circle, returning again from 26th October to 28th October. These monthly visits are a chance to listen to what your body is telling you and especially when it comes to balancing its different needs. What you do with that insight once the Moon moves on is up to you.
---
You may also like