Virgo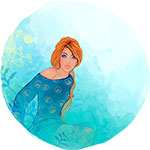 Aug 23 - Sept 22
---
Today's Horoscope
This week
This month
---
Virgo Weekly horoscope for Sep 25 to Oct 1, 2023
While the Sun's departure from Virgo over the weekend brought your birthday month to a close, the launch of this new solar year is far from over. Not only is Mercury staying on but with Venus yet to return your heart has yet to have its say in what you want from the coming year. Back in direct motion, Mercury is using his last full week in Virgo to get your head around your game plan and resolutions for the coming year, though all while keeping an open mind. Meanwhile, in his first week in your income sector the Sun is experiencing some mixed conditions and especially in its relationship with the Moon. It is on Monday that the Moon will not only return to your work sector but straight into a friendly aspect. As well as getting the working week off to a good start on the income and job fronts, being in harmony can create a general sense of confidence. It might be a different story when Friday's Full Moon in your financial sector clashes with the Sun, but this is something that will empower both sides of the financial fence.
Love & Romance
While the Moon will leave your romantic sector on Monday, the impact from these romantically charged lunar vibes is likely to linger, along with a sense of romantic nostalgia and anticipation. While this is an ordinary monthly visit, as the last before Pluto turns direct here and with the doors open to the past and second chances there was always going to be a heightened sense of romantic nostalgia. At the same time, with the planet of change and revolution slowing ahead of a direct turn there will also be a sense of anticipation. This is also the Moon's first visit since both planets in an adventurous part of your chart turned retrograde and a friendly aspect to both is likely to see a sense of romance, adventure and nostalgia linger. The Moon will leave on Monday and two days later will return to your relationship sector, where both planets are also in retrograde motion. While this is a valuable chance to check in and become more emotionally engaged, for the first time this year there is planetary activity on the communication front to give this a voice.
Business & Career
With no planetary activity in either of your two professional houses and it set to stay that way for the rest of the year, the Moon's monthly visits are not only key to staying on track but for tapping into the resources from a huge amount of planetary activity on the job and career fronts in the first half of the year. This was always going to make the Moon's return to your work sector on Monday more than just a chance to move into the new working week with an intuitive read on work and job matters while feeling emotionally and intuitively engaged from the start. As well as sharpening your instincts the Moon can also act as a trigger. However, returning just two days after the Sun returned to your income sector over the weekend, this will put the Sun and Moon in harmony, getting the week off to a good start on the income and job fronts while increasing your confidence and awareness on both fronts. This is also the Moon's last visit while Mars is in your income sector, with their friendly aspect before it leaves on Wednesday a chance to tap into his warrior and competitive spirit.
Money
The Sun's return to your financial sector over the weekend is something that was always going to turn the solar spotlight onto your income situation, matters and options at this time of year. However, while the Sun is still in his early days, this year you have a head start and in more ways than one. While the dwarf planet Ceres left earlier in the month, not before spending months on a deep dive into your income needs and priorities, something that has allowed you to look beyond the money. For the first time in two years, the Sun has also returned to find Mars in your income sector and it is having the warrior planet of the cosmos here that could turn any financial tension from Friday's Full Moon in your financial sector into motivation on both sides of the financial fence. As the Sun and Moon clash and as income and money matters compete for your attention, this might create some financial tension. However, this is what Mars lives for and is a chance to fire up your warrior and competitive spirit as this adds fuel to his drive to fight for what you deserve.
Health
With no planetary activity in your health sector, the Moon's return each month is always a valuable chance to check in, with the time of week making a big difference. This time the Moon will move through from Monday to Wednesday, just as your body is adjusting to and dealing with the demands that what can be some of the busiest days of any week are putting on you. As well as giving you a better read on what your body is telling you, this will give you a read on how it is being impacted by the demands of life in real time. The Moon isn't here long enough to have a lasting impact but it is important to pay attention as it moves through.
---
You may also like