Virgo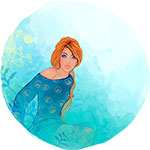 Aug 23 - Sept 22
---
Today's Horoscope
This week
This month
---
Virgo Weekly horoscope for Sep 26 to Oct 2, 2022
Three days after the Sun left Virgo on Friday, as you move into the new week the Moon is just wrapping up a visit that began within hours of your birthday month ending. This is the Moon's only visit while Venus is here, with their alignment over the weekend a chance to put heart and gut on the same page as she works to update your wish list for the coming year before leaving Virgo on Thursday. Before leaving the Moon will also align with Mercury, who just days after your birthday month ended retrograded back in for a double dip visit four weeks after leaving. As Venus and Mercury align on Tuesday this is not only a chance to put heart and mind on the same page but the past, present and future into perspective. Meanwhile, the Sun has not only moved on but Monday's New Moon gets his first full week in your income sector off to a good start. By the time the Moon leaves on Wednesday the stars are already starting to align on the job and career fronts in a way that will have a positive impact on the rest of this professional year.
Love & Romance
It is in Venus, the planet of love's final days in your sign that a lot of romantic and relationship desires and expectations for the coming year will be defined. Less because with Venus leaving on Thursday this is what she is on a mission to do and more because of the cosmic conditions themselves. It was over the weekend that Venus clashed with Neptune in your relationship sector, something that has left you with a better sense of what you want from your relationships and what they need from you. This might have pushed some buttons but it came just as Mercury, the planet of communication had retrograded back into Virgo. The focus shifts to matters of the heart during Venus' final days and in a way that could also see the past come alive. It is on Tuesday, just as Venus and Mercury align that they will both form a friendly aspect to Pluto, in retrograde motion in your romantic sector. While Venus is looking to the future the doors are still open to the past and second chances.
Business & Career
While this is a fairly quiet week professionally, your sixth sense will be telling you that this is a time of preparation. This stems from the Moon's return to your career sector last week, something that not only fuelled your professional instincts and imagination but saw it form a friendly aspect to both planets in your work sector and to the South Node in your income sector as it moved through. While all the planetary activity on the career front for the year is now behind you, on the income and job fronts this is not only still in front of you but just around the corner. There will be a chance to focus more exclusively on income and job matters as the Moon moves through your income sector from Wednesday to Friday, something that will further enhance a sense of anticipation. This is not just the Moon's last visit before the first planetary activity on the income front for the year begins but is a window into the planets preparing for lucky Jupiter's return to your work sector next month.
Money
The Moon's return to your income sector on Monday would always be a case of good timing, allowing you to move into the new working week with a sharp nose for money and a lucrative sense of direction from the start. However, this is no ordinary monthly visit nor is this an ordinary week. Even without the Moon, having returned on Friday the Sun's first full week in your income sector is not just shining the solar spotlight on your income situation, matters and options but just as the stars are starting to align on the job and career fronts. Before leaving on Wednesday the Moon will connect with what is now a formidable line up of forces across the income, work and career fronts, just as they are beginning to work more as a team. That in itself would be an advantage, but as the Moon aligns with the Sun to create Monday's New Moon this creates an opportunity for new beginnings while energising planets on the job and career fronts as well.
Health
While Saturn, still in retrograde motion in your health sector is encouraging you to pace yourself and this is still a time for taking responsibility for or dealing with past issues, there is a growing sense of confidence. Firstly, this is coming from Monday's New Moon and its friendly aspect to Saturn but by midweek there will also be growing support from Mars. This is giving you the confidence to start setting health or fitness goals, knowing that Mars and Saturn will work as a team for the rest of the year, giving you the resolve to stick to whatever you start.
---
You may also like