Virgo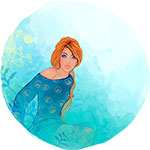 Aug 23 - Sept 22
---
Today's Horoscope
This week
This month
---
Virgo horoscope for May 2023
The Sun, Venus, Mars and Jupiter are all on the move this month and while in a lot of cases, it is more a case of one in and one out without starting anything from scratch and the same time not ending anything either, there is one exception. That exception is Mars, who will leave your sector of friendship, teamwork and networking on 21st May and not only return to a nostalgic and reflective part of your chart but to begin the wind down of your current two year Mars cycle. While Mars won't return to Virgo until July, the fact that he is on his way means that new doors will be opening long before your birthday month and new solar year begin.
After what has been a busy start to the year this will also make it easier to wind down, with a clash with Pluto in your work sector when he returns pitting the planets of war and revolution against each other in a way that will allow you to create some boundaries. While the Moon will once every four weeks put how well you know when to keep your work hat on and when to take it off to the test, this is fleeting and never lingers, while Mars will fight back. Fortunately, Pluto is not pushing you to keep your work hat on 24/7 and will retrograde back out of your work sector next month.
However, with Venus in your career sector until 8th May, the asteroid Juno returning on 2nd May and the Sun on 21st May, this professional year is likely to remain just as busy, making Mars' return a valuable chance to pace yourself. Helping with that will be Jupiter, who on 17th May will leave your financial sector, ending his 12 month quest for financial growth and expansion and then join the Sun in your sector of adventure, travel, learning and discovery. The Sun will leave four days later but Jupiter is here now for the next 12 months, with the planet of luck and expansion ready to make the world your oyster and for some literally. Also keeping you socially connected is Venus, whose return to your friendship sector on 8th May will keep the momentum going after Mars leaves.
Love & Romance
While Saturn is the hard taskmaster of the cosmos and having him in your relationship sector can bring its own challenges, in the early months of what will be a three year visit there has been nothing but support. A lot of this is down to timing, with Saturn having returned just before Mars' returned to your friendship sector, something that has put them in harmony while he has also timed his return to take advantage of the South Node's final months in your communication sector. There is already a strong partnership that Venus, the planet of love will become part of when she joins Mars in your friendship sector on 8th May, just a day after a significant boost on the communication front.
It is three days earlier that the Moon will return to your communication sector on 5th May, something that as well as a chance to give your emotional responses a voice was always going to see it form a friendly aspect to not only Mars and Saturn but to dreamy Neptune in your relationship sector as well. However, this is no ordinary monthly visit, with an eclipsing Full Moon on 6th May having the power to push through communication barriers, at a time when there is support from some of the most powerful planets in the solar system.
Meanwhile, it is an event that will have no bearing on romantic matters now that will have big implications down the line and especially next month. It was in March that Pluto not only left your romantic sector but left it empty for the first time since 2008. However, on 2nd May the planet of change and revolution will turn retrograde, something that will see him turn around and start heading back and while he won't return to your romantic sector until next month, his double dip visit brings the promise of second chances and an opportunity for a do over. This is something that your heart's over the horizon radar might be picking up on when the Moon moves through your romantic sector from 9th May to 11th May.
Business & Career
While the Sun will always end May in your career sector, a lot of water has already passed under the bridge and this is something that has its roots stretching all the way back to last year. While Mars was no longer in your career sector when Venus returned last month, it was just 17 days earlier that he had wrapped up a seven month visit, his longest in eight decades. By the time Venus returned to fuel your professional confidence, attract opportunities and steer things in a lucrative direction Mars had already been waging war on roadblocks and barriers, whether real or imagined for months while creating more than enough momentum.
Venus is a planet that prefers the laws of attraction over elbow grease so to find that Mars has already done much of the hard work means that she has been able to focus more on where to steer or channel this. Venus is also able to give your heart a voice and while Mars' drives and passions can often get a hold of you, she puts you in control. While Venus will leave on 8th May and the Sun won't return until 21st May, keeping the seat warm will be the asteroid Juno, the queen of commitment who returns on 2nd May. It is during the six days that Venus and Juno are together here that there will be a chance to start turning your professional desires and expectations into resolutions.
At the same time, while Pluto is still in your work sector a return on 2nd May, will see the planet of change and revolution make a U turn less than six weeks after returning. This is something that will see Pluto turn around and start heading back out, though he won't leave until next month. This won't impact work and job matters on a day to day basis, but it means that his focus on big changes will be put on hold until he returns in January but considering that he is then here for the next 20 years this is giving you time to explore options. The Moon's return from 11th May to 13th May will give you a better read on this. Meanwhile, the Moon's return to your career sector from 20th May to 22nd May will ensure you are emotionally and intuitively engaged when the Sun returns on 21st May.
Money
When the Sun left your financial sector last month, he may have taken the solar spotlight off your financial situation and money matters, but an eclipsing New Moon in his final hours was always going to create ongoing momentum. That momentum was left in the safe hands of Jupiter, who moved into his final four weeks in your financial sector during the Sun's final days. It was a day later that Jupiter caught up with the dwarf planet Eris and it is this alignment with the warrior princess of the cosmos that is still separating as we move into the new month. With Jupiter leaving on 17th May, this is giving you the momentum and the drive to make the most out of the final weeks of what has been a 12 month quest for financial growth and expansion.
While Jupiter will move on Eris, who has been here since 1926 will not only stay on but will still be here when the planet of luck and expansion comes full circle in 2034. Eris represents that part of you that if you dig deep enough you have always been able to tap into when you need to fight for the things that matter, except Jupiter has drawn her influence out to the surface where no digging is required. The Moon will not only return before Jupiter leaves but returning to your financial sector from 15th May to 17th May this will ensure your financial instincts are sharp and you are emotionally and intuitively engaged as he leaves.
The Moon will stay on for a few hours after Jupiter leaves and in its final hours will align with Eris, with a chance to hand over to the planet who will take it from here. Meanwhile, with no planetary activity on the income side of the financial fence, having the Moon return twice this month will make up for that. The Moon will not only move through from 2nd May to 5th May but will move into a friendly aspect to Venus, the planet of money in her final days in your career sector as it moves through. The Moon will return on the same day that Pluto turns retrograde in your work sector, making these a defining few days across the income, work and career fronts. The Moon will come full circle on 30th May, once again sharpening your nose for money and acting as a trigger.
Health
When Pluto, the planet of change and revolution returned to your health sector in March it was for the first time in our lifetime and with it a chance to start looking at your health situation and matters in the light of how you could change things up. There was never going to be a call to reinvent the wheel overnight and instead, with Pluto turning retrograde on 2nd May and then retrograding back out next month, this was more a chance to start exploring your options and opening your mind to the idea of change. This will also slow Pluto right down and with Mars beginning the wind down of your current Mars cycle on 21st May, there will be a growing call to slow down. You will get a better read on this and of what your body is telling you when the Moon moves through your health sector from 11th May to 13th May.
---
You may also like