Taurus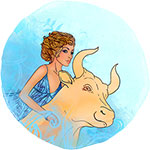 Apr 20 - May 20
---
Today's Horoscope
This week
This month
---
Taurus Weekly horoscope for Jun 20 to Jun 26, 2022
Of all the different developments this week, the one with the most personal significance is Venus' final days in Taurus. Even though it has been over a month since the Sun left Taurus, bringing your birthday month to a close, Venus is still working to give your heart a voice and a say in what you want from the coming year. It was only last week that Mercury left, having retrograded back in for a double dip visit that gave you additional time back at the drawing board. Yet what frees Venus to focus more on knowing what you want than on the 'when, where and how' is that by the time she leaves on Thursday, Mars is just 12 days away from his first visit to Taurus in nearly two years. It is then that Venus will join Mercury in your income sector, two days after the Sun's departure on Tuesday leaves you with a more realistic starting point to build on from. This frees the Sun to turn his attention onto the communication lines.
Love & Romance
Until she leaves Taurus on Thursday Venus, the planet of love is working to update your romantic and relationship desires and expectations for the coming year but it is a friendly aspect to Pluto in her final days that could cause you to raise the bar. Pluto has been in an adventurous part of your chart since 2008, with Venus' friendly aspect when she returns to Taurus each year allowing them to come together, with your heart not only tapping into a spirit of adventure but of rebellion. What is giving you even more confidence to raise the bar on your expectations and even declare war on a romantic rut, roadblocks and barriers, whether real or imagined is that Mars is following in her footsteps, returning just 12 days later. With Pluto leaving next year, this is also Venus' last encounter with him here, with a sense of rebellion kicking in just when you need it. Thanks to her transit over the lunar nodes last week, Venus also leaves you with a better sense of what you want from your relationships and what they need from you.
Business & Career
While the Moon left your career sector on Sunday, this was always going to be an advantage, allowing you to begin the week with your professional instincts and imagination fuelled and the job of unpacking a download of information, insights and messages just getting underway. However, while this was an ordinary monthly visit, this first visit since Saturn's retrograde turn here two weeks earlier was always going to be a valuable chance to check in and get a read on a shift in focus. What made this visit especially auspicious was that the Moon was here just as a friendly aspect between the Sun on the income and Saturn on the career front peaked. With the Sun leaving your income sector on Tuesday but Venus returning on Thursday to begin what can be the most lucrative weeks of the year, just starting the week with your professional instincts sharp and emotionally and intuitively engaged was going to be an advantage.
Money
As Monday is the Sun's last full day in your income sector, there should be more urgency as this can be the point in the year when planetary activity on the income side of the financial fence runs its course. Instead, while the solar spotlight will shift off your income situation and matters on Tuesday, you haven't even begun to scratch the surface of this year's potential. The week not only begins with the Moon having just left your career sector, but with a friendly aspect between the Sun and Saturn there having just run its course. This allows you to start the week with a lot of confidence and a feeling of empowerment. The Sun will leave Mercury behind, with his smart head for money allowing you to keep your head in the game and to think on your feet but it is Venus' return to your income sector on Thursday that will kick off what can be some of the most lucrative weeks of any year.
Health
Even though your birthday month ended a month ago, with Mars still in a nostalgic and reflective part of your chart and not due to return to Taurus for another two weeks, you might find that you are still lacking the energy and vitality you would expect at this time of year. Yet knowing that when Mars returns to Taurus early next month to begin a new Mars cycle and some of the busiest weeks of the year, you can see the value of time out to recharge your batteries. What will amplify this need, is that the Moon will join Mars here in the heart of the working week. Instead of pushing through this, lean into any call to slow down.
---
You may also like