Taurus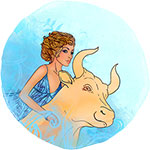 Apr 20 - May 20
---
Today's Horoscope
This week
This month
---
Taurus horoscope for February 2023
Since his return to Taurus in 2019 and until he leaves in 2026, Uranus will spend the second half of each year in retrograde motion, before turning direct in January. This gives you a chance to start looking to the future but with the Sun still three months away from returning to begin your birthday month and new solar year, with time to get your bearings and pick up speed. Uranus is in his first full month in direct motion and while this is giving you a chance to look to the future, there is a lot more anticipation this time. Support from Mercury, in an adventurous part of your chart until 12th February and from Pluto, in his last full month there helps with that.
Especially when it comes to looking to the future and the journey ahead with confidence. However, it is more than that and by the end of the month, with Venus just days away and Jupiter returning to begin a new 12 year Jupiter cycle of expansion in May, the future is looking bigger and more exciting by the day. In the meantime, while the Sun will always spend the first three weeks of February in your career sector, as this is also the last full month of Saturn's almost three year visit but with Pluto returning next month, this is the month that everything until now has led up to and everything from now will lead on from.
As this coincides with Mars' last full month in your income sector, with his longest visit in eight decades ending next month and with the dwarf planet Ceres spending her last full month in your work sector, the professional and money gods are working as a team to make this month count. The one planet that is racing ahead is Venus, who not only left your career sector late last month but is already in your friendship sector, ahead of the Sun's return on 19th February. It is a day later that Venus will return to a nostalgic and reflective part of your chart, where she will take your heart on a nostalgic trip down love's memory lane that will end with her return to Taurus next month.
Love & Romance
On both the romantic and relationship fronts things might appear to be in a holding pattern but it is more a case of preparation for next month. March is set to host some of the biggest changes seen in decades, with several major events all happening at the same time to create real change. Romantic or relationship matters will be part of that change but while on a much smaller scale, piggybacking off and taking advantage of the major change underway. Something that is a long time in the making is Mars' return to your communication sector, something that should have happened months ago but has been put on hold due to a retrograde turn.
Mars is back in direct motion and will return to your communication sector next month, just as the lunar nodes move into their final months of policing your personal and relationship needs. This is something that your relationships were always going to benefit from, whether the lunar nodes were positioned in Taurus and your relationship sector or not. Next month will also see the dwarf planet Ceres retrograde back into your romantic sector. When Ceres left in December, she had already spent months on a deep dive into your heart's needs and priorities but will return for a do over and with perfect timing.
For running ahead of schedule this year, it is just as Ceres returns for a double dip visit to your romantic sector that Venus, the planet of love will make an early return to Taurus. While this is all happening next month, February is a month of preparation and that includes making the most of the Moon's monthly visits. It is the Moon's return to your communication sector from 2nd February to 4th February that brings a chance to prepare for Mars' return by doing what you can now to ensure the communication lines are open, while a visit to your romantic sector from 7th February to 9th February can give the spirit of romance a boost. It is the Moon's visit to your relationship sector from 12th February to 14th February that will be a valuable chance to check in.
Business & Career
Because the Sun will always spend the first three weeks of February in your career sector, the solar spotlight is always on your career and professional situation, matters and options at this time each year. However, a lot of water had already passed under the bridge before the Sun returned last month and that includes in previous years and months and even between the New Year and his return. Saturn is nearing the end of a nearly three year visit, so it is normal that the Sun would connect up with and shine a spotlight on all that has been developing behind the scenes.
While a lot of water has passed under the bridge since Saturn's return in 2020, it wasn't until Mars' return to your income sector in August that this began a partnership that is empowering both. With Saturn leaving your career sector on 8th March and Mars leaving your income sector later next month, that partnership continues. However, a lot of water has also passed under the bridge since Venus returned to your career sector in the New Year, ten days before Mars' direct turn in your income sector. With the dwarf planet Ceres having returned to your work sector in December, Venus was the first planet to connect with all the planets in play across the income, work and career fronts.
Venus left just after the Sun returned and just after the first New Moon of 2023 here, but it was her alignment with Saturn before leaving, for the last time here for another three decades that has brought together the will and the means to do whatever it takes for as long as it takes. The Sun will be joined by Mercury on 12th February, with a chance to get your head in the game and to think on your feet. Mercury will stay on after the Sun leaves on 19th February and until Saturn's final days. This is when it will become more about tying up loose ends. The Moon's return from 18th February to 20th February will ensure your professional instincts are sharp as that transition takes place. Meanwhile, the Moon's return to your work sector will give you a better read on work and job matters from 9th February to 12th February.
Money
While Mars won't leave your income sector until later next month, after his longest retrograde phase here in eight decades ended last month the warrior planet of the cosmos is ready to get moving again. It was last August that Mars returned for what is normally a six week mission to declare war on glass ceilings, roadblocks and barriers, whether real or imagined as he gives you the drive to fight for what you deserve. Because Mars is normally racing through, this is more a case of smash and grab for any low hanging fruit within reach. However, by the time Mars leaves next month he will have been here for seven months, with plenty of time for the higher up fruit to ripen.
In over two months that Mars spent in retrograde motion, this gave you a chance to retrace your steps, learn from the past and ensure no stones have been left unturned. Back in direct motion and retracing the same ground for the third time and knowing now what you didn't then, Mars' warrior and competitive spirit can be channelled more effectively. You know where the money is and which battles to wage. Helping with that and also when it comes to sharpening your nose for money and acting as a trigger is starting and ending the month with the Moon here. The Moon returned for its first visit since Mars returned direct last month and is here until 2nd February.
By the time the Moon comes full circle on 27th February Mars will have picked up even more speed and in his final month here by then, the warrior planet will be fired up. The Moon's sharp nose for money and ability to act as a trigger will both give you a better sense of where to channel this and end the month on a lucrative note. Meanwhile, with no planetary activity on the other side of the financial fence, the Moon's return to your financial sector from 14th February to 16th February will be a valuable chance to check in on money matters.
Health
It was just before Christmas that the dwarf planet Ceres returned to your health sector for her first deep dive into your health needs and priorities in four years, something that will normally take three months. Instead, a retrograde turn on 4th February will see her retrograde back out again next month, only to return again in June, this time to start to over and to then spend the next three months here. This makes this more of a practice run or a chance to start the process and then return to it later. This makes the Moon's visit from 9th February to 12th February a chance to listen to your body but also to get a better read on your health needs and priorities while Ceres is still here. Above all, Ceres is focused on understanding a need for balance.
---
You may also like