Taurus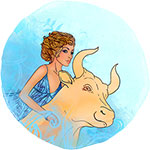 Apr 20 - May 20
---
Today's Horoscope
This week
This month
---
Taurus horoscope for October 2021
Whether at work or with anything that keeps you busy and occupies your time, October is likely to be a busy but also productive month. While the Sun will always spend the first three weeks of October in your work sector, the difference this year is that you also have Mars here until 31st October. Mars is a planet of action and while he is here, life can become busy but you can also get a lot done. Mars doesn't like to rest and that can lead to putting in long hours and failing to read the signs that signal that it is time to take a break. Fortunately, with Mercury in retrograde motion here until 19th October he has one foot on the brake while Mars has his on the gas.
It is during Mercury's final days in retrograde motion that the tide will start to turn on the career front, starting with Saturn's direct turn in your career sector on 11th October and Jupiter's a week later on 18th October. With Mercury turning direct on 19th October, this will see the brakes that have been on this professional year one by one release, something that will unleash Mars' need for speed and give this professional year the green light. Coincidently, this comes just as the dwarf planet Ceres' retrograde turn in your income sector on 9th October will open the doors to the past, second chances and untapped income potential.
Meanwhile, Venus continues to race ahead of the other planets, with a chance to update your desires and expectations in order to give the planets following in her footsteps. This is something you are benefiting from now on the work front, even though Venus left your work sector last month. Venus will start the month in your relationship sector and while she will leave on 8th October, this will give the Sun when he returns on 23rd October and Mars on 31st October something to work towards. It is then that Venus will do the same on the financial front, which will have an impact on the final months of this financial year.
Love & Romance
While there is wall to wall focus on your relationships this month, the relationship gods will spend the month swapping players in and out, giving you a variety of resources to work with while also providing one constant. The month begins with Venus, the planet of love already in your relationship sector and considering that last year she didn't return until November, this is giving her and your heart a head start. Venus is not focused on the relationship housekeeping that the Sun will focus on when he returns later in the month and gone by then, her focus is more on a sense of what's possible.
Venus will leave your relationship sector on 8th October but while the Sun won't return until 23rd October, the point in every year when the solar spotlight moves onto your relationships, you won't be on your own. Behind the scenes and in Venus' shadow is the asteroid Vesta. Vesta is the goddess of the hearth and as her focus is on duty and responsibility, she can help you hold true to Venus' desires and expectations, keeping them safe until the Sun's return. It helps that the Moon is in your relationship sector from 8th October to 10th October, returning within hours of Venus' departure to ensure you are emotionally engaged.
It is on 23rd October that the Sun will turn the solar spotlight onto your relationships, as he does at this time every year. The Sun is more objective but if you are going to turn Venus' desires and expectations into reality then you need his reality checks. It is on 31st October and in the very final hours of the month that Mars will return to your relationship sector for the first time in nearly two years. Until leaving in December, Mars will help you fight for what you want from your relationships. Meanwhile, thanks to the Moon, the early and final days of the month will be the most romantically charged.
Business & Career
This month has a mix of the expected and the unexpected, bringing you to both an ordinary and an extraordinary point in this professional year. The expected or the ordinary is that the Sun will always spend the first three weeks of October in your work sector. This is when the solar spotlight will always be on your work situation, job matters and options and until leaving on 23rd October, will provide transparency and momentum. Part of what makes this year a little different than most is that Mars is also making his first visit in two years and until leaving on 31st October is working to make things happen.
Another point of difference is that Venus, who last year didn't return until November has already been and gone, giving your heart a voice and a better sense of what you want moving forward. While Venus has been and gone Mercury, who returned at the end of August for what should have been a 14 to 15 days visit aimed at helping you to work smarter, get your head in the game, ideas on the table and the communication lines open is refusing to leave. Instead, a retrograde turn late last month will keep Mercury here until early November and in retrograde motion until 19th October, is balancing out Mars' need for speed with time to hear yourself think.
These points of difference are just part of why this should be such a good or at least defining month on the job front. However, what makes this extraordinary is that this is happening in conjunction with some serious support from Saturn and Jupiter in your career sector and from the North Node and Ceres in your income sector. Just as things are getting some real traction on the job front, Saturn's direct turn on 11th October and Jupiter's on 18th October will give this professional year the green light. The stars align to make this a potentially stunning month across the income, work and career fronts.
Money
There are not only some exciting developments on both sides of the financial fence this month but just enough competition to provide the motivation to draw on those resources. Throughout this financial year, the keyword has been balance, with the lunar nodes working to maintain a balance between money coming in and money going out. So far they have managed to achieve this, except for a few months in the first half of the year when there was a lot of planetary activity in your income sector. Since then, with the asteroid Juno alongside the South Node in your income sector and the dwarf planet Ceres alongside the North Node in your financial sector, things have been finely balanced.
Last month started to see a swing towards the income side of the financial fence, not because of any more planetary activity on that side of the fence but the growing support from planets on the job and career fronts. That will only escalate this month and while that is good news for income potential and for income, work and career matters in general, it runs the risk of disrupting that all important balance. With the Sun not due to return to your financial sector, where the focus is more on what you do with and how you manage the money you have until later next month, things had the potential to become lopsided.
What will balance this out, energise both sides of the financial fence and bring some healthy competition is Venus, the planet of money's return to your financial sector on 8th October. This is just a day before the dwarf planet Ceres turns retrograde in your income sector on 9th October, allowing them to take a divide and conquer. This will see them clash but as the planet of money, Venus will be using this as motivation. At the same time, Venus returns to focus more on money matters but in a way that is more about fuelling your financial confidence, updating your expectations and attracting positive outcomes.
Health
Because the Sun will always spend the first three weeks of October in your health sector, the solar spotlight is always on your health needs, situation and matters at this time of year. That makes it important to have your eyes open and head out of the sand until the Sun leaves on 23rd October. However, the Sun is not on his own, with Mercury and Mars offering something very different. Until leaving on 31st October, Mars is encouraging you to get moving or to take a more proactive approach to health matters. In retrograde motion until 19th October, Mercury is focused more on information gathering but also time to carefully consider your choices and any action.
---
You may also like