Sagittarius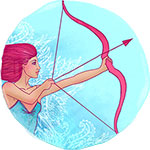 Nov 22 - Dec 21
---
Today's Horoscope
This week
This month
---
Sagittarius Weekly horoscope for Oct 18 to Oct 24, 2021
After weeks of cooperation between planets across the communication, friendship and relationship fronts, there is a further display of unity at the start of the week. While the dwarf planet Ceres will remain in retrograde motion in your relationship sector until later in the year, Jupiter's direct turn in your communication sector on Monday and Mercury, the planet of communication's just hours later will see the communication lines shift to the future in unison. There is still a lot of strong and growing support for your relationships, on the communication front it will become more about moving forward. This is something the Sun will benefit from as he moves into his final days and Mars his last full week in your friendship sector. Meanwhile, even before the month long wind down of your old solar year begins on Saturday Venus, the planet of love is not only already in Sagittarius but on hand to take advantage of a Full Moon in a fun, playful, romantic and creatively charged part of your chart on Wednesday.
Love & Romance
The Moon will return to your romantic and relationship sectors this week and while this happens every four weeks, this time is different. This will be the Moon's only visit while Venus, the planet of love is in Sagittarius and as she has returned to update your romantic and relationship desires and expectations, this is a chance for a deeper dive into both. It is in the early part of the week that the focus will be on romantic matters with your relationships getting their turn over the weekend. It begins with the Moon's return to your romantic sector on Monday for what is more than just an ordinary monthly visit. During the early days of the week, this will build towards a Full Moon, giving these romantically charged lunar vibes a lot more potency. This is a Full Moon that can always give matters of the heart a boost but even more so with Venus on board. Meanwhile, it is the Moon's return to your relationship sector on Saturday that will bring a chance to become more emotionally engaged.
Business & Career
While all is still fairly quiet on the income and job fronts, the Moon's return to your work sector in the second half of the week will amplify a growing sense of confidence. It is from Thursday to Saturday that the Moon will move through, something that can give you an intuitive read on work and job matters while aligning with Uranus here and forming a friendly aspect to Pluto on the income front. This is the Moon's first visit since Pluto's direct turn and the last before Venus returns early next month, giving you a sense that the tide has turned but also of a growing sense of anticipation. This is also the Moon's last visit to your work sector before it not only returns as a Full Moon but as a lunar eclipse next month. The fact that this will be an eclipsing Full Moon hints at bigger developments on the job front in the early weeks of 2022, a year that is set to get off to an especially lucrative start. On both the income and job fronts it is less what's possible now and more about what this hints at.
Money
By the time the Moon returns to your work sector midweek, Pluto has been in direct motion for just under two weeks but also there should be a quiet sense of confidence and a growing sense of anticipation. The Moon's monthly visits to your work sector will always see it form a friendly aspect to Pluto and this first visit since his direct turn will give you an intuitive sense that the tide really has turned. However, by the time the Moon leaves on Saturday a sense of anticipation should be stronger than ever, with Venus just two weeks away from your income sector by then. Even if Venus was returning for an ordinary visit that would have been the case but as your subconscious picks up on her approach it will recognise that something is up. That something is not just Venus' early approach but so early that instead of spending just 24 days here as she normally would, the planet of money will return early next month but won't leave until March.
Health
While it is not until Thursday that the Moon will return to your health sector, the second half of the working week and the lead up to its departure on Saturday will be the perfect time to listen to what your body is telling you. Not just because at the tail end of the working week any demands on your body will be more obvious but because it is on Saturday that the month long wind down of your current solar year begins. This is a time of year when there will be a greater need to pace yourself and also to slow down. When the Moon returns to your health sector each month this will always give you are better read on what your body is telling you, this time just before the month long wind down of your old solar year begins.
---
You may also like