Sagittarius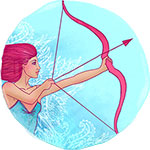 Nov 22 - Dec 21
---
Today's Horoscope
This week
This month
---
Sagittarius Weekly horoscope for Jan 17 to Jan 23, 2022
Mars' last full week in Sagittarius was always going to be important, both in its own right and for the extra time that this has tacked onto your birthday month, which ended just before Christmas. By the time the Sun left Sagittarius in December Venus and Mercury had already moved through, something that should have ended all planetary activity in your sign and cemented the launch of this new solar year. Instead, it was during your birthday month that Mars returned for the first time in nearly two years and until leaving early next week, the warrior planet of the cosmos will continue to fuel your passions, drive, warrior and competitive spirit. With the South Node wrapping up a 20 month visit to Sagittarius on Wednesday, once Mars leaves next week the launch phase will be over and the real journey will begin. Meanwhile, there is not only a turnaround on the job front this week but a better sense of what you want from your relationships and what they need from you.
Love & Romance
By the time you move into the new week Mercury, the planet of communication has been in your communication sector for 15 days and as he will normally only spend 14 to 15 days here, he should either be gone or about to leave. Instead, a retrograde turn over the weekend will keep Mercury here for another 10 days and the timing couldn't be better. Mercury is here, on hand to ensure the communication lines are open and in retrograde motion that even the past and unsaid words have a voice during the lunar nodes final days policing a balance between your personal and relationship needs. For the last 20 months, the North Node in Gemini and the South Node in your relationship sector have been in constant opposition but leaving on Wednesday, that policing of a balance between your personal and relationship needs is about to end, with Mercury on hand to ensure the communication lines are open. A relationship focus is drawing to a close just as the spirit of romance is waking up.
Business & Career
Looks are deceiving, making this one week when you don't want to judge a book by its cover but when you do need to stay in and embrace the moment. First impressions, with both planets in your work sector at a standstill will be that nothing is moving. Whether it is the dwarf planet Ceres, in her early days in direct motion after turning direct in your work sector over the weekend or Uranus, at a standstill ahead of his direct turn here on Wednesday, neither is moving. If the brakes are on, instead of fighting it embrace it, for it is on Wednesday that everything will change and within the space of just a few hours. It begins with Uranus' direct turn, something that will release the brakes but without creating any real movement. That changes a few hours later when the North Node returns to your work sector for the first time in 17 years and where for the next 18 months it will provide a sense of direction, momentum and purpose on the job front.
Money
Starting the week with the Moon in your financial sector can be a mixed blessing and especially when a clash with the Sun in your income sector is creating the first Full Moon of 2022. With all the planetary activity on the income side of the financial fence and that only set to continue and increase over the coming weeks, the Moon's first visit to your financial sector for the year had to have something more than just a chance to check in going for it. Unlike your income sector, where there is ongoing planetary activity and even more exciting developments ahead, there has been no planetary activity on the financial front since the Sun left in August. This might create some financial tension and it could put a balance between money coming in and money going out to the test but this can energise both sides of the financial fence. By the time the Moon leaves on Tuesday, with your financial instincts and imagination fuelled you will be ready to take your financial power back.
Health
The week begins with both planets in your health sector at a standstill and that might leave you feeling sluggish, as though your body is trying to keep moving while the park brake is on. Instead, this is a valuable chance to slow down and embrace rather than fight this, with a real turnaround on Wednesday. It is a combination of Uranus' direct turn in your health sector and the North Node's return just a few hours later that will not only release the brakes but usher in a new sense of energy and enthusiasm.
---
You may also like