Sagittarius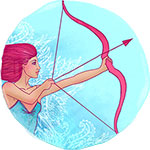 Nov 22 - Dec 21
---
Today's Horoscope
This week
This month
---
Sagittarius horoscope for February 2023
With Saturn in the last full month of a nearly three year visit to your communication sector and Mars the last of his longest visit to your relationship sector in eight decades, they are continuing to work as a team though with an eye to wrapping things up. While the month begins with the Sun in your communication sector and Mercury, the planet of communication will return on 12th February, when he and Saturn leave early next month this will bring all planetary activity on the communication front to an end, leaving it empty for the first time in three years.
While Pluto will return later next month it won't be until two days before Mars leaves your relationship sector, with the real work when it comes to ensuring the communication lines are open happening this month. Meanwhile, before the Sun leaves and returns to your home and family sector on 19th February and Mercury and Saturn early next month Venus and Neptune are here, working their magic. It has been three years since the planets of desire and dreams have been alone here, with over three weeks with no need for reality checks helping to inspire your imagination.
It is on 20th February, the same day that the Sun is in his first full day in your home and family sector and a New Moon brings a chance to draw a new line in the sand, that Venus will leave and join Jupiter in a fun, playful, romantic and creatively charged part of your chart. What she had done the previous 24 days to fuel a sense of what's possible on the home front, Venus will now do when it comes to matters of the heart and all things fun, playful, romantic and creative. While Venus returns each year, as she teams up with Jupiter this will bring the planets of love and luck together here for the first time in over a decade.
Love & Romance
With Jupiter's first full month in your romantic sector under his belt and the planet of luck and expansion starting to pick up speed and momentum, this lucky year for love and matters of the heart is getting into full swing. It was the dwarf planet Eris' direct turn followed a day later by the asteroid Juno, the queen of commitment's return that gave matters of the heart the green light and created a new sense of resolve. However, there is just one more thing that you are waiting for and it is the thing that will really set things alight.
That is Venus' return on 20th April, bringing the planets of love and luck together in your romantic sector for the first time in over a decade. While the Sun and Mercury will both return next month and that will keep the momentum going, it is when Venus and Jupiter come together that the sparks will really start to fly. What will add more juice to this will be the romantically charged lunar vibes when the Moon moves through from 22nd February to 24th February. Before then it is a Full Moon in an adventurous part of your chart on 6th February that will see the Moon form a friendly aspect to all four planets in your romantic sector.
In the meantime, also picking up speed is Mars, who ended his longest retrograde phase in your relationship sector in eight decades last month. With Mars leaving later next month, the warrior planet of the cosmos is now in full battle mode when it comes to urging you to fight for what you want from your relationships and what they need from you. Helping with that is starting and ending the month with the Moon here. The Moon returned late last month and until leaving on 2nd February will ensure you are emotionally engaged from the start. The Moon will come full circle on 27th February to ensure you end the month emotionally engaged as well.
Business & Career
While work and job matters might be on a slow burn, there has not only been a turnaround but the beginning of something that is set to expand exponentially over the coming weeks and months. By the time we move into the new month, Uranus has only been in direct motion in your work sector for nine days and as a slow outer planet, it will take weeks to start moving forward and months before he reaches top speed. That not only suits you just fine but is the near perfect pace. Uranus will spend almost the whole of February barely moving and this works to your advantage.
While Uranus is here, from 2019 to 2026, he will always spend the second half of each year in retrograde motion, with his early weeks back in direct motion a chance to get your bearings and find your feet again. Uranus begins the month closely aligned with Mercury, who having turned direct in your income sector last month doesn't leave until 12th February. After nearly 15 years, Pluto has reached his last full month in your income sector so a slower pace on the job front is a chance to keep the two in lockstep. However, the main reason why the slower pace works for you is what is coming.
Uranus' pace will be starting to pick up when Venus returns to your work sector next month, much earlier than last year but he will be back up to full speed when Jupiter returns in May to begin your biggest year for job growth and expansion in over a decade. Pacing yourself and moving up in stages is the way to go this year. By the time the Moon returns to your work sector from 24th February to 27th February Uranus will have been in direct motion for over a month and Venus will be just a few weeks away, making this a valuable chance to check in. Meanwhile, with no planetary activity in your career sector, the Moon's return from 7th February to 9th February will not only be a valuable chance to check in but these will be important days across the income, work and career fronts.
Money
While this is likely to be a good month for both income and job matters, there is something familiar and ordinary about this, but at the same time there is something very different about this. Familiar and ordinary, for while the Sun left your income sector towards the end of last month, having Mercury still here is not that unusual. What is unusual is how long Mercury has been here, for it was in early December that he returned for what is normally a 14 to 15 day chance to work with his smart head for money to get your head in the game and to think on your feet. This is thanks to a retrograde turn that not only ended last month but just four days before Uranus' direct turn in your work sector.
This has given income and job matters the green light and after a friendly aspect between Mercury and Uranus, the third in just six weeks late last month, they will remain in lockstep. It is Mercury's departure from your income sector on 12th February that will leave Pluto, the planet of change and revolution on his own and this is when things take an unfamiliar turn or they are about to. The Sun and the faster planets will always move through your income sector in the early and latter weeks of each year but since 2008, Pluto has kept the momentum going for the rest of the year.
However, after nearly 15 years here Pluto is getting ready to leave as well and in his last full month, he is using Mercury's extended stay to make both short and long term choices, decisions and plans. What makes Pluto's last full month here even more important is that it is just two days after he leaves next month that Mars will return for his belated visit to your financial sector, shifting all the focus onto the other side of the financial fence. This makes the Moon's visit to your income sector from 2nd February to 4th February more than just a chance to sharpen your nose for money and act as a trigger. Meanwhile, the Moon's return to your financial sector from 16th February to 18th February is more than just a chance to check in on money matters, with a chance to prepare for Mars' return.
Health
Of the four planets that began the year in retrograde motion Uranus, in retrograde motion in your health sector was the last to turn direct. Having just turned direct on 23rd January and still barely moving, this allows you to look to the future but with time to get your bearings. Over the coming months Uranus will be joined by planets that will ultimately make this a year for taking control of your health and for both setting and achieving goals. Until then you have time to explore your options and become informed but also wait for the right time. You will get a better read on this and on what your body is telling you when the Moon moves through your health sector from 24th February to 27th February.
---
You may also like