Pisces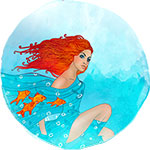 Feb 19 - Mar 20
---
Today's Horoscope
This week
This month
---
Pisces Weekly horoscope for Sep 26 to Oct 2, 2022
At the very least, the Moon's return to your financial sector on Monday is a chance to begin the week with your financial instincts and imagination fuelled and feeling emotionally and intuitively engaged from the start. However, three days after the Sun turned the solar spotlight onto your financial situation and money matters, Monday's New Moon offers a chance for a reset and a fresh start. When the Sun returned on Friday Mercury had been here for four weeks but was just hours away from retrograding back out, giving you a smart head for money and 20/20 hindsight to draw on from the start. This has also seen Mercury retrograde back into your relationship sector, where as the planet of communication he is on hand to ensure the communication lines are open as Venus, the planet of money gets ready to leave on Thursday. Their alignment on Tuesday comes in the heart of a powerful few days across the communication, friendship and relationship fronts.
Love & Romance
Even in ordinary times, with the Moon just leaving your relationship sector as we move into the new week this would ensure you are emotionally engaged from the start. While that is still the case, the timing couldn't be more important. Three days after the Sun left your relationship sector and Mercury, the planet of communication retrograded back in, the Moon is wrapping up its only visit while Venus, the planet of love is here. With Venus leaving on Thursday, this will not only make it easier to fully embrace her influence but has put your heart and gut on the same page. This will make it easier to express yourself when Venus and Mercury align on Tuesday, with the planets of love and communication coming together to give your relationships a voice while putting heart and mind on the same page. With Venus looking to the future but in retrograde motion with Mercury holding the doors to the past, this is a powerful chance for new beginnings and second chances.
Business & Career
This is a week of two halves but also the start of what will be an important firebreak. Until she leaves your work sector on Thursday, the dwarf planet Ceres is not only focused on the final days of her last deep dive into your needs and priorities on the job front for another four years but on wrapping up all planetary activity in your work sector for the year. A parade of planets has moved through over recent months, creating a huge amount of momentum, potential and resources that you can continue to draw on. In her final days, Ceres is less focused on the when, where and how or on making things happen and more on job satisfaction and a sense of purpose. It is just a day after Ceres leaves that the Moon will return for its monthly visit to your career sector on Friday. Before leaving on Sunday, the Moon will not only fuel your professional instincts and imagination but will bring a chance to regroup.
Money
There has been a changing of the guard on the financial front, with not only a very different feel as you move into the new week but with it a chance for a reset. It was just a few hours after the Sun returned to your financial sector on Friday that Mercury retrograded back out. After four weeks, the last two spent in retrograde motion, Mercury left you with a smart head for money and 20/20 hindsight just as the solar spotlight shifted onto your financial situation and money matters. This was always going to shift your focus away from the past and onto the future, but it is Monday's New Moon that not only cements that shift but creates an opportunity for new beginnings, a reset and to draw a new line in the sand. This will have a chance to settle before Venus, the planet of money returns on Thursday to fuel your financial confidence and a sense of what's possible.
Health
Thanks to the Moon's visit to your health sector last week you have a better read on what your body and gut are telling you and the timing couldn't be better. It is on Thursday that the dwarf planet Ceres will not only leave your health sector but wrap up all planetary activity on the health front for the year. While you are still unpacking a download of messages the Moon delivered, this has ensured you are emotionally engaged in the final days of Ceres' last deep dive into your health needs and priorities for another four years.
---
You may also like