Pisces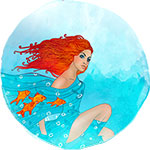 Feb 19 - Mar 20
---
Today's Horoscope
This week
This month
---
Pisces Weekly horoscope for Oct 18 to Oct 24, 2021
While Jupiter's direct turn on Monday will change the dynamics of the year itself and with Mercury turning direct just a few hours later this will see the pace of the year start to pick up, intuitively you will see that this will have big implications. You can thank the Moon for that, for not only starting the week in Pisces but aligned with dreamy Neptune before leaving on Monday, you will have your antennas up as Jupiter not only turns direct but makes a U turn that will begin his journey back to Pisces. This is something that can inspire both wishful thinking and hope in the future which for now, is more a sense than anything concrete yet is just as real. Meanwhile, the stars not only dial up an important week on both sides of the financial fence but where in the lead up to a Full Moon in your income sector on Wednesday there could be some breakthroughs. This is when Venus' early return to your career sector could bear fruit, with the planet of money able to capitalise on this financially and professionally.
Love & Romance
While this is a fairly quiet week on the romantic and relationship fronts and especially in terms of cosmic activity, this is giving Venus, the planet of love a chance to work on some goals and resolutions. Having already moved through both your romantic and relationship sectors over recent months, Venus is now in a competitively charged part of your chart where she is helping you to turn vague desires and expectations into goals and resolutions. Venus returns to do this once a year, but this year she is not only early but has returned to find the asteroid Juno, the queen of commitment and especially commitment to your relationships already here. It is from Monday to Wednesday and as it builds towards a Full Moon that the Moon will form a friendly aspect to both, something that can boost your confidence and a belief in what you deserve.
Business & Career
This is a week that should be and is all about money matters and that includes on both sides of the financial fence but this year, a twist in fate means there is a chance to benefit professionally. At some point during the Sun's month long visit to your financial sector, which runs from the latter part of September and into the first three weeks of October each year, the Moon will return to your income sector as a Full Moon. This is something that can energise both sides of the financial fence. The Moon returns for that visit on Monday but at a time of year when there is rarely planetary activity in either of your two professional houses, will find Venus 10 days into a four week visit to your career sector. It has been eight years since Venus was here to capitalise on this Full Moon and as the planet of money and on a mission to steer this professional year in a lucrative direction, capitalise she will. The Moon and Venus will be closest on Tuesday and Wednesday, just as the Full Moon is building towards peak potency.
Money
The Moon's return to your income sector on Monday is set to energise both sides of the financial fence in a way not seen in any other of its monthly visits this year. The Moon returns every four weeks and will always sharpen your nose for money, giving you a lucrative sense of direction and potentially acting as a trigger. Even if this was an ordinary monthly visit, returning to find Venus, the planet of money in your career sector was going to make this a potential game changer. However, this is no ordinary visit and instead, the Moon returns to create the Full Moon that will always fall here at this time of year. The difference is that for the first time in eight years Venus is on board, with a chance to capitalise on this both financially and professionally. This will put pressure on the Sun in your financial sector but with Mercury turning direct there on Tuesday and Mars in his last full week here, this will energise both sides of the financial fence.
Health
As is often the case, what eventually takes physical form starts in the mind, either as an idea or wishful thinking and that is why things may start to feel different this week without any outward signs. This is especially so when it comes to becoming more active or even setting new health goals, something that has been held back by a perceived lack of motivation or energy. In reality, it was more a call from the stars to hold back but and sea change is underway that will see that change. For now, this is having a positive impact on your imagination which might be inspiring some wishful thinking. However, this is the start of something that will grow.
---
You may also like