Pisces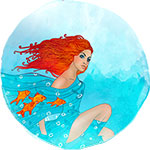 Feb 19 - Mar 20
---
Today's Horoscope
This week
This month
---
Pisces Weekly horoscope for Jun 20 to Jun 26, 2022
Starting the week with the Moon in Pisces is always an advantage, giving you an intuitive edge and ensuring you are emotionally and intuitively engaged from the start. The Moon's monthly visits are always a valuable chance to check in, both with your own inner voice and the ever changing cosmic conditions. It is the latter that you will get to experience in real time, with the Sun leaving your home and family sector and returning to a fun, playful, romantic and creatively charged part of your chart on Tuesday. The Moon's ability to keep you emotionally engaged will also make it easier to make the most of Venus' final days in your communication sector, where until leaving on Thursday she is on a mission to give your heart and your relationships a voice. Then, in a case of perfect timing, the Moon's return to your income sector on Tuesday will ensure your nose for money is sharp as Mars moves into his final two weeks here. This will make it easier to channel Mars' drive to fight for what you deserve.
Love & Romance
While there is a touch of romance in the air on Monday, this will have become full blown by Tuesday and in a way that is anything but fleeting. The week begins with the Moon not only in Pisces but at a friendly aspect to the dwarf planet Ceres, for the second time since she returned to your romantic sector last month to update your heart's needs and priorities. While this is a fleeting encounter, it comes just a day before the Sun's return to your romantic sector on Tuesday will shift the solar spotlight onto matters of the heart and all things romantic. While the Sun will spend the next month in your romantic sector it is Venus, the planet of love's return next month that will not only begin the most romantically charged weeks of 2022 but extend this romantic chapter through to August. Meanwhile, until leaving your communication sector on Thursday, Venus is on a mission to give your heart and your relationships a voice.
Business & Career
As you move into the new week it has been less than seven days since a Full Moon on the career front last Tuesday created a huge amount of momentum and unseen developments that will take another four weeks to fully play out. While things are fairly quiet on the professional front this week, with the Moon not returning to your work sector until next week, this buys you time to let the impact from last week's Full Moon play out but also to focus more on the money. It is the Moon's return to your income sector on Tuesday that will both sharpen your nose for money and potentially act as a trigger just as Mars moves into his final 14 days here. As last week's Full Moon fell at a friendly aspect to Mars, as he fuels a drive to fight for what you deserve financially, it is with insight into the professional undercurrents. You have filed away a lot more professional insight than you realise, making it important to keep trusting your gut.
Money
While the Moon will return for its ordinary monthly visit to your income sector on Tuesday, there is nothing ordinary about the timing or the implications. The Moon not only returns for its last visit before Mars, the warrior planet of the cosmos leaves but on the same day that he moves into his final two weeks here. While it won't peak until early next week, Mars is drawing closer to an alignment with the dwarf planet Eris, the warrior princess of the cosmos, with the Moon picking up on a growing resolve to fight for what you deserve. Yet while the Moon will pick up on Mars' growing sense of urgency and his drive to fight to achieve what you can now, as it moves through it will also align with both lucky Jupiter and Eris, planets that are here for the long haul. Until the Moon leaves on Thursday, this will give you a read on Mars' more urgent war on glass ceilings, roadblocks and barriers, whether real or imagined but also on the back up that will keep the momentum going.
Health
While the Moon isn't due for its next monthly visit to your health sector and the chance this brings to check in with what your body is telling you until next week, it will be for the last time before the Sun returns. With no planetary activity on the health front this year but that is about to change, the more you can simply pay attention without overthinking things the better. The week begins with the Moon in Pisces, something that will sharpen your instincts and make you more attuned to what body, mind and soul are telling you.
---
You may also like