Pisces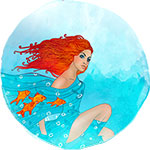 Feb 19 - Mar 20
---
Today's Horoscope
This week
This month
---
Pisces horoscope for May 2023
Change is in the air but the exciting kind with the Sun, Venus, Mars and Jupiter all on the move this month. This isn't to the degree that we had in March, when every planet in the solar system except two ended the month in a different place from where they started, making this more manageable but also a natural progression and in all cases something that is to be expected. Top of that list is Jupiter, who after 12 months in your income sector will finally leave on 17th May, though not until investing everything he can into putting future income growth and expansion on the right path and with perfect timing.
Jupiter will step back, leaving the dwarf planet Eris behind to keep the momentum going and the focus on the income side of the financial fence, but in a way that is less urgent and more about keeping things on track. So far this year there has been no planetary activity in either of your professional houses, so while there has been growing income potential, you haven't yet found the professional leverage you need. That will change just four days after Jupiter leaves, with Mars returning to your work sector on 21st May. Mars is not only here until July but Venus, the planet of money will return early next month to begin her longest visit to your work sector in our lifetime.
If there is anyone that can exploit untapped income potential it is Venus, while Mars can get things moving on the job front. In the meantime, Jupiter will be settling into his first visit to your communication sector in over the decade and as the planet of luck and expansion, he will be doing everything he can to not only get the communication lines open but to make communication a priority and the vehicle for opportunities to find you or for you to find them. With the Sun here until 21st May and Mercury, the planet of communication until early next month, this will get off to a good start. Mercury is in retrograde motion until 15th May, with a chance to give the past and unsaid words a voice before Jupiter's return on 17th May and a New Moon on 20th May will offer a chance for a fresh start.
Love & Romance
While the Sun won't return to your romantic sector until later next month, the point in each year when the solar spotlight shifts onto matters of the heart and all things romantic, this is something that you not only have a jump on, but May will not only be the most romantically charged month of 2003 but since 2021. This is something that is already underway with Mars, the planet of passion and the warrior planet of the cosmos already in your romantic sector for nearly six weeks by the time you move into the new month. With Mars not leaving until 21st May, he will continue to fuel your romantic passions and fighting spirit while at the same time declaring war on roadblocks and barriers, whether real or imagined.
However, what turns May into the most romantically charged month of 2023 is the return of Venus on 8th May. Venus and Mars are not just the planets of love and passion, but they are cosmic lovers and sparks will always fly on the rare times that they will get to spend any time together and especially alone in each other's company and without any need for reality checks. Either Venus or Mars on their own are capable of creating some of the most romantically charged weeks of any year but together they can create some real magic. With Venus not leaving until early next month, she will stay on after Mars leaves to keep the momentum going after he leaves on 21st May.
Helping to capture that momentum and Mars' romantic passions and fighting spirit will be the Moon, who moving through your romantic sector from 22nd May to 24th May will return for its only visit while Venus is here a day after he leaves. Meanwhile, the dwarf planet Ceres is not only spending her last full week in your relationship sector but on 7th May will turn direct. The month will begin with the Moon in your relationship sector and with Ceres still in retrograde motion, until leaving on 2nd May will ensure you are emotionally engaged as you look back on your relationship needs and priorities.
Business & Career
There has been no planetary activity in either of your two professional houses since the Sun left your career sector in December, which is what you would expect so isn't unusual. The Sun doesn't return to your work sector until towards the end of July each year and to your career sector towards the end of November and Venus and Mercury tend to stick close by, so the first half of any professional year is usually pretty quiet, while also making the Moon's monthly visits a lot more important, for they will keep things on track. However, all that is about to change and instead of waiting for the Sun, Mars' return to your work sector on 21st May will kick things off two months earlier.
On its own, this is the biggest event on the job front in two years, with Mars returning for the first time since 2021 to fuel your work passions, fighting and competitive spirit and to fire things up on the job front. These will be the most active, busiest and also the most productive weeks of any year that Mars shows up in and as a planet that likes to make things happen and get things done and not leaving until July, he has time to do just that. If that was it, this is going to change the whole dynamics of this professional year, but this is just a stepping stone to something much bigger.
It is early next month that Venus will join Mars in your work sector, for what is normally a 24 day chance to fuel your job confidence, attract opportunities and steer things in a lucrative direction. Instead, a retrograde turn will keep Venus here until October, making this her longest visit in our lifetime. The Moon will move through from 25th May to 27th May, giving you an intuitive read on work and job matters and an early read on Mars' influence ahead of Venus' return just days later. Meanwhile, with no planetary activity on the career front, the Moon's return to your career sector from 7th May to 9th May is a chance to check in, as well as fuelling your professional instincts and imagination for the last time before the whole dynamics of this professional year change.
Money
While the Sun left your income sector last month, even without an eclipsing New Moon in his final hours this was never going to see things dial back or at least not yet. That will happen but not until 17th May, when almost a year to the day after returning to begin your biggest year for income growth and expansion in over a decade Jupiter, the planet of luck and expansion will finally leave. While Jupiter returned last May, most of the thrust needed to get things up to speed and to gain the right momentum only happened in the last three months. By the time Jupiter returned last year he was already slowing ahead of a retrograde turn that in October saw him retrograde back out again.
Jupiter never got out of low gear in the whole five months that he was here in 2022 and when he returned just before Christmas, it was not only to start over from the very beginning again but he was still barely moving. It wasn't until Venus returned in February that Jupiter was starting to pick up speed, with the planets of money and luck coming together to get things going. Since then, the Sun and Mercury have both moved through and an eclipsing New Moon just as Jupiter moved into his final four weeks was the last blast of the final rocket launch that can not only get the most out of his remaining weeks but ensure the momentum continues after he leaves.
Jupiter spent the final days of April aligned with the dwarf planet Eris, the warrior princess of the cosmos, who will take over from where he leaves off. Eris has been here since 1926 and represents that part of you that if you dig deep enough, you have always been able to find the resolve to fight for what you deserve. Except you won't have to dig far for Jupiter has brought to the surface and when Jupiter leaves on 17th May she will keep the momentum going. The Moon's return to your income sector from 15th May to 17th May will ensure that your nose for money during Jupiter's final days while keeping you emotionally and intuitively engaged. Meanwhile, it is from 2nd May to 5th May and again from 30th May that the Moon will bring a chance to check in on money matters.
Health
Months before the Sun is due to return to your health sector and before there is usually any planetary activity on the health front, Mars' return on 21st May will mark the start of a major change. Mars is a planet of action, with his return not only bringing the drive to become more physically active but to become more proactive in taking your power back in all health situations and matters. Mars brings a new vitality and a lot of motivation. Once here Mars won't leave until July and this is what makes this so potentially game changing. Less because of Mars' influence and more because he will be here when Venus, the planet of beauty returns early next month to begin her longest visit in our lifetime. Normally Venus will spend 24 days fuelling a desire to look and feel good, but a retrograde turn will keep her here until October. You will get a better read on this and of what your body is telling you and of Mars' influence when the Moon moves through from 25th May to 27th May.
---
You may also like