Libra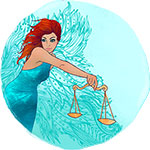 Sept 23 - Oct 22
---
Today's Horoscope
This week
This month
---
Libra Weekly horoscope for Oct 18 to Oct 24, 2021
At some point during your birthday month, the Moon will move to the other side of the sky where it will clash with the Sun to create a Full Moon. This is the Full Moon that at some point during your birthday month will put a balance between your personal and relationship needs to the test, at an important point in the year for both. This is a Full Moon that will always fall halfway between the Sun's last visit to your relationship sector and the next but also during your birthday month, so at a time when understanding your personal and relationship needs couldn't be more important. What makes this Full Moon significant is the support from the communication gods on both sides of the fence. The Moon will return to your relationship sector just hours before Mercury, the planet of communication turns direct in Libra but also to find Venus, the planet of love in your communication sector and on a mission to give your heart and your relationships a voice.
Love & Romance
From the start, it is clear that this is no ordinary week on either the romantic or relationship fronts, with a major turnaround on the romantic front and a surprise push for attention from your relationships. The turnaround happens on Monday when a week after Saturn's direct turn in your romantic sector Jupiter turns direct here as well. Jupiter is the largest and most powerful planet in the solar system, with his direct turn having a massive impact on matters of the heart. With Jupiter leaving at the end of the year, this is when the planet of luck will start working to make his final months here count. It is also on Monday that the Moon returns for what should be an ordinary monthly visit to your relationship sector. Instead, over the next few days this will build to become a Full Moon, the first here while Venus, the planet of love is in your communication sector in eight years.
Business & Career
Even with the Moon leaving your work sector on Monday, just starting the new working week here was always going to give you a head start. This will ensure you have an intuitive read on work and job matters while being emotionally and intuitively engaged from the start. As is always the case, the Moon will align with dreamy Neptune just before leaving, something that can inspire your imagination and some wishful thinking. What makes this time different is that it is just as the Moon and Neptune align that Jupiter will turn direct, making the U turn that will see him return to your work sector in December. When Jupiter retrograded back out in July he promised Neptune that he would return and just as the Moon is inspiring some wishful thinking, his direct turn will signal that this promise will be kept. Jupiter's direct turn means the planets of luck and dreams will not only reunite by the end of the year but will spend much of 2022 together.
Money
By the time you move into the new week, it has been 10 days since Venus left your income sector and with the Sun not returning until the weekend, it is still more about holding on to the desires and expectations that the planet of money left you with. When the Sun returns he will turn the solar spotlight onto your income situation, matters and options, with Mars returning later next week to declare war on glass ceilings, roadblocks and barriers, whether real or imagined, as he urges you to fight for what you deserve. It has been two years since Mars was last here and returning later next week and then not leaving until December, he will fight to make the final months of 2021 as lucrative as possible. It is Mercury's return early next month that will give you the smart head for money needed to get specific. This makes time to let Venus' desires and expectations settle and take hold extremely important. From Thursday to Saturday the Moon will squeeze in a visit to your financial sector and a chance to focus on money matters.
Health
While the Moon will leave your health sector on Monday, just starting the week here will ensure you begin the week with an intuitive read on what your body is telling you. As always, the Moon's alignment with dreamy Neptune can inspire some wishful thinking but this time, just as there is a real sense that you can turn dreams into reality. This is more a long term focus, which means you aren't burdened with having to focus on the 'when, where and how'. This would be the perfect time to start looking towards healthy new resolutions for the New Year.
---
You may also like