Libra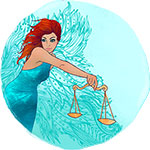 Sept 23 - Oct 22
---
Today's Horoscope
This week
This month
---
Libra Weekly horoscope for Feb 6 to Feb 12, 2023
A Full Moon, because it is an opposition between the Sun and Moon and because it can evoke strong emotional responses, can be challenging. However, the Full Moon that is in full flight by the time you move into the new week is one the easiest of any year, mainly because of where the Sun and Moon are and also the support they have. With the Moon in your friendship sector and the Sun in a playful and creative part of your chart, the biggest challenge you might face is having or wanting to be in too many places at the same time. The Moon's friendly aspect to Jupiter in your relationship sector also gets the week off to a good start when it comes to friendship and relationship building. This comes just as Jupiter is under some pressure, with the dwarf planet Ceres putting a balance between your personal and relationship needs to the test. Support from the Moon will allow you to see this as an opportunity rather than a challenge. Also important this week will be knowing when to keep your work hat on and when to take it off.
Love & Romance
Whether it is Jupiter in your relationship sector or the Sun, halfway through his month long visit to your romantic sector they both start the week under pressure. This is only temporary, but at an important point in the year on both the romantic and relationship fronts is an opportunity that might present at the time as a challenge. It is on Monday that a clash between the dwarf planet Ceres in Libra and Jupiter in your relationship sector peaks, putting a balance between your personal and relationship needs to the test. This is the only time that a growing groundswell of planetary activity in your relationship sector will be challenged and is a valuable chance to get a better sense of what you want from your relationships and what they need from you. This comes just as a Full Moon that is putting pressure on the Sun in your romantic sector peaks, bringing the kind of wakeup calls that can challenge old excuses and ensure you are not asleep at the wheel.
Business & Career
While the Moon left your career sector over the weekend, not only does this allow you to begin the new working week with your professional instincts and imagination fuelled from the start but you have had time to start unpacking a download of information. This includes from across the income, work and career fronts and in a way that is likely to have left you with a new sense of confidence. While this was an ordinary monthly visit, having come full circle from a Full Moon the Moon had returned to finish what it began last month. This was also the Moon's only visit while Venus is in your work sector and it came just as her friendly aspect to the South Node in your income sector peaked. With Venus moving into her final two weeks in your work sector on Monday but the Sun not returning until later next week, this is giving you time to listen to your heart and decide how you want to use the information the Moon has left you with.
Money
It has been two weeks since Uranus turned direct in your financial sector, but still barely moving and with Venus not returning until next month, there is a chance to look to the future but with little urgency. With Jupiter returning in May to begin your biggest year for financial growth and expansion in 12 years, there is no shortage of confidence and this makes it easier to take slow steps in the right direction. On the other side of the financial fence there is also likely to be a growing sense of confidence. This is something that got a boost last week when Venus, moving through your work sector formed a friendly aspect to the South Node in your income sector. With the Moon in your career sector at the time and at a friendly aspect to both, this created a positive few days across the income, work and career fronts that is just a taste of things to come. Meanwhile, the Moon's return to your income sector over the weekend will ensure your nose for money is sharp as Venus, the planet of money prepares to move into her final week in your work sector.
Health
With the Sun not returning to your health sector until later next week to turn the solar spotlight onto your health needs, situation and matters, Venus and Neptune continue to have fun with this. As the planet of beauty, Venus has returned to fuel a desire to look and feel good, only to find that for the first time in three years, dreamy Neptune is here on his own. Without the need for reality checks or to focus on the when, where and how, this leaves you free to focus more on wishful thinking. This might seem to have a practical purpose but is creating the motivation that will be invaluable when the planets that can make things happen arrive.
---
You may also like