Libra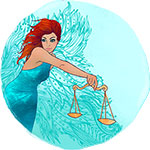 Sept 23 - Oct 22
---
Today's Horoscope
This week
This month
---
Libra Weekly horoscope for May 29 to Jun 4, 2023
When the Moon moves through a nostalgic and reflective part of your chart each month it is an invitation to slow down but as it wraps up its last visit before the dwarf planet Ceres leaves, this will speak to a deeper need for time to hear yourself think. The Moon will be gone by Tuesday, making Monday a day for being consciously aware of a need to hold back. You will not lose anything by easing into the new working week and if anything, you are likely to gain. This is something you will benefit from when the Moon not only returns to your income sector on Thursday but comes full circle from an eclipsing Full Moon. This is the Moon's only visit while Venus is in your career sector and just as she is moving into a friendly aspect to planets on the job front, this will bring things together across the income, work and career fronts.
Love & Romance
The Moon will have an impact on both romantic and relationship matters this week, both at the same time and both in the heart of the working week. It all centres around the Moon's return to Libra from Tuesday to Thursday but at a pivotal point in the year on both the romantic and relationship fronts. As it has done since the planet of change and revolution returned to your romantic sector in March, the Moon's return to Libra on Tuesday will see it move into a friendly aspect, amplifying both the spirit of romance and a sense of nostalgia. The difference this time is that this is the Moon's last visit before Pluto not only leaves later next week but will leave your romantic sector empty for the rest of the year. Before leaving on Thursday the Moon will clash with both planets in your relationship sector, but as the first visit since Jupiter left this is a valuable chance to regroup. If this flushes out any issues or pushes any buttons, a Full Moon in your communication sector over the weekend can give this a voice.
Business & Career
As she moves into her last full week in your career sector Venus is on her own but not without support and especially towards the latter part of the week. Having already formed a friendly aspect to Saturn in your work sector and to the South Node in your income sector since her return, there will be even more support as the planet of money, desire and attraction moves into the final days of her mission to fuel your professional confidence, attract opportunities and steer things in a lucrative direction. It begins when the Moon returns for its only visit to your income sector while Venus is in your career sector on Thursday, just as she is also moving into a friendly aspect to Neptune in your work sector that will peak over the weekend. With the Moon coming full circle from an eclipsing Full Moon four weeks earlier, it is in Venus' final days that things will come together across the income, work and career fronts.
Money
While the focus has rightfully been on your financial situation and money matters since Jupiter returned to your financial sector and that will remain the case, the income side of the financial fence also gets its turn this week and with perfect timing. While the lunar nodes have been working to maintain a balance between money coming in and money going out, with no planets in your income sector that hasn't always been easy. Yet what you lack in planetary activity on the income front you more than make up for on the professional front and that is what comes into play this week. It is on Thursday that the Moon will not only come full circle from an eclipsing Full Moon in your income sector but for its only visit while Venus, the planet of money is in your career sector. With Venus heading into a friendly aspect to Neptune on the job front over the weekend before leaving early next week, this could trigger unexpected developments or insight across the income, work and career fronts.
Health
This is a week where you aren't under just one set of influences when it comes to the impact that the stars are having on your health and wellbeing. The week begins with the Moon urging you to slow down and pace yourself, something that could create stress if you try and take on too much too soon. This might have a negative impact on your health on Monday, especially when it comes to feeling slightly under par or just feeling the pressure from moving into a new working week. Yet by the second half of the week this will have turned around and especially from Thursday, making it important to pace yourself and ease into the week.
---
You may also like