Libra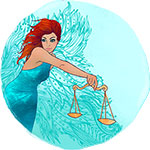 Sept 23 - Oct 22
---
Today's Horoscope
This week
This month
---
Libra Weekly horoscope for Jan 17 to Jan 23, 2022
While you began the year with Jupiter and Neptune in your work sector and over the coming months this sets the scene for job growth and potential, it is this week that this new professional year really gets a boost. This is thanks to not only starting the week with the Moon in your career sector but as the first Full Moon of 2022. There was no Full Moon in your career sector last year, with Monday's Full Moon also the first here in over a decade while Jupiter, the planet of luck and expansion is in your work sector. This gets the week off to an energised start across the job and career fronts and while the Moon will leave on Tuesday, this will have ongoing implications. This will also create a lot of professional momentum just before the South Node returns to your income sector on Wednesday to spend the next 18 months exploring untapped income potential. The North Node's return to your financial sector on the same day will focus on moving money matters forward.
Love & Romance
The week begins with some changes or shifts having taken place over the weekend that you are still adjusting to or getting a feel for. One was Mercury's retrograde turn in your romantic sector, something that will not only keep the planet of communication here ahead of the Sun's return on Thursday but has opened the doors to the past and second chances. This is going to slow things down on the romantic front but will give the planet that can put heart and mind on the same page time to prepare for Venus and Mars' eventual return. At the same time that Mercury was turning retrograde, the dwarf planet Eris was spending her first weekend in direct motion in your relationship sector at a friendly aspect to Mars, now in his last full week in your communication sector. This has allowed the warrior prince and princess of the cosmos to join forces, just as Mars' war on communication barriers is drawing to a close.
Business & Career
Starting the week with the Moon in your career sector is always an advantage, allowing you to begin the new working week with your professional instincts and imagination fuelled from the start. This is not only the Moon's first visit to your career sector for the year but the first since Jupiter's return to your work sector late last year, with the Moon's friendly aspect to him and to dreamy Neptune there getting the week off to a good start on the job and career fronts. Even if this was an ordinary monthly visit this would have been a huge advantage but as Full Moon this has a lot more energy, with a chance to energise things on the job and career fronts. There was no Full Moon in your career sector last year, with Monday's Full Moon not only the first of 2022 but the first here since late 2020. While the Moon will leave on Tuesday, with the South Node returning to your income sector less than 12 hours later, this could have ongoing implications across the income, work and career fronts.
Money
A slow start to the week on the financial front will transform into something a lot more game changing midweek. Whether it is the dwarf planet Ceres after her direct turn in your financial sector over the weekend or Uranus, in his final days in retrograde motion ahead of his direct turn here on Wednesday, both are at a standstill. Money matters aren't moving but it is not just Uranus' direct turn on Wednesday that changes that and instead, it is what happens just a few hours later that will not only energise both sides of the financial fence but keep them energised for the rest of the year. Within hours of Uranus' direct turn the North Node will return to your financial sector and its partner the South Node will return to your income sector, where they will stay for the next 18 months. As well as policing a balance between money coming in and money going out and creating a series of eclipses over the coming year, the lunar nodes will help to exploit potential on both sides of the financial fence.
Health
Monday's Full Moon is not only in a competitive part of your chart but falls at a friendly aspect to both planets in your health sector. Jupiter and Neptune, the planets of luck and dreams are already helping to inspire your motivation and some wishful thinking when it comes to health or fitness matters, with this Full Moon helping to turn this into goals and resolutions. With this is a chance to focus on the small steps you can take now towards long term goals.
---
You may also like