Libra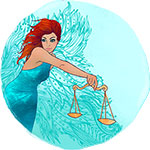 Sept 23 - Oct 22
---
Today's Horoscope
This week
This month
---
Libra Weekly horoscope for Sep 26 to Oct 2, 2022
The week not only gets off to a good start but in a way that represents an opportunity for a major reset. The Moon doesn't just return to Libra on Monday but three days into the start of your birthday month and new solar year this is an opportunity for new beginnings. By the time the Sun returned on Friday Mercury had already been here for four weeks, long enough to get your head in the game and around your options. However, in retrograde motion for the last two weeks and just hours away from retrograding back out, as the Sun returned it was a chance to look to the future rather than the past. Monday's New Moon is not just a chance to look to the future but for a fresh start, but with a better appreciation of where you have been. By the time Venus returns on Thursday to give your heart a voice there will be nothing holding you back. Venus returns just as the stars are starting to align across the playful, creative and adventurous fronts.
Love & Romance
The Moon might return to Libra every four weeks, but its return on Monday will have big implications across the personal, romantic and relationship fronts. Just three days into your birthday month and new solar year, the Moon returns as a New Moon, something that creates an opportunity for new beginnings and a chance for a personal reset. However, this second visit since Mars' return to your romantic sector will not only give the spirit of romance a boost but a potent mix of nostalgia, romance, passion and adventure. This is something that in itself is a taste of things to come. At the same time, the Moon can't move through Libra without clashing with all three planets in your relationship sector, something that can give you a better sense of what you want from your relationships and what they need from you. Just days after Mercury, the planet of communication retrograded back out of Libra this is also a push to ensure the communication lines are open.
Business & Career
While this is a fairly quiet week professionally, your sixth sense will be telling you that this is a time of preparation. This stems from the Moon's return to your career sector last week, something that not only fuelled your professional instincts and imagination but saw it form a friendly aspect to both planets in your work sector and to the South Node in your income sector as it moved through. While all the planetary activity on the career front for the year is now behind you, on the income and job fronts this is not only still in front of you but just around the corner. There will be a chance to focus more exclusively on income and job matters as the Moon moves through your income sector from Wednesday to Friday, something that will further enhance a sense of anticipation. This is not just the Moon's last visit before the first planetary activity on the income front for the year begins but is a window into the planets preparing for lucky Jupiter's return to your work sector next month.
Money
Thanks to the Moon there is reason for confidence on both sides of the financial fence. To begin with, this is focused more on your financial situation and money matters, with the Moon's monthly visit to an intuitive and imaginative part of your chart that wraps up on Monday having put it at a friendly aspect to forces in your financial sector over the weekend. What makes the timing significant is that it came on the heels of a friendly aspect between Venus, now in her final days in an intuitive and imaginative part of your chart and Uranus in your financial sector last week. This has helped to fuel your financial confidence, instincts and imagination and while the Moon is moving on, this is likely to linger. It is from Wednesday to Friday that the Moon will return for its monthly visit to your income sector. As well as sharpening your nose for money, the Moon can act as a trigger while this last visit before the Sun's return is also a chance to start lining up for the most lucrative months of 2022.
Health
While Monday's New Moon is all about new beginnings and as you move into the first full week of your birthday month and new solar year this is a chance for a fresh start there is also a call to hold something back in reserve. When your old solar year ended on Friday this should have ended a need for time to hear yourself think and to reflect but this will linger, giving you a chance to embrace the future while still pacing yourself. It was over the weekend that the Moon and Venus both put how well you know when to keep your work hat on and when to take it off to the test, with balance the key to good health this week.
---
You may also like