Libra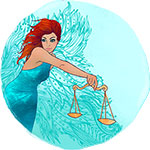 Sept 23 - Oct 22
---
Today's Horoscope
This week
This month
---
Libra horoscope for October 2021
Whether you are a September or an October born Libran, with the Sun not leaving until 23rd October, this is your birthday month and with it a chance for new beginnings and a fresh start. Every day that we wake up we have an opportunity for a do over but when the Sun is back in Libra and there is a brand new solar year stretching out in front of you this is a lot easier to do. This year it might feel like you have one foot on the brake and another on the gas, wanting to rush into things but also that there is something holding you back. However, it doesn't just feel like you have one foot on the brake and another on the gas for you actually do.
Along with the Sun, you also begin the month with Mercury and Mars in Libra, bringing brains and drive together to help you make decisions and then act on them. However, while Mars is impulsive and impatient, with Mercury in retrograde motion until 19th October one has their foot on the brake and the other on the gas. What you are feeling is the influence of planets that might appear to be working at odds but are in fact giving you enormous control. A car with an accelerator but no brake or with a brake but no accelerator would be undrivable. It is the interplay between the two and with the Sun giving you a clear view of the road ahead, this is one year when you are firmly in the driver's seat.
Sometimes the larger cosmic conditions during your birthday month can provide clues to what you can expect from the coming year and that is the case this year. On show from the start is a focus on the more playful and adventurous side of life's fence, something that rarely gets any cosmic attention at this time of year but is very much a sign of things to come. What could be underestimated are the small signs that things are taking a positive turn on the income and job fronts when in reality, this is the area that is set to explode with potential over the next 12 months.
Love & Romance
Having any planet in Libra will have a direct impact on both romantic and relationship matters but rarely at the same time. Because the Sun is always in Libra at this time of year, your birthday month will always have an impact on the planets in your relationship sector and there will always be a Full Moon at some point. With continuous planetary activity in your relationship sector year after year, it is a given that moving into your new solar year will put the spotlight on a balance between your personal and relationship needs.
What is not the norm is to have planetary activity in your romantic sector at this time of year. While the Sun and the rest of the planets moving through Libra will clash with planets on the relationship front, this year they are in for a treat when they also move into a friendly aspect to Saturn and Jupiter in your romantic sector. This happens for Venus, the planet of love as she moved through Libra and you not only start the month with the Sun, Mercury and Mars all here but having all formed a friendly aspect to Saturn. Even having Mercury in retrograde motion in Libra until 19th October will be an advantage.
With Saturn in retrograde motion in your romantic sector until 11th October and Jupiter until 18th October, Mercury will make it easier to embrace the doors open to the past and second chances. This will also be an advantage on the relationship front, for with both planets there also in retrograde motion, this will give the planet of communication a better chance to give your relationships, the past and unsaid words a voice. This will be especially so when the Moon moves through your relationship sector from 18th October to 21st October, ensuring you are emotionally engaged as Mercury turns direct on 19th October.
Business & Career
If you were to sum this month up in two words they would be 'quiet confidence' and especially on the income and job fronts. Neptune is still in retrograde motion in your work sector and will be until 1st December, so there won't be too much speed or forward movement. However, a Full Moon in your work sector last month has set things in motion that won't fully play out or run their course until the Moon comes full circle from 16th October to 18th October. The Full Moon was a different and overlapping influence and while Neptune is in preparation mode for Jupiter's return in December, this could see some breakthrough developments.
The confidence is coming from the support that Neptune and job matters are getting from Venus' return to your income sector last month. It was a friendly aspect between Venus and Neptune in the final 48 hours of September that will have an impact on the new month before it even begins. Venus has returned to begin what has the potential to be the most lucrative months of 2021, which will take until Mars leaves in December to fully play out. What a friendly aspect between Venus and Neptune has done is create a partnership between income and job matters that will continue through to the final weeks of the year.
Venus will leave your income sector on 8th October but with the Sun returning on 23rd October and Mars on 31st October, this is something that is still unfolding. Adding to that confidence is that you will start the month with the Moon in your career sector and while it will leave on 1st October, this will do more than allow you to begin the month with your professional instincts and imagination fuelled from the start. The Moon returned just as Venus and Neptune came together in the final 48 hours of September, with a chance to start the month with a lot of positive energy and insight across the income, work and career fronts.
Money
With Uranus in retrograde motion in your financial sector and not turning direct until early next year, while there is continual planetary activity on that side of the financial fence, this has moved into review mode. With Uranus here from 2019 to 2026, this is a chance to not so much take a break but pull back and instead of having to constantly reinvent the wheel, work with what is already on the table as he tracks back over ground already covered. This is a chance to shore up your position but also to give income matters some much needed attention because on the income side of the financial fence there isn't year round planetary activity.
Until Venus returned to your income sector last month there had been no planetary activity on this side of the financial fence since 2020 and as the planet of money, she is the perfect planet to get the ball rolling. Until she leaves on 8th October, Venus is not only on a mission to make her remaining time here as lucrative as possible but on leaving the planets that will follow in her footsteps a mandate. If all Venus does is leave you wanting and expecting more then she has done her job. Venus doesn't have to see things through, with the Sun returning on 23rd October to turn the solar spotlight onto your income situation, matters and options at what is usually the first sign of new income potential in any year.
However, the real chance for turning desires into reality comes when Mars returns to your income sector on 31st October for the first time in two years. Until leaving in December, the warrior planet of the cosmos will declare war on glass ceilings, roadblocks and barriers, whether real or imagined, as he urges you to fight for what you deserve, with Mercury returning early next month with the smart head for money needed to focus more on the details. Knowing that lies ahead, Venus doesn't have to do much other than convince you of what's possible. The Moon will move through your income sector from 8th October to 9th October, returning to sharpen your nose for money and act as a trigger just as Venus leaves.
Health
While you might still be experiencing a lack of motivation you should be feeling more confident. Neptune, the only planet in your health sector has not only been in retrograde motion since June but until your birthday month began on 23rd October, he had been under pressure. As well as creating some tension and feelings of lethargy, this stifled Neptune's true mission, which is to inspire your dreams and your motivation. With that pressure gone, some of your confidence is returning but it is support from Venus that will give this a real boost, just as you are moving into the new month. The Moon's return to your health sector from 16th October to 18th October will give you a better read on what your body is telling you and could inspire some wishful thinking.
---
You may also like