Libra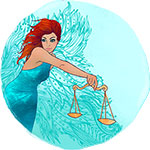 Sept 23 - Oct 22
---
Today's Horoscope
This week
This month
---
Libra horoscope for December 2023
While the Sun will always spend the first three weeks of December in your communication sector, until Mercury returned in early November there had been no planetary activity here since the end of 2022. This was the last part of your chart for any planet to reach this year, with Mercury's early return to invest some much needed energy into getting the communication lines open. As if sensing the importance, instead of rushing through in 14 to 15 days as the planet of communication normally would, he put the brakes on and is still here as we move into December. Mercury will leave on 2nd December, but a retrograde turn will bring him back for a double dip visit on 23rd December, where he will end the year.
Last year when the Sun left your communication sector this ended all the planetary activity on the communication front for the year, but in the 48 hours since he returned on 23rd November Mars returned for his first visit in two years and the dwarf planet Ceres her first in four years. Both will spend the rest of the year here, with Mercury back before Christmas and Venus returning on 30th December to spend the final days of 2023 and the early weeks of 2024 giving your heart and your relationships a voice. This is putting a lot of focus on communication and this is something that will be an advantage in every aspect of your life, with each planet bringing something different.
Meanwhile, as is always the case on the December solstice each year, the Sun's return to your home and family sector on 22nd December will put the solar spotlight on things close to home over Christmas, New Year and the holiday period. Yet even here there is a lot of focus on communication, with Mercury returning on 2nd December only to retrograde back out on 23rd December, the day after the Sun returns. At the same time, the one planet working to catch up with the rest of the planets of Venus. Held back by a retrograde phase Venus will finally leave Libra on 5th December, bringing you to the point when you can finally cement what you want from the coming year. Venus will then spend from 5th December to 30th December in your income sector, where she will be working to make the final weeks of the year as lucrative as possible. It is then that Venus will join the rest of the planets in your communication sector.
Love & Romance
While there is no planetary activity in your romantic sector this month, as has been the case since Pluto retrograded back out in June after dipping his toe in the water for a few months, the closer you get to the end of the year the stronger a sense of anticipation is likely to become. This will be especially so when the Moon returns for its last visit to the romantic sector for the year from 16th December to 18th December. With the working year drawing to a close and Christmas just a week away, the spirit of romance will mingle with the Christmas spirit. However, as the Moon's last visit before the Sun and Pluto return to your romantic sector next month, your heart's over the horizon radar will be picking up on massive developments ahead.
While Pluto, the planet of change and revolution returned for a few months earlier in the year, it was for less than three months and this first visit in our lifetime was more a chance to get an early feel for his influence. This time, apart from retrograding back out again for 11 weeks later next year, Pluto will be in your romantic sector until 2044. As the last visit before Pluto returns, the romantically charged lunar vibes from 16th December to 18th December will be laced with anticipation and a sense of major change ahead. Meanwhile, while the month begins with both planets in your relationship sector in retrograde motion, there is change in the air there as well.
Venus, the planet of love's departure from Libra on 5th December will take the pressure off both, but not before leaving you with a better sense of what you want from your relationships and what they need from you. With a massive amount of planetary activity in your communication sector, what this is able to flush out will easily find a voice. With the lunar nodes staying on to police a balance between your personal and relationship needs until January 2025, Venus is determined to make you aware before she leaves. Meanwhile, the Moon's return to your relationship sector from 20th December to 22nd December will ensure you are emotionally and intuitively engaged during the Sun's final days in your communication sector. With Chiron, the planet of healing in retrograde motion in your relationship sector until 27th December, this will be a chance to give the past and unsaid words a voice.
Business & Career
This is a month that is likely to surprise you, in that just when you thought you had got the most out of this professional year, right through to the end it will be revealed that the professional gods still have some wildcards up their sleeve. This includes across the income, work and career fronts, with the Moon set to play an important role in bringing things together. The month begins with Saturn back in direct motion in your work sector, but until Neptune turns direct on 7th December the brakes are still on while offering a chance to make the most of the doors still open to the past. While it will take well into the New Year for Neptune to start picking up speed, this will be the point when the brakes come off and there is a chance to start looking ahead.
What makes the timing so good is that it is just two days earlier that Venus will not only return to your income sector on 5th December to begin what she will be working to make the most lucrative weeks of the year but will be just separating from a friendly aspect to Saturn in your work sector when Neptune turns direct. By coincidence, later in the month, Venus will just be separating from the same aspect to Neptune when the Moon will return to your career sector on 27th December as a Full Moon. The Moon will start the month in your career sector and while it will have left by 2nd December, this will allow you to begin the month with your professional instincts sharp while feeling emotionally and intuitively engaged from the start.
A lot of water will pass under the bridge before the Moon comes full circle, with Venus working closely with Saturn and Neptune as she takes advantage of the brakes coming off work and job matters as she works to bring the year to a lucrative end. This will make the Moon's visit to your work sector from 18th December to 20th December especially important, for as well as giving you an intuitive read on work and job matters and acting as a trigger, the Moon will align with Saturn and Neptune and form a friendly aspect to Venus as it moves through. These will be especially important days on the income and job fronts, while the Moon's return to your career sector from 27th December to 29th December will see the last Full Moon of 2023 energise things across the income, work and career fronts.
Money
While Jupiter will turn direct in your financial sector this month it is not until 31st December and as New Year's Day will be the planet of luck and expansion's first full day in direct motion and Uranus won't turn direct here until later next month, money matters are still in review mode. This is allowing the other side of the financial fence to squeeze the most out of this financial year as possible and they manage that, just in the nick of time. As you move into the new month there is no planetary activity on the income side of the financial fence after within the space of just 48 hours the Sun, Mars and the dwarf planet Ceres all left your income sector late last month.
However, unlike last year while this has left your income sector empty this was not the end of all planetary activity for the year and instead, the best is still to come. Your income sector will remain empty for 10 days, giving you enough time to let things settle before being held back by a retrograde phase earlier in the year Venus, the planet of money will finally return on 5th December. Venus works through the laws of attraction and by boosting your confidence and a belief in yourself. As you can't attract what you don't believe you deserve, the two can go hand in hand to create some of the most potentially lucrative weeks of any year. With Venus leaving on 30th December, the day before Jupiter turns direct and money matters begin a resurgence, she will move through in the nick of time.
The Moon will make its only visit to your income sector when Venus is here from 9th December to 11th December, something that at the best of times can sharpen your nose for money and act as a trigger. However, not only is the planet of money here but the Moon's return two days after Neptune's direct turn in your work sector on 7th December will give work and job matters the green light. The Moon could also have a big impact on Venus' final days, thanks to returning to your career sector on 27th December as a Full Moon. Meanwhile, the Moon will make its last visit to your financial sector from 22nd December to 24th December, with a chance to ensure your financial instincts are sharp and you are emotionally and intuitively engaged moving into the final days of this financial year.
Health
While there is reason for confidence and especially when it comes to taking your power back, there is also no urgency. While Saturn has been in your health sector since March, this will be the first time in three decades that you will end one year and start the next with the hard taskmaster of the cosmos here. While this means that you can no longer take shortcuts or stick your head in the sand and Saturn will demand that you take responsibility, he is also giving you the resolve to do whatever it takes for as long as it takes. Saturn turned direct last month, but with Neptune not turning direct here until 7th December there is a call to pace yourself. You will have a better read on this and on what your body is telling you when the Moon moves through your health sector from 18th December to 20th December
---
You may also like