Leo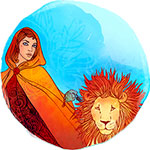 Jul 23 - Aug 22
---
Today's Horoscope
This week
This month
---
Leo Weekly horoscope for Jan 17 to Jan 23, 2022
Monday's Full Moon is pushing the pause button and the timing couldn't be better. The Moon is not only making its first visit to a nostalgic and reflective part of your chart for the year but as a Full Moon is actively stepping out in front of the Sun in your busy work sector. Either at work or with whatever it is that keeps you busy, this will put how well you know when to keep your work hat on and when to take it off to the test. With the Moon leaving on Tuesday, the tide turning on the career front on Wednesday and the busiest weeks of 2022 kicking off next week, this is the right reminder at the right time. Meanwhile, it is on Tuesday that the Moon will return for its first visit to Leo for the year. As well as a chance to check in and get your personal bearings, the Moon will interact with planets on the playful and adventurous fronts as it moves through. This will bring a reminder that life can't be all work and no play.
Love & Romance
While this is an important week on the romantic and relationship fronts there are different degrees of urgency. Even before Mercury, the planet of communication turned retrograde in your relationship sector over the weekend there was little if any urgency, with the Sun not even turning the solar spotlight onto your relationships until Thursday. While Mercury will retrograde back out next week, for now he is on hand to give your relationships, the past and unsaid words a voice. Meanwhile, while the relationship journey will continue to unfold for many months it is on the romantic front that there is a lot more urgency. With the South Node leaving your romantic sector on Wednesday and Mars six days later, all cosmic activity on the romantic front is running its course. However, as the planet of passion and the warrior planet of the cosmos Mars will be doing his best to make this last full week here count, even if that means declaring war on old excuses.
Business & Career
The Sun will always spend the last 10 days and the first three weeks of every year in your work sector, shining the solar spotlight on your work situation, job matters and options. At some point during the Sun's month long visit the Moon will return to a nostalgic and reflective part of your chart and move into opposition as a Full Moon. This is something that can put how well you know when to keep your work hat on and when to take it off and this is what is greeting you on Monday. With the Sun leaving your work sector on Thursday there should be a lot of urgency and some real pushback. Instead, the biggest danger isn't the potential of work tension or job pressure and more how easy this would be to ignore. With Venus in her last full week in retrograde motion in your work sector and Mars not returning to fire things up until next week, this is the right reminder to pace yourself, at the right time. Especially as it is on Wednesday that Uranus' direct turn in your career sector and the North Node's return will give career matters the green light.
Money
The Moon is set to have a positive impact on both sides of the financial fence this week, though one in a direct and the other in a more indirect way. The week not only begins with the Moon in an intuitive and imaginative part of your chart but as a Full Moon, with a friendly aspect to both Jupiter and Neptune in your financial sector helping to fuel your financial confidence, instincts and imagination. With the planets of luck and dreams working to make this an expansive year for financial growth and for turning financial dreams into reality, if you have been suffering from a lack of imagination this will help with that. Meanwhile, income potential will get a boost when the Moon returns for its first visit to your income sector for the year on Thursday. As well as sharpening your nose for money and acting as a trigger, the Moon will form a friendly aspect to planets across the job and career fronts as it moves through.
Health
Until the Sun leaves your health sector on Thursday he will keep the solar spotlight on your health needs, situation and matters though the planetary activity and focus will continue long after he leaves. What the Sun does is bring the reality checks that will give you something to work on or towards once he is gone. Part of those reality checks is Monday's Full Moon, which could take the wind out of your sails while putting how well you know when to rest and when to push yourself to the test.
---
You may also like