Rooster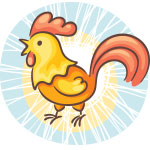 2017, 2005, 1993, 1981, 1969, 1957
---
Jun 25, 2022
Jun 26, 2022
Jun 27, 2022
---
Sunday, June 26, 2022
Ohh my, you want to do what you want today. Fortunately you are able find ways to be yourself and even be a little "crazy" without offending or upsetting others. Take advantage of any unusual offers or opportunities from others.
Rooster Weekly Horoscope: Jun 20 to Jun 26, 2022
What gives the last full week of the competitive and professionally charged month of the Horse even more of an edge is that for the first time in 12 years this is playing out during the busy and industrious Year of the Tiger. Not only do they share a common focus on job and professional matters or the things that keep you busy, but the Horse and the Tiger are also natural allies, with the two naturally working well together. This also means that whatever momentum you are able to gain during the month of the Horse you are more likely to maintain. This might make this a busy week but a week that could have long term benefits and implications.
Rooster Monthly Horoscope: June 2022
Just starting the month under a competitive and professionally charged Horse Moon is getting things off to a good start professionally. However, while the Horse Moon will run its course on 1st June, this is just the tail end of a New Moon that has ushered the month of the Horse, which will dominate the month through to 29th June. For the Rooster, this is something that can give any professional year a boost but also anything that you can channel your competitive spirit into. The difference this year is that this is the busy and industrious Year of the Tiger. The Tiger and Horse are the best of friends, energising things across the job and career fronts. While this will dominate the majority of the month, the social and serendipitous month of the Goat will begin on 29th June.
38

26

66

63

67

98

79

88

7
Power Numbers: 16, 17, 26, 31, 38, 52
Friendly Signs: Dog & Rabbit
Beware of: Ox
Colour of the day: Aqua
Born Today: Pearl S. Buck, Peter Lorre, Colonel Tom Parker, Chris Isaak, Greg Lemond
---
You may also like