Rooster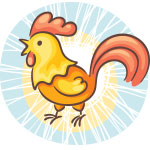 2017, 2005, 1993, 1981, 1969, 1957
---
Sep 29, 2022
Sep 30, 2022
Oct 1, 2022
---
Friday, September 30, 2022
Big plans and ideal notions may seem to satisfy less during this period, or may seem less affordable. Satisfying a large appetite can tire you more than trimming back and tasting only what truly satisfies. You may find that what you really want and believe in is getting dragged down by what you used to care about but which no longer carries its weight. If you want it, go for it, but if not, let it go without regret. Enthusiasm requires focus, and this is a good time to regain yours. When you think you're being denied, it may be that you're actually sated. Time to tune up those taste buds in every sense of the phrase.
Rooster Weekly Horoscope: Sep 26 to Oct 2, 2022
As you move into the new week a Rooster Moon has just run its course and with it the tail end of the month of the Rooster and the foundation weeks of this new personal 12 month lunar cycle. By Monday a Dog Moon will be ushering in the month of the Dragon, a month that for the Rooster can be some of the most lucrative months of any lunar year but also a chance to start putting the intentions made during the month of the Rooster into practice. With the pressure that can come with the launch of a new personal 12 month lunar cycle over, you are likely to feel lighter and a lot more confident, ready to chase the things you want across all the currencies in your life.
Rooster Monthly Horoscope: September 2022
The month of the Rooster is more than just a chance to return to your native energy and your personal truth. This has brought you to the start of a new personal 12 month lunar cycle and with it a chance for a reset, as you make new intentions and resolutions for the journey ahead. This is something that is still in its early days and at the start of the month, you are still in a period of discovery. As the month progresses you will get a clearer sense of what you want from the journey ahead but also of what life requires from you as a result. It is when the month of the Rooster ends on 25th September that this will usher in the lucrative month of the Dog. For the first time in 12 years, this will fall during the busy and industrious Year of the Tiger so should be a good month for income and job matters.
40

46

53

76

94

28

96

51

65
Power Numbers: 13, 26, 30, 40, 53, 58
Friendly Signs: Rabbit & Snake
Beware of: Pig
Colour of the day: Thistle
Born Today: Lewis Milestone, Deborah Kerr, Truman Capote, Angie Dickinson, Eric Stoltz, Jenna Elfman
---
You may also like