Rabbit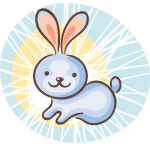 2011, 1999, 1987, 1975, 1963, 1951
---
Oct 17, 2021
Oct 18, 2021
Oct 19, 2021
---
Sunday, October 17, 2021
Your friends and interests are a good reflection of who you are becoming. You feel caught between what you want to achieve and the people you care for. Surround yourself with that which you want to become.
Rabbit Weekly Horoscope: Oct 11 to Oct 17, 2021
The first full week of the month of the Dog brings you to a good point in any year for getting on top of money matters and especially for taking your financial power back. The Dog will always have his feet on the ground and favours small steps in the right direction rather than reinventing the wheel. The Dog is doing its part by giving you a financially savvy edge and while the Moon is in its waxing or growth phase, this is a good week for doing what you can, with what you've got, from where you're at. Even if you start small the Dog will help you get things off to a good start.
Rabbit Monthly Horoscope: October 2021
When the month of the Rooster ends on 6th October, so too will what can be one of the more challenging months of any lunar year. The Rooster and the Rabbit are opposing signs and this is a month where you can feel under pressure or just that you are a round peg in a square hole at times. This can also put a lot of focus on your relationships, to a point where you are starting to ask 'what about me'. However, that is the intention, with the month of the Rooster bringing you to the halfway point in this current personal 12 month lunar cycle and the very time to ask those questions. It is on 6th October that the month of the Dog will shift the focus onto money matters but also onto quietly making any changes the Rooster may have exposed.
85

94

27

65

10

41

58

35

9
Power Numbers: 17, 27, 32, 53, 54, 61
Friendly Signs: Rabbit & Snake
Beware of: Tiger
Colour of the day: Dodger Blue
Born Today: Shinichi Suzuki, Arthur Miller, Rita Hayworth, Montgomery Clift, Jimmy Breslin, Margot Kidder, Ziggy Marley
---
You may also like