Rabbit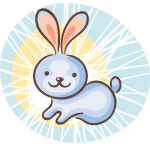 2011, 1999, 1987, 1975, 1963, 1951
---
Aug 14, 2022
Aug 15, 2022
Aug 16, 2022
---
Tuesday, August 16, 2022
Discussions with the women in your life are impending and you may wish to reconnect with someone from your past. If you're not sure how to go about contacting them, try e-mail or a telephone.
Rabbit Weekly Horoscope: Aug 15 to Aug 21, 2022
While the busy and industrious month of the Monkey won't run its course until later next week, after last Friday's Full Moon the Moon is now in its waxing or waning phase. This is a time for tying up loose ends and rather than starting anything new, the focus is on completion. This is still likely to be a busy week but with less focus on taking on anything new, as you realise there is only so much you can accomplish in the available time. The week gets off to a good start thanks to a lucrative Dragon Moon from Monday to Wednesday, something that is good news for income and job matters but also for building your confidence and helping you to work smarter.
Rabbit Monthly Horoscope: August 2022
Because 1st August is a Monday, as you move into the new calendar month you are also moving into a new working week, with a chance to hit the ground running with both. That is because it was just three days earlier that a New Moon ushered in the busy and industrious month of the Monkey, which will run through to 27th August. For the Rabbit, this is one of the busiest but also the most productive month of any lunar year and is especially good for work and job matters. However, it is not just at work that the Monkey's influence will be felt, with the Monkey putting a lot of energy into anything that occupies your time and keeps you busy. However, during the Year of the Tiger there is a greater need to know when to keep your work hat on and when to take it off.
10

45

74

34

49

31

80

60

71
Power Numbers: 2, 5, 16, 32, 34, 67
Friendly Signs: Rabbit & Ox
Beware of: Snake
Colour of the day: Goldenrod
Born Today: Ethel Barrymore, T.E. Lawrence, George Meany, Charles Bukowski, Julie Newmar, James Cameron, Angela Bassett, Madonna
---
You may also like