Capricorn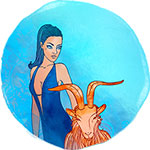 Dec 22 - Jan 19
---
Today's Horoscope
This week
This month
---
Capricorn Weekly horoscope for Feb 6 to Feb 12, 2023
While there is a lot of intensity, strong emotional responses and even some drama on both sides of the financial fence at the start of the week, once the emotional fog of war clears and any financial tension drops back it will be clear that this has empowered both sides. As you move into the new working week a Full Moon in your financial sector is in full flight and until leaving on Tuesday, as well as fuelling your emotional responses as well as your financial instincts and imagination, the Moon will clash with the Sun and Saturn in your income sector. This is something that once a year will put a balance between money coming in and money going out to the test while giving money matters some much needed attention. With continued support from planets on the job and career fronts it won't take much to turn this into motivation while leaving you more aware of both sides of the financial fence. By Thursday the Sun and Moon will be back in harmony, while adventurous lunar vibes from Tuesday to Thursday will put things in perspective.
Love & Romance
It was last week that the Moon made its monthly visits to your romantic and relationship sectors and while these were the ordinary visits that it makes every four weeks, both were more significant this time. Last week began with the Moon in your romantic sector and just seven days after Uranus' direct turn, this was your first sense that the tide has turned. These romantically charged lunar vibes were also a window into a growing sense of confidence and anticipation, with your luckiest year for love in over a decade beginning in May. It was later last week that the Moon not only returned to your relationship sector but has only just left over the weekend. This allows you to begin the week more emotionally engaged and having come full circle from last month's Full Moon, with a better sense of what you want from your relationships and what they need from you. It was a clash with Mercury that has been the push to make the most of the planet of communication's final days in your sign before leaving over the weekend.
Business & Career
While only a dwarf planet, Ceres is playing an important role as you move into the new week. Having turned retrograde in your career sector over the weekend, it is on Monday that Ceres' clash with Jupiter in your home and family sector will peak. Of the four planets there, this is the only one that Ceres will clash with and having already turned back, this nearly didn't happen either. Because Ceres is more focused on understanding your professional needs and priorities, her retrograde turn isn't going to slow things down and instead will bring a chance to draw on past experience as the journey continues. The planet that these work/life balance reminders are aimed at is Mars, who is now back in direct motion in your work sector and ready to move things forward. With the busiest seven weeks of the year stretching out in front of you, Ceres is taking one for the team as she draws your attention to a need for work/life balance. Especially with things heating up across the income, work and career fronts from Thursday.
Money
Beginning the week with the Moon in your financial sector can be an advantage, ensuring your financial instincts and imagination are fuelled and you are emotionally and intuitively engaged from the start. While that is still the case, as a Full Moon this is putting pressure on both the Sun and Saturn in your income sector. This is a Full Moon that will always fall at around this time each year and always when the solar spotlight is on the income side of the financial fence. However, the stakes a much higher this year, for with the Sun leaving your income sector later next week and Saturn ending a nearly three year visit next month, this is a time for maximum focus. With Pluto returning next month for the first time in our lifetime there could be big changes ahead, but with a need first to establish a firm bottom line. The Moon will be competing with this and as it works to keep the focus on your financial situation and money matters, there could be some financial tension. With the Moon gone by Tuesday this will quickly recede, leaving you even more determined to take your power back.
Health
It was the Moon's visit to your health sector last week that not only gave you a chance to check in with what your body is telling you but gave you a feel for an increase in energy and motivation. This was the Moon's first visit since Mars turned direct in your health sector two weeks earlier and while still barely moving, it was clear that something has shifted. With Mars picking up speed by the day and not due to leave until later next month, this is giving you a chance to start easing yourself into becoming more physically active.
---
You may also like