Capricorn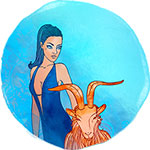 Dec 22 - Jan 19
---
Today's Horoscope
This week
This month
---
Capricorn horoscope for May 2023
There are a lot of planets on the move this month and that means change and also variety. The most significant of those moves is Jupiter, with the planet of luck and expansion leaving your home and family sector on 17th May and returning to a playful and creative part of your chart, where he will spend the next 12 months. Yet while Jupiter is changing focus and as the largest planet in the solar system and as the planet of luck and expansion this will change a lot of your priorities, nothing ends or begins at that moment. The dwarf planet Eris will stay on to not only keep the focus on things close to home but to keep the momentum created over the last 12 months going.
At the same time, Jupiter is not the first planet to return to a playful and creative part of your chart this year and in fact is the last to return, with Venus having already moved through, Mercury in retrograde motion here until 15th May and the Sun always spending the first three weeks of May here. Jupiter expands what he touches and his return is less about starting anything new and more about expanding and piggybacking off what has already begun. This also means that when the Sun leaves and returns to your busy work sector, it will be a lot harder this year for life to become all work and no play. Instead, it is the playful and creative side of life's fence that will remain dominant for the rest of the year.
Meanwhile, long before the Sun returns work and job matters have already gained some serious momentum, thanks to the seven months Mars has recently spent here. While it has been nearly six weeks since Mars left, Venus' return less than three weeks later has kept the momentum going. When Venus leaves on 8th May she will pass the torch to the asteroid Juno, who returns on 2nd May, who in turn will pass it to the Sun when he returns on 21st May. Meanwhile, Venus will join Mars in your relationship sector, bringing the planets of love and passion together here for the first time in two years.
Love & Romance
With the Sun always spending the first three weeks of May in your romantic sector, love is always in the air at this time of year. This year a lot of water has already passed under the bridge while before the Sun leaves what can be one of the most romantically charged months of any year will instead have become the launch pad for your luckiest year for love in over a decade. Even before the Sun returned last month Venus, the planet of love had already been and gone, with her romantic desires and expectations now baked in. The Sun not only returned to find Mercury here, but his retrograde turn a day later opened the doors to the past just as the solar spotlight shifted onto matters of the heart and the road ahead.
This is where things stand at the start of the month and with Mercury in retrograde motion until 15th May and the Sun leaving on 21st May, you shouldn't expect a lot to change. Yet everything does change and in all the few days from Mercury's direct turn on 15th May and the Sun's departure four days later on 21st May. It starts on 17th May when Jupiter, the planet of luck and expansion returns to your romantic sector and here now until May 2024, it is just as the Sun's month long visit is coming to an end that your luckiest year for love in over a decade begins.
Helping to both get this off to a romantically charged start and bring everything together will be the Moon's return from 18th May to 20th May. These romantically charged lunar vibes will span Jupiter's early days and the Sun's final days here. Meanwhile, Venus and Mars are joining forces to create some magic on the relationship front as only the planets of love and passion can. Venus will join Mars in your relationship sector on 8th May and until he leaves on 21st May they will work as a team to create some real chemistry on the relationship front. The Moon will return from 22nd May to 25th May, a day after Mars leaves and with Venus on her own, this will be a chance to check in, become more emotionally engaged and get a better sense of what your heart is telling you.
Business & Career
While the Sun will always end May in your work sector, even before he returns on 21st May a lot of water has passed under the bridge and developments on the job front have roots stretching all the way back to last year, when in August Mars returned for what is normally a six week visit. Instead, a retrograde turn kept the warrior planet of the cosmos here for seven months and when Venus returned last month he had only been gone for 17 days. By the time Venus returned Mars was gone but littered on the ground was the debris from the destroyed roadblocks and barriers, whether real or imagined that he pushed his way through, exposing a path forward that was paved with potential.
There was also a huge amount of momentum and after seven months fuelling your work passions, fighting and competitive spirit, all this needed was a better sense of where to channel this. As Venus had returned to give your heart a voice but also to steer things in a lucrative direction, Venus was the right planet for the job. Venus is here until 8th May but while the Sun won't return until 21st May, keeping the momentum going will be the asteroid Juno, the queen of commitment who will return for the first time in four years on 2nd May. While only a minor player, Juno can give you the resolve to not only turn Venus' desires into resolutions but can help you stick to them.
The Moon will return to your work sector from 20th May to 22nd May, so will be here when the Sun returns on 21st May, ensuring you are emotionally and intuitively engaged from the start. Meanwhile, with the Moon returning to your career sector from 2nd May to 5th May and then returning again on 30th May, your professional instincts will be sharpest in the early and latter days of the month, but with a lot of water passing under the bridge on the job front in the meantime.
Money
There is change in the air and the dynamics of this financial year are about to change, though to start with there is little sign of this and more what your sixth sense is telling you. As has been the case all year all the planetary activity is on the income side of the financial fence and there has been no planetary activity on the other side, where the focus is on your financial situation and money matters since last August. With the Sun not returning to your financial sector until towards the end of July each year, that should remain the case for several more months, except that is not what your sixth sense will be telling you.
What you are picking up on is Mars' approach, with the planet of passion and the warrior planet of the cosmos returning for his first visit to your financial sector in two years on 21st May. On its own this is a game changer, with Mars not only returning to give money matters some much needed attention but to fire up your financial passions and fighting spirit in a way that gives you a chance to take your financial power back. However, what makes this significant is that it is early next month that Venus, the planet of money will return for what is normally a 24 day visit. Instead, a retrograde turn will keep her here until October, for what will be her longest visit in our lifetime.
With Mars returning just a few weeks earlier but also with the planets of money and passion working together for several weeks, this will have major implications. In the meantime, while Pluto won't leave your income sector until next month, a retrograde turn on 2nd May will see him turn around and start heading back out again, less than six weeks after he returned. Pluto will still be here when Mars returns to your financial sector and as the planets of war and revolution clash there could be some financial tension, especially around 21st/22nd May and again when the Moon moves through your financial sector from 25th May to 27th May. However, these are planets that know how to turn financial tension into motivation while this is simply income and money matters battling for your attention at the same time.
Health
There are planets coming and going from your health sector this month, which means that while there will be cosmic attention here all month, the dynamics will change. The month begins with Venus, the planet of beauty on her own and until leaving on 8th May she is fuelling a desire to look and feel good that you can use as motivation. Venus will be joined by the asteroid Juno, with the queen of commitment returning with a chance to turn her desires into resolutions. In between Venus' departure on 8th May and the Sun's return on 21st May Juno will be on her own, making this a valuable chance to cement those resolutions before the solar spotlight shifts onto your health needs, situation and matters. The Moon will move through from 20th May to 22nd May, so will be here, giving you a better read on what your body is telling you when the Sun returns.
---
You may also like