Aries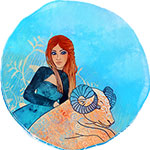 Mar 21 - Apr 19
---
Today's Horoscope
This week
This month
---
Aries Weekly horoscope for Jun 20 to Jun 26, 2022
There are two significant cosmic shifts this week as well as insight into a third that is now just two weeks away. The first shift comes on Tuesday when after a month in your communication sector, the Sun leaves and turns the solar spotlight onto your home, family and/or property matters instead. This is something that happens at this time every year but just as the dwarf planet Ceres has spent over a month updating your needs and priorities when it comes to things close to home. At the same time with Mercury, the planet of communication staying on in your communication sector and Venus returning on Thursday to give your heart and your relationships a voice, the communication lines are in safe hands. This does mean that Venus will end her transit through your income sector, as well as working to make her final days as lucrative as possible with Mars just 12 days away by the time she leaves, the most lucrative months of 2022 are still in front of you.
Love & Romance
While communication became a lot more important when Mercury, the planet of communication returned to your communication sector last week, it becomes even more important this week, ahead of Venus' return on Thursday. While the Sun will leave on Tuesday, just starting the week with the solar spotlight on communication is an advantage. Because Mercury had retrograded back out but has returned for a do over visit, this is something that you didn't have to adjust to. With Mercury here for the rest of the month, he will continue to work at getting all the communication lines open, freeing Venus to focus more on giving your heart and your relationships a voice. Having the Moon in Aries during the middle part of the week and then return to your communication sector over the weekend will help with that, bringing emotional responses to the surface where they can find a voice.
Business & Career
While it was a friendly aspect to the Moon, as it made its monthly visit to your career sector last week and Venus in your income sector that has left you with a lot of insight and confidence on both fronts, this was just a teaser for this week. It is ahead of her departure from your income sector on Thursday, that Venus will spend her final days at a friendly aspect to Pluto, in retrograde motion in your career sector. This is the same aspect that the Sun and Mercury had formed over recent months and Mars will over the coming months, adding to the ongoing link between new income and untapped professional potential. This is something that the Moon's return to your income sector on Thursday, just hours after Venus leaves will capitalise on and help to bank. Things are stable professionally but as income potential evolves there is a chance to benefit from this professionally.
Money
While the conditions on the income front are evolving, they have far from run their course, as you would expect at this time of year. It has been a month since the Sun left your income sector, taking the solar spotlight off your income situation and matters and bringing you to a point where it then becomes more about staying on track. However, with Mercury having retrograded back for a double dip visit and Venus late to return this year, things are still active and evolving. Mercury's departure last week has left you with the smart head for money needed to get your head in the game when you need to but until leaving on Thursday, Venus is working through the laws of attraction to make her final days as lucrative as possible. However, even when the Moon returns a few hours after Venus leaves, supposedly to tie up loose ends, your instincts will be telling you there is more to come. By this point, Mars is just 12 days away from his first visit in two years and from a chance to take income potential to a whole new level.
Health
Starting the week under nostalgic and reflective lunar vibes might create a lack of motivation or energy at the start of the week but this is likely to be something that is self led. It is less likely to come from a feeling of exhaustion or feeling under par and more from a relaxed sense of confidence. This could see you become a bit rebellious, not wanting to get out of bed or to do more than you have to, getting the week off to a good start when it comes to a chance to recharge your batteries in a way that is good for body, mind and soul. You don't need to feel guilty, for you will be back in the fast lane from Tuesday.
---
You may also like