Aries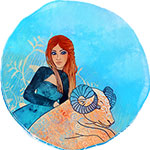 Mar 21 - Apr 19
---
Today's Horoscope
This week
This month
---
Aries Weekly horoscope for Oct 18 to Oct 24, 2021
As much as Saturn's direct turn last Monday and Pluto's direct turn in your career sector four days earlier has seen the tide start to turn, the final step in a major turnaround takes place in the early hours of the week. It begins with Jupiter's direct turn on Monday and as the largest and most powerful planet in the solar system, this is going to shift the gravitational pull away from the past and onto the future. However, it is not until Mercury turns direct six hours later the final brake holding this year back is released. As fate should have it, this comes just as the Moon not only returns to Aries on Monday but to begin the build up to a Full Moon that at the halfway point in each solar year offers a chance for a reboot. A major turnaround is taking place just as there is a chance to draw a major new line in the sand. Mercury's direct turn will put the planet of communication back in full action during the Sun's final days in your relationship sector.
Love & Romance
With the Sun leaving your relationship sector on Saturday and Mars later next week, there was always going to be a lot of focus on your relationships this week but it is the Moon and Mercury that could make this a defining one. It is the Moon's return to Aries on Monday that begins the lead up to a Full Moon that at the halfway point in each solar year puts the focus back onto your needs and priorities. As the Moon clashes with the Sun, this can put a balance between your personal and relationship needs to the test. If there is going to be any tension it will be on Tuesday and Wednesday but in the process, this will give you a better sense of what you want from your relationships and what they need from you. What makes the timing auspicious is that it is just hours after the Moon's return that Mercury, the planet of communication will turn direct in your relationship sector. This creates the potential for a breakthrough.
Business & Career
By the time the Moon not only moves through your income sector from Thursday to Saturday but forms a friendly aspect to Pluto in your career sector, it will be halfway between his direct turn and Venus's return early next month. This will be your first sense that the tide has turned but also that things could soon start to moving forward much earlier than is the case in most years. Since his return to your career sector in 2008, Pluto has spent the middle months of each year in retrograde motion and with the Sun not returning until just before Christmas each year, this gave you time on the other side to slowly get things up to speed. For the first time since 2017 Pluto and career matters haven't been hampered by having Saturn on board and when Venus makes an early return there will be nothing to stop things moving forward. With Venus returning early next month but not leaving until March, a sense of anticipation is set to increase.
Money
The Moon is making a perfectly timed visit to your income sector this week and not just because it returns in the middle of the working week. This is the Moon's first visit since Pluto's direct turn in your career sector two weeks earlier but also the last before Venus, the planet of money returns early next month to begin steering this professional year in a lucrative direction. However, what makes the timing auspicious is that the Moon will move through just before the focus is about to shift to the other side of the financial fence. By the time the Moon returns to your income sector on Wednesday, it has been 12 days since Venus left your financial sector and with the Sun not returning until Saturday, this is a chance to get in and out without running into any conflict. The Sun will return to put the solar spotlight on your financial situation and money matters before the Moon leaves but with no time for them or their agendas to clash. It will be a different story when the Moon returns as not only a Full Moon but a lunar eclipse next month.
Health
While the week begins with the Moon just wrapping up a visit to a nostalgic and reflective part of your chart and this is usually the call that you get every four weeks to slow down, this time this is more likely to inspire your imagination and some wishful thinking. This comes with the confidence that comes from knowing that you have nothing to prove and that listening to your body, including any calls to slow down and rest is just as important as listening to a call to be proactive.
---
You may also like