Aries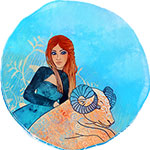 Mar 21 - Apr 19
---
Today's Horoscope
This week
This month
---
Aries Weekly horoscope for Feb 6 to Feb 12, 2023
The week gets off with a bang, with a Full Moon in a playful and creative part of your chart not running its course until Tuesday. If you are back at work on Monday, this might create a case of Mondayitis, but with things coming alive across the income, work and career fronts in the middle of the week, even the professional gods are calling for a wait and see approach. It is on Tuesday that the Moon will return for its ordinary monthly visit to your work sector, but with extraordinary timing. Less because this will put the Moon here and your instincts sharp in the middle of the working week and more because this is not just the first visit since Uranus' direct turn in your income sector but the last before Mercury leaves your career sector over the weekend. By the time the Moon leaves on Thursday Mercury will be moving into his last alignment with Pluto here in our lifetime, with the planet of change and revolution giving you the confidence to make some bold moves.
Love & Romance
The Moon not only starts the week in your romantic sector but as a Full Moon, giving these romantically charged lunar vibes a lot more potency. The Moon will be gone by Tuesday but unlike an ordinary monthly visit, the impact is likely to linger and especially with Venus, the planet of love now only two weeks away from her return to Aries. There is already a sense of nostalgia in the air as moving through a nostalgic and reflective part of your chart, Venus is taking your heart on a nostalgic trip down love's memory lane that will end with her return to your sign. It is later in the week that the Moon will return to your relationship sector on Thursday, just as the dwarf planet Ceres is settling into her first week in retrograde motion here. The journey towards better understanding your relationship needs and priorities will continue, but with a chance to look to the past in order to put things in perspective.
Business & Career
This is a week that is set to not only grow on you but grow in importance and especially from Tuesday. This makes Monday a chance to get your bearings and if you can, keep your mind and your options open. Things start to heat up on Tuesday when the Moon returns to your work sector. This is an ordinary monthly visit, but until leaving on Thursday this will ensure your instincts are sharp and you are emotionally and intuitively engaged in the heart of the working week. Because of the friendly aspects that the Moon will make as it moves through, this was always going to have a positive impact across the income, work and career fronts. However, what makes the timing significant is that the Moon not only returns during Mercury's final days in your career sector but just as he is moving into an alignment with Pluto before leaving over the weekend. The Moon will form a friendly aspect to both, giving you a better read on their last alignment here in our lifetime and a chance to make some bold calls.
Money
Things are not only settled on both sides of the financial fence this week but there is likely to be a renewed sense of confidence. Last week was especially good for both income and money matters and with the lunar nodes policing a balance between money coming in and money going out, this helped to ensure things weren't one sided. Last week not only began with the Moon in your income sector but a week after Uranus' direct turn and as the stars were aligned on the income and career fronts. It was later last week that both the Moon and Venus, the planet of love moved into a friendly aspect to the South Node in your financial sector, balancing things out. This week the Moon is doing it again, with its return to your work sector from Tuesday to Thursday creating positive conditions across the income, work and career fronts. Then in order to maintain the right balance, the Moon will return to your financial sector over the weekend where it will end the week.
Health
The Moon will return for its second visit to your health sector this week and the timing couldn't be better. The Moon returns every four weeks and this will always give you a chance to check in and especially with what your body is telling you. The Moon will move through from Tuesday to Thursday, right in the heart of the working week and at a time when your physical resources are more likely to be put to the test. This will give you a read on what your body is telling you in real time, especially as Venus is bringing a desire to slow down.
---
You may also like