Aries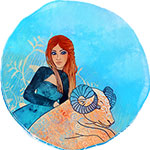 Mar 21 - Apr 19
---
Today's Horoscope
This week
This month
---
Aries Weekly horoscope for Sep 26 to Oct 2, 2022
Any week that begins on a New Moon is going to get off to a good start while offering a chance for a fresh start and beginnings. Falling in your relationship sector, this is putting a lot of focus on your relationships from the start but just as there was already a turnaround. It was just a few hours after the Sun returned on Friday, turning the solar spotlight onto your relationships that Mercury retrograded back out. With Mercury no longer in retrograde motion here this also turned the focus off the past and onto the future, just as a New Moon brings an opportunity for a fresh start. Even better is that this was always going to be a good week for communication and for personal and professional networking, friendship and relationship building. Meanwhile, Mercury is still in retrograde motion but before turning direct on Sunday his focus is more on working as part of a team of planets that are holding the doors open to the past, second chances and untapped potential across the income, work and career fronts.
Love & Romance
The focus is not only still on your relationships as you move into the new week but with a significant shift in focus. It was last Friday that the Sun returned to your relationship sector, something that on the September equinox each year will always turn the solar spotlight onto your relationships. The difference this year is that just as the Sun was returning Mercury, the planet of communication was just hours away from retrograding back out. Mercury had already been here for four weeks by this stage and with two of those weeks spent in retrograde motion, this gave him time to not only get the communication lines open but to give the past and unsaid words a voice. This makes Monday's New Moon an opportunity for a fresh start for with Mercury gone and Venus, the planet of love returning on Thursday it is time to not just look to but embrace the future. With the Moon here until Wednesday this will also ensure you are emotionally engaged from the start.
Business & Career
While the Sun left your work sector on Friday, something that at this time each year will always take the solar spotlight off your work situation and job matters, things not only continue to evolve but this could be the most defining week of the year on the job front. It was just a few hours after the Sun left that the Moon returned, ensuring you were emotionally and intuitively engaged as Mercury retrograded back in just a few hours later, four weeks after leaving. The Moon is just leaving as we move into the new week, wrapping up its only visit while Venus is here. With Venus leaving on Thursday, she was always going to work to make her final days the best, but the right resources kick in at the same time. Just as an alignment between Venus and Mercury peaks on Tuesday they both move into a friendly aspect to Pluto, in his last full week in retrograde motion in your career sector. The stars are not only aligned on the job and career fronts, but this brings the past, present and future together.
Money
As you move into the new week the Moon is just wrapping up a visit to your work sector that will ensure you are emotionally and intuitively engaged from the start, something that is good news both professionally and financially. While the Moon's monthly visits will always see it form a friendly aspect to planets on the income and career fronts as it moves through, the difference this time is that this is its only visit while Venus, the planet of money is in your work sector. With Venus leaving on Thursday, this is giving the final days of her mission to fuel your job confidence, attract opportunities and steer things in a lucrative direction a boost. Meanwhile, the Moon's return to your financial sector from Wednesday to Friday will do more than just fuel your financial confidence, instincts and imagination. This last visit before the Sun returns and before money matters move into the spotlight is a chance to prepare for the new beginnings ahead.
Health
As we move into the new week the Moon is just leaving your health sector, wrapping up what could be one of the most important visits of the year. The Moon's return each month will always give you a chance to get a better read on what your body is telling you but when it returned on Friday, it was just a few hours after the Sun left. After a month with the solar spotlight on your health needs, situation and matters, the Moon not only brings a chance to regroup but to look at things in a less black and white way.
---
You may also like