Aries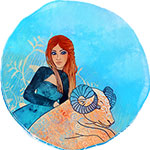 Mar 21 - Apr 19
---
Today's Horoscope
This week
This month
---
Aries horoscope for October 2021
October is always an important month for you, with the planets that were in Aries during your birthday month and at the start of this new solar year now on the other side of the sky. Halfway between your last birthday month and the next, the halfway point in your current solar year can be a time of questioning but also an opportunity for a reset. Those same planets that were at your side six months ago are now staring at you from across the other side of the sky, questioning intentions and resolutions made then. Yet this is a point in the year that can be more empowering than at the start of a new solar year because you are no longer operating on blind faith.
Meanwhile, there is a lot of focus on your relationships but in a wider context on personal and professional networking, friendship and relationship building in general. There are so many planets involved and they are all working together from across your communication, friendship and relationship sectors that this is covering all your human connections. With planets on all three fronts spending at least part of the month in both direct and retrograde motion, this includes the potential for new beginnings but also for second chances or for reconnecting with the past. The latter is especially so in the first 19 days of the month.
This month also offers a break from some busy months, either on the job front or whatever it is that keeps you busy before new movement and developments on the career front next month. The planet ready to take advantage of this break is Venus, who on 8th October will return to your sector of adventure, travel, learning and discovery. Last year Venus didn't return until December but as well as bringing with her a new desire for adventure she opens the doors to some adventurous months. While Venus is only here until early next month, a parade of planets will follow in her footsteps over the coming months. That includes Mars, who making his first visit in two years will spend Christmas, New Year and the holiday period here.
Love & Romance
While the focus is still very much on your relationships this month, as it was last month as well, things take an unexpected romantic turn, especially for this early in the year. The Sun will always spend the first three weeks of October in your relationship sector, so the solar spotlight is always on your relationships at this time of year. Venus' early return means that the planet of love has been and gone but not before playing her part by giving you an early sense of what you want from your relationships. It is also the norm to have Mercury, the planet of communication spend at least part of October in your relationship sector.
Instead, a retrograde turn late last month will keep Mercury here for the whole month and until turning direct on 19th October, his focus will be on giving your relationships, the past and unsaid words a voice. The Sun will leave your relationship sector on 23rd October and even Mars, making his first visit in two years will leave on 31st October. However, even after turning direct Mercury will be slow to pick up speed and won't finally leave your relationship sector, ending all planetary activity on the relationship front until later next year, until early November.
It is during the heart of all this focus on relationships and just a day after a New Moon in your relationship sector on 7th October that things take an unexpected romantic turn. This is thanks to Venus's return to an adventurous part of your chart on 8th October. Last year Venus didn't return until December and was still here as you moved into 2021, with the planet of love making a quick turnaround. Venus' return will always bring the spirit of romance and adventure together and especially as she will move into a friendly aspect to both planets in your romantic sector before leaving early next month.
Business & Career
October is the month when you get to catch your breath, an interlude between two parts of a play where the stage crew can rearrange the stage while you get to take a break during the intermission. The act that has just finished is the months of planetary activity on the job front, starting with Mars' return in July and ending with the Sun's departure from your work sector on 23rd September. These can be the busiest months of any year but even more so with Mars having made his first visit in two years. This has created a lot of momentum but with no more planetary activity on the job front, you have the monkey off your back and with no need to reinvent the wheel.
Meanwhile, while the Sun doesn't return to your career sector until just before Christmas each year and the final and early weeks of any year are when the solar spotlight is on your career and professional situation, matters and options, things are set to get off to an early and exciting start in early November. This is when Venus will return for what is usually a 24 day visit aimed at fuelling your professional confidence, attracting opportunities and steering things in a lucrative direction. Instead, a retrograde turn will keep Venus here until March, with Mars joining her in the New Year to make the final two months of 2021 and the first three months of 2022 potentially game changing.
October is a firebreak between a busy three months on the job front and the start of an exciting five months on the career front but it is also a time of transition. The month begins with Pluto, the planet of change and revolution in retrograde motion in your career sector, as he has been since April. This is giving you a chance to reflect on this professional year so far and also to tie up loose ends, with his direct turn on 7th October a chance to shift your focus as you start to line up for the next chapter. It is while Pluto is in retrograde motion that the Moon will make its first visit to your work sector since the Sun left, making 3rd October to 6th October an important few days for getting your bearings across the income, work and career fronts.
Money
Since Uranus' return to your income sector in 2019 and until he leaves in 2026 there has been continuous planetary activity on this side of the financial fence while on the other side, money matters are only active for several weeks or for a few short months at a time. This will always happen when Uranus is in retrograde motion and while there will still be competition between the two they won't be competing for the same ground. In retrograde motion now for the rest of the year, Uranus is more focused on untapped income potential and on retracing steps he has already taken.
This doesn't mean that there is won't be income opportunities or breakthroughs but this is more likely to come from what has already been invested. When the Moon returns to your income sector each month, as well as sharpening your nose for money and acting as a trigger, an alignment with Uranus can trigger unexpected, serendipitous or eureka moments. As the Moon will move through from 21st October to 23rd October, this is when you most need to have your antennas up. Especially as it is just as the Moon leaves that the Sun will return to your financial sector, turning the solar spotlight onto your financial situation and money matters.
This is not the first time that the focus will be on this side of the financial fence with Venus, the planet of money starting the month here. Venus' return last month put the focus on money matters for the first time this year and until leaving on 8th October, she is on a mission to fuel your financial confidence, update your expectations and attract positive outcomes. Meanwhile, while the Sun's return to your financial sector on 23rd October is the point in every year when the solar spotlight will shift onto your financial situation and money matters, Mars' return on 31st October will see the warrior planet of the cosmos return for the first time in two years to help you fight to take your financial power back.
Health
When the Sun left your health sector on 23rd September this took the solar spotlight off your health needs, situation and matters. However, this was after months of planetary activity and a whole month when the solar spotlight was working to make everything transparent. This has brought you to the point where, with everything out in the open and more aware of your health needs and priorities, you can choose what to do with that insight. The Moon will move through your health sector from 3rd October to 6th October and will then come full circle, returning on 31st October. When the Moon returns each month this is a valuable chance to listen to what your body is telling you.
---
You may also like