Aries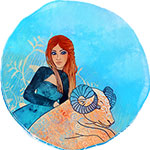 Mar 21 - Apr 19
---
Today's Horoscope
This week
This month
---
Aries horoscope for May 2023
Of all the changes this month, the biggest is also the one with the most personal significance for you. It is on 17th May, just under four weeks after your birthday month ended that Jupiter will leave Aries, bringing to the end a 12 month mission to lay down the foundations for a new 12 year Jupiter cycle of expansion. When Jupiter returned to Aries in May 2022 it wasn't just to begin your most expansive year in over a decade or to open major new doors but to begin a new 12 year cycle of expansion and this will continue until he comes full circle, returning to Aries and bringing this cycle to a conclusion in 2034. Rather than the end of a journey, it is just the start.
This makes the Moon's return to Aries from 15th May to 17th May timely, for this will ensure you are emotionally engaged during Jupiter's final days, while leaving just a few hours later to follow him into your income sector. Here Jupiter will join up with the Sun and Mercury at a point in each year when the solar spotlight is always on your income situation, matters and options. This and the fact that Venus, the planet of money has already moved through will get what is destined to be an expansive 12 months for income growth and expansion off to the right start.
Meanwhile, while Venus will start the month in your communication sector, which is where the Sun will end the month once he leaves your income sector on 21st May, her mission to give your heart and your relationships a voice will remain in safe hands. This is thanks to the asteroid Juno, the queen of commitment and especially commitment to your relationships' return to your communication sector on 2nd May. It is when she leaves that Venus will join Mars to focus on home and family matters and she will stay here for the rest of the month. Mars however will move on, returning to a fun, playful, romantic and creatively charged part of your chart on 21st May for the first time in two years. With Venus not only returning early next month but staying here until October, this is the start of an exciting new chapter.
Love & Romance
There is good news on the romantic and relationship fronts this month, though it is your relationships that have your attention from the start. More specifically it is about having the communication lines open with Venus, the planet of love starting the month in your communication sector, where until leaving on 8th May she is on a mission to give your heart and your relationships a voice. Venus will be joined by the asteroid Juno, with the queen of commitment and especially commitment to your relationships returning for her first visit to your communication sector in four years on 2nd May. Juno will stay on after Venus leaves, keeping the communication lines open until she is joined by the Sun on 21st May.
Taking early advantage of all this communication support will be the Moon, who will return to your relationship sector from 2nd May to 5th May. Returning on the same day as Juno and with Venus still in your communication sector, these will be especially important days on both the communication and relationship fronts. It is on the romantic front that there is very little to indicate why your heart will be picking up on a sense of anticipation, but that is about to change in a major way. There has been no planetary activity in your romantic sector since last August and with the Sun not returning until the latter part of July each year, this shouldn't even be on your radar.
Yet by the time the Moon returns to your romantic sector on 25th May, everything will have changed. It is four days earlier that Mars will return for his first visit to your romantic sector in two years, with the warrior planet of the cosmos returning to break the romantic drought as he works to fire up your romantic passions and fighting spirit. What makes the timing significant is that it is early next month that Venus, the planet of love will return for what is normally a 24 day visit, but instead a retrograde turn will keep her here until October. A combination of Mars' return and Venus' longest visit in our lifetime is set to make the middle months of 2023 the most romantically charged in a long time.
Business & Career
While this is a fairly quiet month on the professional front, there are signs of change that to start with your sixth sense will be picking up on but without anything to connect this to. What your subconscious will be picking up on is two events in the first week that hint at significant changes ahead, though the biggest impact won't be felt until next week. The first event is Pluto's retrograde turn on 2nd May, something that less than six weeks after leaving your career sector will see him turn around and start heading back. Your career sector has been empty since Pluto left, with a chance to let things settle after being here for the last 15 years.
Pluto won't return until next month, but the fact that he is on his way back is something that your over the horizon radar will be picking up on and as once back he will spend the rest of the year here, this means that this was never going to be the end of the story. By the time the Moon makes its monthly visit to your career sector from 9th May to 11th May Pluto will be on his way back and there will be a better sense of his approach. The second event is the dwarf planet Ceres' direct turn in your work sector on 7th May, something that will shift your focus away from the rear view mirror while her review of your needs and priorities on the job front will continue until she leaves next month.
Ceres returned to your work sector the day before Pluto left your career sector and she will leave again just after he returns, keeping the seat warm while taking advantage of a chance to focus more on work and job matters. The Moon will begin the month in your work sector and until leaving on 2nd May will ensure you are emotionally and intuitively engaged, while giving you a read on Ceres' final days in retrograde motion. By the time the Moon returns from 27th May to 30th May Ceres will be back in direct motion but more importantly, Jupiter will be in your income sector and your biggest year for income growth and expansion in over a decade will be underway.
Money
Because the Sun will always spend the first three weeks of May in your income sector, the solar spotlight is always on your income situation, matters and options at this time of year. This year a lot of water had already passed under the bridge before the Sun even returned, while there will be major and more long term developments before he leaves. By the time the Sun returned to your income sector last month Venus, the planet of money had already been and gone, updating your income desires and expectations for the coming year while leaving you with a better sense of where the money is.
By the time the Sun returned Mercury was not only here but for over two weeks had been giving you the smart head for money needed to get your head in the game. Normally only here for 14 to 15 days Mercury should have left but instead, a day after the Sun returned on 20th April he turned retrograde and will remain in retrograde motion until 15th May. For the first half of the month this will see the Sun keep the solar spotlight on the road ahead while Mercury has his on the rear view mirror. It is during this time that the Moon will not only move through your financial sector from 5th May to 7th May, but a clash with the Sun will create an eclipsing Full Moon on 6th May.
This is something that can energise both sides of the financial fence and as the last eclipse before the lunar nodes leave your two money houses in July, this will make their job of policing a balance between money coming in and money going out more transparent. Meanwhile, it is in between Mercury's direct turn on 15th May and the Sun's departure from your income sector on 21st May that will see everything change. It is on 17th May that Jupiter, the planet of luck and expansion will return to begin your biggest year for income growth and expansion in over a decade, with the Moon's return from 18th May to 20th May giving you an early read on his influence. This will also ensure your nose for money is sharp during the Sun's final days and during Mercury's early days back in direct motion.
Health
As the dwarf planet Ceres spends her last full month in your health sector, her direct turn on 7th May will shift the focus away from the past and onto the future. Ceres had returned last October for what was her first deep dive into your health needs and priorities in four years and while she left in December, three months later she had retrograded back in with an opportunity for an even deeper dive. Once in direct motion, Ceres will look to the future and with it a chance to put some of those needs and priorities into practice. Starting the month with the Moon here will give you a read on what your body is telling you from the start and while the focus is still on the past. By the time the Moon comes full circle from 27th May to 30th May, the focus will be on the future.
---
You may also like