Tiger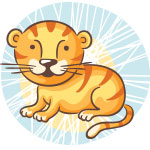 2010, 1998, 1986, 1974, 1962, 1950
---
May 24, 2022
May 25, 2022
May 26, 2022
---
Wednesday, May 25, 2022
If you've taken on more than you can chew with a study or work schedule, make sure you sort something out with someone in charge today.What you set out to do with a partner or friend could turn out to be the complete opposite to what you end up doing.
Tiger Weekly Horoscope: May 23 to May 29, 2022
While the final week of the month of the Snake might have the focus on things close to home or the things that keep you grounded, by the weekend you will be craving more fun and colour in your life. Less because there is no fun to be found in the things close to home and more because the closer you get to the end of the week the closer you are getting to the fun, playful, romantic and creative month of the Horse, which begins next Monday. Until then, a Snake Moon from Friday is a chance to fully embrace the final days of the month of the Snake and with it home and family matters or just the things that can help you feel grounded.
Tiger Monthly Horoscope: May 2022
While the month of the Dragon ran its course in the final hours of April, it has left you with an intellectually savvy and articulate edge that you will retain for as long as you continue to put it to use. This is something that has been an advantage in every aspect of your life and can continue to be an advantage. However, the focus has shifted and the month not only begins under a Snake Moon but with an eclipsing New Moon that is getting the month of the Snake off to an empowered start. For the Tiger, this puts the focus on home, family and/or property matters and will do until coming to an end on 30th May. It is then that a second New Moon will usher in the fun, playful, romantic and creative month of the Horse.
70

22

91

65

35

34

61

41

82
Power Numbers: 8, 19, 24, 25, 50, 68
Friendly Signs: Rooster & Snake
Beware of: Horse
Colour of the day: Dark Violet
Born Today: Thomas Moore, Ralph Waldo Emerson, Bennett Cerf, Rachel Carson, Robert Ludlum, Beverly Sills, Mike Myers
---
You may also like