Tiger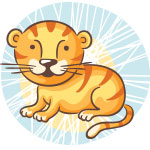 2010, 1998, 1986, 1974, 1962, 1950
---
Sep 29, 2022
Sep 30, 2022
Oct 1, 2022
---
Friday, September 30, 2022
Emotions are strong and upbeat, foundations laid today will be firm and supportive and continue to evolve that way.Feelings of friendship abound and it's easy to see the good side of anyone -- just remember there may be other sides, too.
Tiger Weekly Horoscope: Sep 26 to Oct 2, 2022
For the Tiger, Monday and Tuesday's adventurous Dog Moon is doing more than just get the week off to an adventurous start. It is Monday's New Moon that ushers in the month of the Dog and while this is something that comes around once a year, this is set to have major implications this time. For the first time in 12 years, this is falling during the Year of the Tiger and as the Tiger and the Dog are part of the same triad of affinity, this will be an especially good month but also an important month in what is the foundation year of a new personal 12 year lunar cycle. As well as ushering in an adventurous month this will give you the confidence to embrace the future and the journey ahead.
Tiger Monthly Horoscope: September 2022
For the Tiger, the month of the Rooster not only puts the focus on your financial situation and money matters but is a passionate and change focused month. The month of the Rooster always follows on from the month of the Monkey, a month that can not only be challenging for the Tiger but at the halfway point in your current personal 12 month lunar cycle brings both wakeup calls and a chance for a reset. On the other side, the Rooster helps you make those changes, financially or otherwise that can help you take your power back. It is later in the month that a New Moon on 25th September will usher in the adventurous month of the Dog, which for the Tiger is one of the best months of any year.
49

8

65

97

51

20

34

80

69
Power Numbers: 16, 18, 20, 30, 60, 62
Friendly Signs: Ox & Rooster
Beware of: Monkey
Colour of the day: Dodger Blue
Born Today: Lewis Milestone, Deborah Kerr, Truman Capote, Angie Dickinson, Eric Stoltz, Jenna Elfman
---
You may also like