Tiger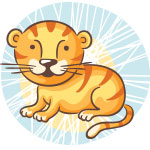 2010, 1998, 1986, 1974, 1962, 1950
---
Dec 8, 2021
Dec 9, 2021
Dec 10, 2021
---
Thursday, December 9, 2021
Your personal drives and ambition to assert yourself and make an impact on the world, meet with considerable opposition now. Other people or outside forces over which you have no control seem to subtly undermine your efforts or try to overpower you altogether. You need to stand up for yourself. If you have been dishonest or overly egotistical and selfish in your pursuits, you are likely to get your comeuppance now.
Tiger Weekly Horoscope: Dec 6 to Dec 12, 2021
This is traditionally a time of year for catching up with friends and when all those I. O. U's made during the course of the year become due. Helping you to get right into the spirit of this was a social and serendipitous Rat Moon over the weekend but it was the eclipsing New Moon this created on Saturday that has started something that will continue after it has moved on. This has brought you to the start of the social and serendipitous month of the Rat, which will run for the rest of this year, through the holiday period and into the early days of 2022. This takes away any urgency, with its influence deepening over the coming weeks.
Tiger Monthly Horoscope: December 2021
While the competitive and professionally charged month of the Pig will run its course on 4th December, there is a lot you can pack into these final days. Especially as the Pig is less focused on what you can accomplish and more on channelling its competitive influence into goals and ambitions that can live on. Meanwhile, the same eclipsing New Moon that will bring the month of the Pig to a close on 4th December will also usher in the social and serendipitous month of the Rat. With the month of the Rat running through to early January, your friendships, teamwork and networking will become increasingly important during the final weeks of 2022 and especially over the holiday period.
84

19

90

62

32

53

66

40

59
Power Numbers: 7, 9, 14, 41, 59, 63
Friendly Signs: Rat & Snake
Beware of: Goat
Colour of the day: Light Slate Gray
Born Today: John Milton, Kirk Douglas, Redd Foxx, John Cassavetes, Joan Armatrading, Jakob Dylan
---
You may also like