Tiger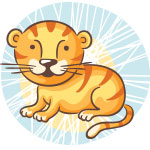 2010, 1998, 1986, 1974, 1962, 1950
---
Dec 9, 2023
Dec 10, 2023
Dec 11, 2023
---
Sunday, December 10, 2023
The dance is underway and for the moment, you lead, others follow in pursuit. Strut your stuff and don't stand still, because it's your motion that's getting the attention. You needn't strain yourself -- in fact, its your fluidity and grace that makes you a magnet. Just move with the music, swing your partner with abandon.
Tiger Weekly Horoscope: Dec 4 to Dec 10, 2023
As you move into the last full week of the competitive and professionally charged month of the Pig, there is less urgency but at the same time more certainty. Your competitive spirit is likely to be just as driven, but with the Moon now in its waning phase will no longer be as scattered, making it easier to narrow down your priorities. With not only time running out but your own time and resources anything but finite, you are starting to better understand what is important and what isn't. In all aspects of your life, this is making it easier to pick your battles wisely, putting your time and resources into those battles or quests that you most need to win.
Tiger Monthly Horoscope: December 2023
The New Moon on 13th December was always going to bring one lunar month to a close while ushering in the next, something that would create a sea change halfway through the month. However, for you, the combination and the timing of the two months makes this an ideal way to end the year for you. With the competitive and professionally charged month of the Pig not ending until 13th December, this is giving you everything needed to move into the final weeks of this professional year with confidence and with enough momentum after it ends to bring things home. Then, just in time for the holiday period, as the month of the Pig ends this will usher in the social and serendipitous month of the Rat, which will run through the holiday period and into the early weeks of 2004.
31

95

67

9

41

46

83

89

92
Power Numbers: 10, 15, 25, 29, 43, 44
Friendly Signs: Dragon & Tiger
Beware of: Snake
Colour of the day: Indigo
Born Today: Emily Dickinson, Chet Huntley, Dorothy Lamour, Michael Clarke Duncan, Emmanuelle Chriqui
---
You may also like