Tiger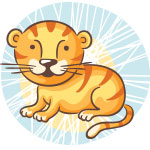 2010, 1998, 1986, 1974, 1962, 1950
---
May 29, 2023
May 30, 2023
May 31, 2023
---
Tuesday, May 30, 2023
Financial savvy and a practical turn of mind are qualities that take on greater importance in your life now. A wheeler-dealer...a knack for knowing how to put people, ideas, and things together profitably. Playing the role of a facilitator can be rewarding.Confidence and inner harmony prevail. Your efforts are well-received at this time.
Tiger Weekly Horoscope: May 29 to Jun 4, 2023
As you move into the second week of the month of the Snake the focus is still on things close to home, but in the lead up to the weekend's Full Moon everything is building in intensity. This could see your home life become busier or there could be more things on the go on the home, family and/or property fronts. In the lead up to a Full Moon everything is building and expanding, making this a time for investing into and initiating things that you will have time to prune down or focus on at a slower pace on the other side. This can mean starting everything you can and then deciding later what you have the time or the need to follow through on.
Tiger Monthly Horoscope: May 2023
While the month of the Dragon will end on 19th May, there is still plenty of time to get the most out of its influence. For the Tiger, the Dragon is the Swizz army knife of any lunar cycle, with a tool for every occasion. The Dragon not only makes you smarter, better able to think on your feet and communicate, something that every aspect of your life will benefit from, but his bold and daring influence allows you to think outside the square. You don't lead the Dragon it leads you and at times it might feel like you are hanging onto its tail as thoughts and ideas take you in new directions or words take on a life of your own. If you are a writer or you work in communication, then the Dragon is your perfect muse. It is on 19th May that the month of the Dragon will end and the month of the Snake and its focus on home and family matters begins.
19

14

35

5

34

64

43

44

84
Power Numbers: 1, 21, 23, 30, 43, 65
Friendly Signs: Rabbit & Monkey
Beware of: Dragon
Colour of the day: Light Sea Green
Born Today: Howard Hawks, Mel Blanc, Benny Goodman, Wynonna Judd, Idina Menzel
---
You may also like