Snake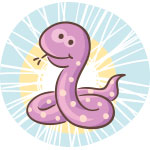 2013, 2001, 1989, 1977, 1965, 1953
---
Sep 29, 2022
Sep 30, 2022
Oct 1, 2022
---
Friday, September 30, 2022
This is a time when it is difficult to stay within a budget or on a diet, as your tendency is to splurge on beautiful things and to enjoy yourself as much as possible. You want comfort and ease, and have luxurious tastes. Quality is especially important to you right now. Also, you want to share whatever good fortune you have. You need company and happy fellowship. It's a good time for a party, as long as you don't overdo it.
Snake Weekly Horoscope: Sep 26 to Oct 2, 2022
Starting the week under a busy and industrious Dog Moon was always going to get the new working week off to a good start but as a New Moon, this also brings us to the start of the month of the Dog. For the Snake, this can be the busiest and most productive month of any lunar year and is an especially good month for work and job matters or for anything that keeps you busy. However, while the month of the Dog comes around every 12 months, this is the first time that this has fallen during the competitive and professionally charged Year of the Tiger in 12 years.
Snake Monthly Horoscope: September 2022
For the Snake, the month of the Rooster is one of the best months of any year and not just because this puts the focus on matters of the heart and all things fun, playful, romantic and creative. The Rooster and the Snake are part of the same triad of affinity so life will flow more smoothly under its influence and as it will run through to 25th September, this will influence the majority of the month. This also makes it important to make a balance between work and play a priority, for when the month of the Snake ends this will not only usher in the busy and industrious month of the Dog but for the first time in 12 years, during the competitive and professionally charged Year of the Tiger. This will be good news professionally but life will become busier.
Power Numbers: 30, 33, 35, 50, 53, 57
Friendly Signs: Pig & Rabbit
Beware of: Horse
Colour of the day: Pale Green
Born Today: Lewis Milestone, Deborah Kerr, Truman Capote, Angie Dickinson, Eric Stoltz, Jenna Elfman
---
You may also like