Snake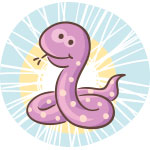 2013, 2001, 1989, 1977, 1965, 1953
---
Jan 19, 2022
Jan 20, 2022
Jan 21, 2022
---
Thursday, January 20, 2022
Your life takes on a kind of mystical quality at the emotional and instinctive levels now. The past and the future intermingle, and the barriers between people dissolve - there is the key to the greater psychic and spiritual sensitivity you feel now. This marks a time of considerable inner emotional and spiritual inspiration, which will rejuvenate and redevelop your personal ideals.
Snake Weekly Horoscope: Jan 17 to Jan 23, 2022
Monday's Full Moon not only brings us to the halfway point in the adventurous month of the Ox but the final two weeks of the Year of the Ox. By the time the Goat Moon and the Full Moon this has created ends on Tuesday, the professionally charged and competitive month and the Year of the Tiger will be just two weeks away. A Full Moon can create some pressure and especially as the Goat and Ox are opposing signs. However, this can challenge old excuses and bring some wakeup calls just as the Ox's adventurous influence is about to run its course. It is over the weekend that a playful Rooster Moon will bring a better chance to fully embrace this.
Snake Monthly Horoscope: January 2022
While both a Rat Moon and the month of the Rat will end on 2nd January, this allows you to begin this new financial year with a financially savvy edge from the start. The Rat is good for money but also looks for ways to reinvent itself, giving you a chance to not only start the year with a smart head for money but also to define your financial game plan and resolutions before it leaves. The New Moon on 2nd January will usher in the adventurous month of the Ox which will remain in effect for the rest of the month. With both the month and the Year of the professionally charged and competitive Tiger starting on 1st February, this is a chance to first embrace the final month of the adventurous Year of the Ox.
Power Numbers: 20, 44, 51, 60, 67, 69
Friendly Signs: Tiger & Dragon
Beware of: Rabbit
Colour of the day: Deep Sky Blue
Born Today: George Burns, Federico Fellini, Patricia Neal, Malcolm McLaren, Joy Adamson, Leadbelly
---
You may also like