Snake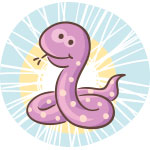 2013, 2001, 1989, 1977, 1965, 1953
---
May 29, 2023
May 30, 2023
May 31, 2023
---
Tuesday, May 30, 2023
The women in your life are a network of support you have neglected. Turn to friends and family to see you through daily stress and lack of confidence. Attend to any problems in your home life and make steps towards a mutual goal.
Snake Weekly Horoscope: May 29 to Jun 4, 2023
In the lead up to the weekend's Full Moon the lunar month is in its full growth phase and the most expansive point in any lunar month. When that month is the month of the Snake, this is a lot more empowering and before the Moon goes into its waning phase, is a chance to get as many options on the table as possible. While the month of the Snake will only run for four weeks, as the first month of a personal 12 month lunar cycle this is just the start of a new journey. It is not until the Moon starts to move into its waning phase that you can start tying up loose ends and start narrowing down your choices, decisions and plans for the coming year. Until then you are still exploring your options.
Snake Monthly Horoscope: May 2023
This is not just a month of two halves but almost of the year itself. The month begins with the nostalgic and reflective month of the Dragon still in its early phase, with his focus on reflection, closure and time to hear yourself think dominating until 19th May. Yet this is more an invitation to spend more time navel gazing and in life's slow lane, for this has brought you to the final weeks of your current personal 12 month lunar cycle. When the month of the Dragon ends on 19th May, so too will this current 12 month cycle. Yet as the doors to the past close they will also open to the future, with the New Moon on 19th May ushering in the month of the Snake and with it the start of a brand new personal 12 month lunar cycle. The Snake Moon that will run from 17th May to 19th May will see the lines between the past, present and future start to blur during the final days of the month of the Dragon.
44

96

14

15

69

47

13

41

6
Power Numbers: 12, 16, 17, 27, 30, 44
Friendly Signs: Snake & Rooster
Beware of: Rabbit
Colour of the day: Dark Red
Born Today: Howard Hawks, Mel Blanc, Benny Goodman, Wynonna Judd, Idina Menzel
---
You may also like