Snake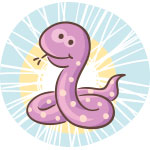 2013, 2001, 1989, 1977, 1965, 1953
---
Jun 25, 2022
Jun 26, 2022
Jun 27, 2022
---
Sunday, June 26, 2022
You are alert and on your toes now. The pace is likely to be fast, even hectic. You are restless and eager to meet others halfway, to converse, exchange information, and make connections. Nervousness or irritability due to aggravations and the stress of increased demands at work is possible.
Snake Weekly Horoscope: Jun 20 to Jun 26, 2022
The last full week of the lucrative month of the Horse is not just about the money. While this could be a lucrative week, in order for its influence to linger it is not just about the money, which is more a symptom of what is happening behind the scenes. The month of the Horse will always follow on from the month of the Snake and it is now that you will find the confidence to embrace the things you committed to during the foundation month of this new personal 12 month lunar cycle. The Horse's job is to boost your confidence and a belief in yourself and as you can only attract what you believe you deserve, this makes it easier to attract things your way and especially the things that you value.
Snake Monthly Horoscope: June 2022
Because the month of the Snake came to an end in the final days of last month its influence is over by the time you move into the new month but not its ongoing impact. This was the first month of a new personal 12 month lunar cycle and as it dominated the majority of May, this has allowed you to lay down some firm foundations for this new lunar cycle. More importantly, this has been a chance to align yourself with your personal truth. Meanwhile, starting the month under a Horse Moon and with the month of the Horse just getting underway is a powerful chance to draw a new line in the sand. This ushers in the month of the Horse, which for the Snake can be a lucrative month but also for attracting what you deserve across all the currencies in your life.
35

92

45

48

16

63

81

41

59
Power Numbers: 7, 9, 26, 40, 55, 67
Friendly Signs: Horse & Rooster
Beware of: Snake
Colour of the day: Light Green
Born Today: Pearl S. Buck, Peter Lorre, Colonel Tom Parker, Chris Isaak, Greg Lemond
---
You may also like