Snake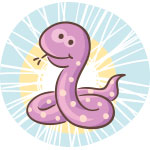 2013, 2001, 1989, 1977, 1965, 1953
---
Sep 28, 2023
Sep 29, 2023
Sep 30, 2023
---
Friday, September 29, 2023
You may seek to recoup losses you have experienced in the past from a property deal or partnership break-up.If you feel you lack self-confidence in an area of work that you are actually very good at, bolster your confidence by assessing your many skills. There may be a new addition to your extended family soon.
Snake Weekly Horoscope: Sep 25 to Oct 1, 2023
While you won't reach the halfway point in the playful and creative month of the Rooster until Friday's Full Moon, as the Moon reaches its full waxing or growth phase this is gaining in potency by the day. With this, there could be a sense of urgency creeping in, with your sixth sense knowing that just around the corner is the busy, industrious and work focused month of the Dog, which is growing closer by the day. Helping to get the week off to a good start is an adventurous Ox Moon that runs its course on Monday, but not before helping to put the focus on the playful, creative and adventurous side of life's fence.
Snake Monthly Horoscope: September 2023
When you have a New Moon fall on 15th September, in a 30 day month, then in every sense of the word this is a month of two halves, with a distinct line drawn down the middle that is not just dividing the month but two very different experiences. As you move into the new month, a Full Moon on 31st August means that you are now in the second half of the month of the Monkey, which is putting the focus on home, family and/or property matters in the first half of the month. It is the New Moon on 15th September that will bring the month of the Monkey to an end while ushering in the playful and creative month of the Rooster. For the Snake, this is one of the best months of any lunar year for you.
34

40

49

25

60

84

90

19

83
Power Numbers: 6, 8, 26, 29, 40, 59
Friendly Signs: Rat & Horse
Beware of: Monkey
Colour of the day: Wheat
Born Today: Miguel de Cervantes, Horatio Nelson, Enrico Fermi, Greer Garson, Stanley Kramer, Anita Ekberg, Ian McShane, Lech Walesa, Erika Eleniak, Suzanne Shaw
---
You may also like