Rat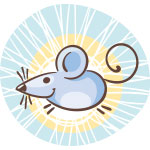 2020, 2008, 1996, 1984, 1972, 1960
---
Sep 28, 2023
Sep 29, 2023
Sep 30, 2023
---
Friday, September 29, 2023
The stress of the recent past noticeably diminishes. For you it means that you have time to adjust plans you have. You are full of confidence, which you should engage to solve existing conflicts and misunderstandings with colleagues or superiors. In financial terms, you should get rid of old commitments too, which otherwise could become obstacles in your path.
Rat Weekly Horoscope: Sep 25 to Oct 1, 2023
By its very nature, the Rooster is industrious and when it sets its mind to it, it gives you the work ethic to see things through and get things done. This is something that is on full display as you move into the most potent week of the competitive and professionally charged month of the Rooster. In the lead up to Friday's Full Moon the Moon is in its full waxing or growth phase, something that is adding fuel to your competitive spirit along with the Rooster's call to not put off anything until tomorrow that can be done today. Whether professionally or whatever you channel your competitive spirit into, this is a week for putting maximum effort in but also when there may be a need to pace yourself.
Rat Monthly Horoscope: September 2023
For everyone, the New Moon on 15th September is going to make this a month of two halves, with one lunar month ending and another beginning at the halfway point in this 30 day month. However, for you, this is a month of two halves in more ways than one, due to the very different natures of these two lunar months. The first half of the month belongs to the adventurous month of the Monkey, which in its final weeks is putting the focus on adventure, travel, learning and discovery. As the Monkey and Rat are the best of friends, this is giving you the confidence to embrace life. Meanwhile, the New Moon that will bring the month of the Monkey to a close on 15th September will then usher in the competitive and professionally charged month of the Rooster, with the second half of the month a marked contrast to the first.
36

63

71

49

94

87

28

15

91
Power Numbers: 16, 23, 29, 35, 43, 63
Friendly Signs: Horse & Ox
Beware of: Goat
Colour of the day: Medium Slate Blue
Born Today: Miguel de Cervantes, Horatio Nelson, Enrico Fermi, Greer Garson, Stanley Kramer, Anita Ekberg, Ian McShane, Lech Walesa, Erika Eleniak, Suzanne Shaw
---
You may also like