Rat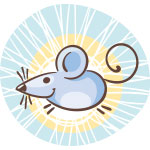 2020, 2008, 1996, 1984, 1972, 1960
---
May 29, 2023
May 30, 2023
May 31, 2023
---
Tuesday, May 30, 2023
If you've been chasing down that extra credit line, looking for a better deal on a mortgage or equity loan, this is a likely time to pull it all together, as long as you've got all paperwork and in a row. That may mean scrambling for some last minute details or information to make it under a deadline, but there's real potential here.
Rat Weekly Horoscope: May 29 to Jun 4, 2023
The second week of the busy, industrious and work focused month of the Snake was always going to be the busiest and especially as this will start under a competitive and professionally charged Rooster Moon. However, with the weekend's Full Moon not only marking the halfway point but the point when things will start to ease back, this is a week where the more you can invest the more you can reap later. Meanwhile, because the weekend's Full Moon is a Rat Moon, this will be an important chance to check in personally. This is a Full Moon that will always fall halfway between the last month of the Rat and the next and at the halfway point offers a chance for a reset.
Rat Monthly Horoscope: May 2023
The New Moon on 19th May that brings one lunar month to a close while ushering in the next was always going to make this a month of two halves, but rarely as extreme a shift as it will be this time. It is the fun, playful, romantic and creatively charged month of the Dragon that will dominate the first part of the month and the Dragon is someone that you don't say no to. The Dragon is bold and lets nothing stand in the way and knowing that when the month of the Dragon ends the busy, industrious and work focused month of the Snake will begin, he will be fighting to the end to ensure you have the right balance between work and play. This will serve you well when you move into what can be the busiest month of any lunar year.
39

56

23

55

72

85

17

95

93
Power Numbers: 30, 37, 41, 51, 53, 66
Friendly Signs: Dog & Monkey
Beware of: Pig
Colour of the day: Light Cyan
Born Today: Howard Hawks, Mel Blanc, Benny Goodman, Wynonna Judd, Idina Menzel
---
You may also like