Rat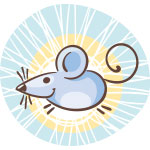 2020, 2008, 1996, 1984, 1972, 1960
---
Jan 19, 2022
Jan 20, 2022
Jan 21, 2022
---
Thursday, January 20, 2022
A day or two of cutting loose from your normal routine is enjoyable if you can spare some time from the workaday. Go for it if you can spare the time, as you're likely to get your responsibilities a bit out of wack if only focus on them with half your energy. When you come back, you'll be refreshed with energy and a fresher mindset.
Rat Weekly Horoscope: Jan 17 to Jan 23, 2022
While Monday's Full Moon might create some financial tension it is also likely to energise both sides of the financial fence and with perfect timing. A Full Moon marks the halfway point in any lunar month and this time, this not only brings you to the halfway point of the lucrative month of the Ox but the final two weeks of the month of the Ox. Monday's Full Moon is a Goat Moon, opposing sign to the Ox but also more focused on the other side of the financial fence. This will create some competition, providing the motivation to make the final two weeks of both the month and the year of the lucrative Ox count.
Rat Monthly Horoscope: January 2022
While both the month of the Rat and a Rat Moon will end on 2nd January, this is a bell that can't be unrung. It has been eight years since you last moved into the New Year under a Rat Moon, giving you an intuitive edge while feeling connected to your personal truth from the start. With the month of the Rat coming to an end in the first 48 hours of 2022, this is a chance for a reset. Meanwhile, the same New Moon that will bring the month of the Rat to a close on 2nd January will not only usher in the lucrative month of the Ox but the final month of the Year of the Ox. This could get 2022 off to a lucrative start and not just when it comes to the money, with a chance to attract many of the things you deserve.
Power Numbers: 12, 20, 23, 27, 45, 55
Friendly Signs: Pig & Goat
Beware of: Monkey
Colour of the day: Alice Blue
Born Today: George Burns, Federico Fellini, Patricia Neal, Malcolm McLaren, Joy Adamson, Leadbelly
---
You may also like