Rabbit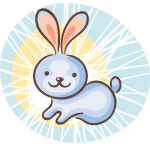 2011, 1999, 1987, 1975, 1963, 1951
---
Dec 8, 2021
Dec 9, 2021
Dec 10, 2021
---
Wednesday, December 8, 2021
Think before you speak is the saying of the day, as you are very likely to be verbally aggressive and start altercations with people you may not agree with. Your sharpness of mind and tongue will help you win the debate, but you may also lose some friends.
Rabbit Weekly Horoscope: Dec 6 to Dec 12, 2021
If there is a new sense of urgency in the air and especially on the professional front, this is less because you are moving into the final weeks of this professional year and more because you are moving into the early days of the professionally charged and competitive month of the Rat. This only began on Saturday's eclipsing New Moon so is something that you are still getting a feel for. In the early phase of this new lunar cycle and the Moon just starting its waxing phase as you not only move into the new week but the final weeks of this professional year, this is something that will grow on you and that you can grow into. Everything doesn't have to be accomplished in the first week.
Rabbit Monthly Horoscope: December 2021
Weeks before the holiday period begins the adventurous month of the Pig will run its course on 4th December, making this something that needs to be embraced and held onto. The key to holding onto the Pig's focus on adventure, travel, learning and discovery is to turn this into a bucket list that will not only ensure its influence lives on but where the Rat's influence can work to its advantage. The same eclipsing New Moon that will bring the month of the Pig to a close will also usher in the competitive and professionally charged month of the Rat. While this is good news for the final weeks of this professional year, the Rat's competitive influence can turn your bucket list into resolutions for the New Year. However, you need a bucket list because the spirit of adventure itself will wane.
71

55

31

80

83

88

66

23

34
Power Numbers: 8, 19, 25, 35, 36, 55
Friendly Signs: Rabbit & Goat
Beware of: Horse
Colour of the day: Black
Born Today: Samuel Butler, Jean Sibelius, Diego Rivera, Sammy Davis, David Carradine, Jim Morrison, Sam Kinison, Kim Basinger, Sinead O'Connor
---
You may also like