Rabbit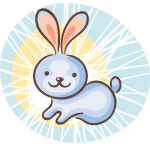 2011, 1999, 1987, 1975, 1963, 1951
---
Sep 28, 2023
Sep 29, 2023
Sep 30, 2023
---
Thursday, September 28, 2023
Don't go for an easy fix, as a good one probably won't be available. The wise are waiting, not jumping in to the deep end.Although this may not affect you that much, it's affecting the general populous, so expect shifting energy on a regular basis today. This applies not just to economics, but to disagreements about the very makeup of moral fiber, right and wrong, which side you are on.
Rabbit Weekly Horoscope: Sep 25 to Oct 1, 2023
While for the Rabbit the month of the Rooster, because you are opposing signs can be more challenging, this gets off to a good start thanks to an Ox Moon that runs its course on Monday. The Ox and Rooster are part of the same triad of affinity so are natural allies, but this was also good for friendship and relationship building at a time when a balance between your personal and relationship needs is under the spotlight. While the Rooster is more focused on bringing the wakeup calls that allow you to take your power back at the halfway point in each personal 12 month lunar cycle, often these become more transparent when they come up against the needs of others.
Rabbit Monthly Horoscope: September 2023
A New Moon on 15th September is making this a month of two halves, but it is the first half that is likely to be the busiest. It was a Full Moon on 31st August that brought you to the halfway point in the busy, industrious and work focused month of the Monkey, which still has two weeks to run. It is in the first two weeks of the month that the Monkey is likely to keep you busy, either at work or with whatever it is that keeps you busy and occupies your time, though with a chance to get a lot done. As the Full Moon on 31st August was a Rabbit Moon, this was also personally empowering. Meanwhile, the New Moon that will bring the month of the Monkey to a close on 15th September will also usher in the month of the Rooster, bringing you to the halfway point in this current personal 12 month lunar cycle and with it a chance for a reset.
7

55

36

73

10

90

98

43

72
Power Numbers: 18, 26, 28, 44, 50, 54
Friendly Signs: Horse & Ox
Beware of: Pig
Colour of the day: Deep Pink
Born Today: Ed Sullivan, Max Schmeling, Stephen Spender, Al Capp, Marcello Mastroianni, Brigitte Bardot, Hilary Duff
---
You may also like