Rabbit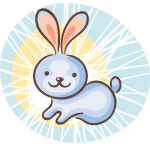 2011, 1999, 1987, 1975, 1963, 1951
---
May 29, 2023
May 30, 2023
May 31, 2023
---
Tuesday, May 30, 2023
You must break the old habits and be able to take a fresh approach to these ingrained tendencies. You must have the courage to make a change, and the changes needed have more to do with HOW you do things than WHAT you do. This is a time to find greater sincerity and meaningfulness in your life and work.
Rabbit Weekly Horoscope: May 29 to Jun 4, 2023
The second week of any lunar month is often the best, with the Moon in its full growth and most fertile phase in the lead up to the weekend's Full Moon. This is the Full Moon that not only marks the halfway point in any lunar month but the point when the Moon then begins to wane and things begin to defuse. For the Rabbit, the month of the Snake is the Swizz army knife of any lunar year, with a tool for every occasion and especially when it comes to talks, communication or anything that can benefit from having your head in the game while thinking on your feet. This makes this a week for initiating what you can follow up on later.
Rabbit Monthly Horoscope: May 2023
While the month of the Dragon can be a lucrative month and you are more likely to attract what you deserve across all the currencies in your life, its real power is in the way that it can embolden you. The Dragon will always follow on from the month of the Rabbit and it is the ideas and intentions formed in the early weeks of a new personal 12 month lunar cycle that he can start turning into action. The Dragon is no shrinking violet and as you can't attract what you don't believe you deserve, the greatest contribution is not just a belief in yourself but a willingness to fight for what you deserve. Meanwhile, the New Moon that will bring the month of the Dragon to an end on 19th May will usher in the month of the Snake, which for the Rabbit is the Swizz army knife of any lunar year, with a tool for every occasion. Especially when it comes to communication and thinking on your feet.
Power Numbers: 6, 9, 18, 30, 31, 55
Friendly Signs: Rooster & Monkey
Beware of: Horse
Colour of the day: Magenta
Born Today: Howard Hawks, Mel Blanc, Benny Goodman, Wynonna Judd, Idina Menzel
---
You may also like