Rabbit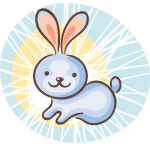 2011, 1999, 1987, 1975, 1963, 1951
---
Dec 1, 2022
Dec 2, 2022
Dec 3, 2022
---
Saturday, December 3, 2022
Increased physical courage and a strong sense of adventure combine to make this a very interesting time. You need to do something innovative, daring, unusual, liberating, exciting, and challenging. You are inclined to act on some of the wilder impulses and desires you feel from time to time. You crave stimulation. If you have an inventive streak, you could make a startling discovery or breakthrough now.
Rabbit Weekly Horoscope: Nov 28 to Dec 4, 2022
As you move into the final weeks of this professional year you are perfectly positioned to make this count. In the first full week of the competitive and professionally charged month of the Rat you will not only be feeling more competitive but in the first full week of the new lunar cycle, the Moon is in its waxing or growth phase. This is a week for throwing yourself into the things that excite you or that you can channel your competitive spirit into, capitalising on the hope and enthusiasm that comes with the start of a new lunar cycle. This is a week for taking on more than you can accomplish, knowing that you can narrow things down after next week's Full Moon, when the Moon will move into its waning phase.
Rabbit Monthly Horoscope: December 2022
The final weeks of any year are often the busiest and especially when these are also the final weeks of the competitive and professionally charged month of the Rat. The month of the Rat will run through to 23rd December, conveniently ending just before Christmas, with a chance to pull back but not before giving you everything needed to bring one professional year home and line up for the next. You won't just find the Rat's influence on the professional front, with its competitive spirit ideal for setting resolutions or goals for this current year or resolutions for the New Year. Meanwhile, the New Moon on 23rd December that will bring the month of the Rat to a close will also usher in the social and serendipitous month of the Ox, which will continue through the rest of this year and into the early weeks of 2023.
45

90

78

65

94

70

86

19

38
Power Numbers: 3, 33, 39, 62, 64, 68
Friendly Signs: Ox & Goat
Beware of: Pig
Colour of the day: Deep Pink
Born Today: Robert Bloomfield, Joseph Conrad, Jean-Luc Godard, Ozzy Osbourne, Daryl Hannah, Katarina Witt, Anna Chlumsky
---
You may also like