Rabbit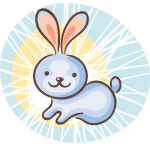 2011, 1999, 1987, 1975, 1963, 1951
---
Oct 17, 2021
Oct 18, 2021
Oct 19, 2021
---
Tuesday, October 19, 2021
You may have some concerns about money at the moment. Either there is a lack of funds or you're not sure what to do with the money you have. Regardless of the situation the solution is the same: be prudent with your spending and things will work out well.
Rabbit Weekly Horoscope: Oct 18 to Oct 24, 2021
There is a lot of focus on both sides of the financial fence as the month of the Dog and its focus on money matters not only peaks on Wednesday's Full Moon but on a Dragon Moon, where the focus is on the other side of the financial fence where it is more about income potential. The Dog and Dragon are opposing signs and halfway between the last month of the Dragon and the next, this is a Full Moon that will create some fierce competition between the two. While this might create some financial tension in the first three days of the week, that competition is going to bring the best out of both, creating a lot of motivation and even the potential for a breakthrough.
Rabbit Monthly Horoscope: October 2021
When the month of the Rooster ends on 6th October, so too will what can be one of the more challenging months of any lunar year. The Rooster and the Rabbit are opposing signs and this is a month where you can feel under pressure or just that you are a round peg in a square hole at times. This can also put a lot of focus on your relationships, to a point where you are starting to ask 'what about me'. However, that is the intention, with the month of the Rooster bringing you to the halfway point in this current personal 12 month lunar cycle and the very time to ask those questions. It is on 6th October that the month of the Dog will shift the focus onto money matters but also onto quietly making any changes the Rooster may have exposed.
6

19

78

53

20

95

24

14

47
Power Numbers: 2, 19, 23, 30, 44, 54
Friendly Signs: Rooster & Snake
Beware of: Monkey
Colour of the day: Indian Red
Born Today: Edith Piaf, John LeCarre, Peter Tosh, Javan, Omar Gooding
---
You may also like