Rabbit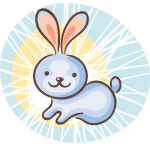 2011, 1999, 1987, 1975, 1963, 1951
---
Jun 25, 2022
Jun 26, 2022
Jun 27, 2022
---
Monday, June 27, 2022
People are likely to be very keen to please you today, which will both refill your waning ego and help get a few things done ( you've probably been sweating over this stuff recently ). Do keep an eye out for others' ulterior motives in the course of action though, because there's no such thing as a free lunch.
Rabbit Weekly Horoscope: Jun 20 to Jun 26, 2022
The last full week of the month of the Horse is not only keeping the focus on things close to home, you might find that you are feeling unmotivated or more accurately, more content with simply going through the motion or the daily rituals of life. This is a combination of the Horse's focus on things close to home but also the impact of having this fall during the nostalgic and reflective month of the Tiger. The Horse and the Tiger are the best of friends so will naturally draw on support from and amplify each other's influence. While not the most exciting of weeks, this will be good for body, mind and soul. It is next Tuesday that the fun, playful, romantic and creative month of the Goat will begin.
Rabbit Monthly Horoscope: June 2022
What June lacks in glamour or exciting developments, it abounds with a chance to feel grounded and over time, a lot more relaxed. For the Rabbit, the month of the Horse puts the focus on things close to home but also on the basic routines and rituals of life and our sense of normal that we often take for granted. The Horse is on especially good terms with the nostalgic and reflective Year of the Tiger and together they bring a chance to relax and even recharge your batteries. It is only when our sense of normal is disrupted that we realise how comforting and grounding it actually is and this is a month when this can be celebrated. Meanwhile, a New Moon on 29th June will usher in the fun, playful, romantic and creative month of the Goat.
18

32

74

6

71

10

16

53

48
Power Numbers: 15, 16, 27, 34, 49, 68
Friendly Signs: Horse & Rooster
Beware of: Goat
Colour of the day: Red
Born Today: Helen Keller, H Ross Perot, Trisha Yearwood, Tobey Maguire, Drake Bell
---
You may also like