Pig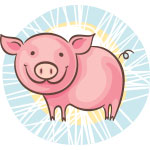 2019, 2007, 1995, 1983, 1971, 1959
---
Jun 25, 2022
Jun 26, 2022
Jun 27, 2022
---
Sunday, June 26, 2022
Do things seem a little too right? too good? If so they probably are. Don't become complacent because everything appears to be running perfectly. There are challenges just under the surface, and to keep things moving in the right direction you need to be ready to face these trials as soon as they spring up.
Pig Weekly Horoscope: Jun 20 to Jun 26, 2022
The last full week of the month of the Horse and its focus on your financial situation and money matters is not just about the money. For the Pig, the Horse will also put the focus on change and transformation, knowing that not just money but many of the choices and decisions you make across all aspects of your life are run by subconscious patterns. The only way to effect real change, whether on the financial front or in any other aspect of your life is to reprogram those subconscious patterns and you can't do that without being aware of them. As you can't change what you can't see, this week is less about the money or any changes themselves and more on being aware of your subconscious programming itself.
Pig Monthly Horoscope: June 2022
Moving into the month of the Horse, something you did in the closing days of last month can come with a sense of relief and it is likely that you are just now noticing a drop in pressure. For the Pig, the month of the Snake can be a challenging month but purposely so, for halfway between the last month of the Pig and the next its job is to check if you have drifted off course and if you have, push you back onto the right path. On the other side, while the month of the Horse is putting the focus on your financial situation and money matters it is also focused on change and transformation. This is a chance to put any changes identified last month into practice. Meanwhile, this is a month that is saving the best until last with the adventurous month of the Goat starting on 29th June.
13

42

82

73

66

79

91

80

38
Power Numbers: 7, 19, 26, 40, 42, 55
Friendly Signs: Goat & Ox
Beware of: Pig
Colour of the day: Dark Salmon
Born Today: Pearl S. Buck, Peter Lorre, Colonel Tom Parker, Chris Isaak, Greg Lemond
---
You may also like