Pig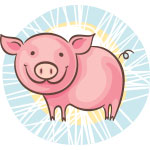 2019, 2007, 1995, 1983, 1971, 1959
---
Sep 29, 2022
Sep 30, 2022
Oct 1, 2022
---
Friday, September 30, 2022
Events may make it easy for you to be original, have breakthroughs, and find new solutions to old problems. You may find yourself able to implement your ideas and put them into practice. Independence, originality, and eccentricity are to the fore. This is a really good time of the month to get noticed, so get out there and take charge.
Pig Weekly Horoscope: Sep 26 to Oct 2, 2022
The week not only begins under a nostalgic and reflective Dog Moon but Monday's New Moon brings us to the start of the month of the Dog. For the Pig, this brings you to the start of the month long wind down of your current personal 12 month lunar cycle. This means that the month of the Pig and a new personal 12 month lunar cycle are now just four weeks away, bringing you to the point in every lunar year when there is a call to start closing old doors and reflecting on the journey this cycle has taken you on while preparing for the new doors that will be opening in just four weeks. This is about closure but also preparing for new beginnings.
Pig Monthly Horoscope: September 2022
While the New Moon that will bring the month of the Rooster to a close while ushering in the month of the Dog isn't until 25th September, there is such a contrast between the two that this can be seen as a month of two halves. The majority of the month is under the influence of the social and serendipitous Rooster, creating a busy and vibrant month. With a focus on your social life, friendship, teamwork and networking there will be places to go and people to see. This is in stark contrast to the nostalgic and reflective month of the Dog, which on 25th September will bring you to the final month of this current personal 12 month lunar cycle. This will take you into quieter realms where you will need more time to reflect and to hear yourself think.
94

43

25

96

50

19

81

92

10
Power Numbers: 1, 30, 31, 42, 49, 54
Friendly Signs: Ox & Snake
Beware of: Pig
Colour of the day: Sienna
Born Today: Lewis Milestone, Deborah Kerr, Truman Capote, Angie Dickinson, Eric Stoltz, Jenna Elfman
---
You may also like