Pig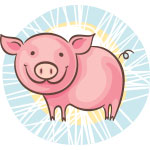 2019, 2007, 1995, 1983, 1971, 1959
---
Feb 7, 2023
Feb 8, 2023
Feb 9, 2023
---
Wednesday, February 8, 2023
It can be a rather difficult task opening up your inner self to others just now, especially if you're not completely trusting. Ordinarily your frank and outgoing ways don't care too much for what others think, but during this cycle this may indeed change.Stay true to yourself and all will be well.
Pig Weekly Horoscope: Feb 6 to Feb 12, 2023
While the playful and creatively charged Year of the Rabbit has been underway for two weeks until the first of two back to back Rabbit months begins in two weeks, this is something that you are just starting to get a feel for. With the Year of the Rabbit running through to February 2024 and as a leap year there will be two Rabbit months in a row, this is something that you can immerse yourself into slowly. Especially if you have been so busy putting everyone else's needs first that you aren't used to putting yourself first. Where the Year of the Tiger was not averse to putting obstacles in your way, the Rabbit is more focused on clearing them out of the way.
Pig Monthly Horoscope: February 2023
While it might feel like there is something holding you back from fully embracing the playful and creative month of the Rabbit, there will not only be more than enough opportunities to make up for lost time but with a chance first to take care of any housekeeping. While the same New Moon that ushered in the Year of the Rabbit last month also brought the Year of the Tiger and its focus on home and family matters to a close, it also ushered in the month of the Tiger. This is keeping the Tiger's influence going until 20th February, which is giving you a chance to tie up loose ends. It is the New Moon on 20th February that will not only usher in the month of the Rabbit and with it a chance to more fully embrace this playful and creative year but as a leap month, the first of two back to back Rabbit months.
36

77

98

33

18

55

78

47

73
Power Numbers: 8, 32, 35, 62, 64, 66
Friendly Signs: Tiger & Goat
Beware of: Pig
Colour of the day: Tomato
Born Today: Jules Verne, Lana Turner, Jack Lemmon, James Dean, Nick Nolte, John Grisham, Mary Steenburgen, Tom Rush, Franz Marc, Samuel Butler
---
You may also like