Ox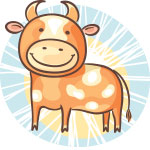 2021, 2009, 1997, 1985, 1973, 1961
---
Dec 1, 2022
Dec 2, 2022
Dec 3, 2022
---
Thursday, December 1, 2022
If you find yourself being pushed into situations that tax your limits, make sure they're worth the energy you expend. Repetitive stress injury, so to speak, is something you want to avoid, so do enough to get the job done properly and no more. The price of perfection may be dislocation elsewhere, so don't overdo it.
Ox Weekly Horoscope: Nov 28 to Dec 4, 2022
The first full week of any new lunar cycle is a time for looking to the future, for new beginnings and while the Moon is in its waxing or growth phase, to face the future with confidence and enthusiasm. Yet in the first full week of the nostalgic and reflective month of the Rat, you are also looking back. On the one hand, you are looking to the future and to both the month of the Ox and the start of a new personal 12 month lunar cycle next month while on the other hand, the month of the Rat is the final month in this current cycle. Starting the week with an Ox Moon just running its course is a glimpse of what is to come while giving you the motivation to start closing old doors and putting closure to this current chapter.
Ox Monthly Horoscope: December 2022
For the Ox, this is often the month when the lines between the past, present and future intersect and while others wait until the New Year for new beginnings, your personal New Year will come on 23rd December. Until then, the final weeks of the nostalgic and reflective month of the Rat are taking you on a trip down memory lane as this current personal 12 month lunar cycle moves into its final weeks. This is a time for closing old doors, completion and both learning and gaining what you need from the past before moving on. That chance will come when a New Moon on 23rd December will not only usher in the month of the Ox but with it, a new personal 12 month lunar cycle. An Ox Moon from 23rd December to 25th December will be a valuable chance to get your bearings as you shift your focus from the past and onto the future.
62

66

2

93

73

30

57

16

20
Power Numbers: 1, 33, 35, 38, 67, 68
Friendly Signs: Dragon & Goat
Beware of: Rabbit
Colour of the day: Medium Slate Blue
Born Today: Mary Martin, Woody Allen, Lou Rawls, Richard Pryor, Bette Midler, Jeanne Allen
---
You may also like