Ox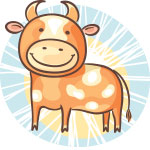 2021, 2009, 1997, 1985, 1973, 1961
---
Sep 29, 2022
Sep 30, 2022
Oct 1, 2022
---
Friday, September 30, 2022
Your drive for personal freedom and insistence on your rights is pressing, and a confrontation in which you have to stand up for yourself is likely. Rashness, sudden acts of anger or violence, and a tendency to try to do too much too fast are tendencies you need to carefully monitor at this time. Take some time and think before you let loose.
Ox Weekly Horoscope: Sep 26 to Oct 2, 2022
Just moving into the new working week under a competitive and professionally charged Dog Moon is going to get things off to a good start. However, while the Dog Moon itself will have run its course by Wednesday, Monday's New Moon is ushering in the month of the Dog and with it one of the most competitive and professionally charged months of the year. While the month of the Dog comes around once a year, for the first time in 12 years this falls during the lucrative Year of the Tiger. Not only does this create the potential for a lucrative month but the Tiger and the Dog are the best of friends so will be actively supporting each other.
Ox Monthly Horoscope: September 2022
While the New Moon that will bring the month of the Rooster to a close while ushering in the month of the Dog isn't until 25th September, there is such a contrast between the two that this will not just feel like a month of two halves but two separate realities. Until 25th September the adventurous month of the Rooster is in charge, with a need to fully embrace a sense of wanderlust, curiosity and adventure. The only downside to the month of the Rooster is that it only runs for four weeks. It is not just its adventurous influence that makes this special but the fact that the Ox and Rooster are the best of friends. When this ends this will usher in the competitive and professionally charged month of the Dog.
48

9

33

83

67

29

16

32

26
Power Numbers: 10, 18, 19, 26, 30, 49
Friendly Signs: Rabbit & Rooster
Beware of: Snake
Colour of the day: Chocolate
Born Today: Lewis Milestone, Deborah Kerr, Truman Capote, Angie Dickinson, Eric Stoltz, Jenna Elfman
---
You may also like