Ox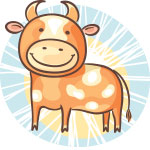 2021, 2009, 1997, 1985, 1973, 1961
---
Jan 19, 2022
Jan 20, 2022
Jan 21, 2022
---
Thursday, January 20, 2022
You could be assuming too much negativity about someone you work with or who lives close-by.Be aware that if you commit to doing more hours or to take on a larger workload, you'll be biting off more than you can chew.Be open to giving up a bad habit.
Ox Weekly Horoscope: Jan 17 to Jan 23, 2022
Monday's Full Moon might be challenging and you might find yourself under pressure but it is the right kind at the right time. This is the Full Moon that not only marks the halfway point of the month of the Ox but the final two weeks of the Year of the Ox and as a Goat Moon, which is your opposing sign, this could be confrontational. Yet it is by pushing your buttons and even creating some personal and/or relationship tension that this will make your needs more transparent. It is where you feel opposed or blocked on Monday and into Tuesday that your personal truth and needs will reveal themselves.
Ox Monthly Horoscope: January 2022
While this year might be slow to get going at first that is because for you it doesn't begin on New Year's Day but on 2nd January. The year not only begins under a nostalgic and reflective Rat Moon but with the final days of the month of the Rat and of your old personal 12 month lunar cycle still playing out. This is taking the wind out of your sails will offering a chance to catch your breath. That will change when an Ox Moon on 2nd January not only ushers in the month of the Ox and the start of a new personal 12 month lunar cycle but the final month of the Year of the Ox. This is when everything will come together with a surge of energy and a wave of momentum carrying you forward.
39

74

22

100

87

84

16

19

25
Power Numbers: 3, 17, 20, 40, 60, 68
Friendly Signs: Rooster & Dragon
Beware of: Dog
Colour of the day: Forest Green
Born Today: George Burns, Federico Fellini, Patricia Neal, Malcolm McLaren, Joy Adamson, Leadbelly
---
You may also like