Ox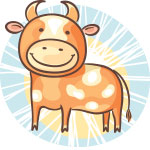 2021, 2009, 1997, 1985, 1973, 1961
---
Jun 25, 2022
Jun 26, 2022
Jun 27, 2022
---
Sunday, June 26, 2022
This is a good time to establish yourself today, both physically and emotionally.Pick a preferred pace that you can live up to, and your energy level will actually rise and your accomplishments grow with the energy available. Wise, intuitive decisions make you fuel like it's all about to come together.
Ox Weekly Horoscope: Jun 20 to Jun 26, 2022
While the Moon enters its final quarter, into its waning phase and with it the final seven days of this current lunar month on Tuesday, even the last full week of the month of the Horse is likely to be busy. The waning phase of any lunar month is when things start to wind down and as the lunar month draws to a close it becomes more about completion. However, during the busy and industrious month of the Horse things will never go completely off the boil, working until the end to inspire you to put everything you have into everything you do. An additional bonus is that as this is the Year of the Tiger, this could also be a lucrative week.
Ox Monthly Horoscope: June 2022
The busy and industrious month of the Horse began late last month but the Horse Moon that ushered this in is still running its course on 1st June. This makes this something brand new and after the fun, playful, romantic and creative month of the Snake dominated most of May, you are still adjusting to its busy work ethic. This might be a busy month but this will also be a good month for work and job matters or for anything that you put your time and energy into. Especially as for the first time in over a decade this is playing out during the lucrative Year of the Tiger. Not only are you more likely to benefit financially from your hard work, as the Tiger and Horse are the best of friends they will be helping each other out.
66

19

33

49

23

6

97

47

72
Power Numbers: 3, 19, 20, 23, 26, 56
Friendly Signs: Pig & Dog
Beware of: Rat
Colour of the day: Deep Pink
Born Today: Pearl S. Buck, Peter Lorre, Colonel Tom Parker, Chris Isaak, Greg Lemond
---
You may also like