Monkey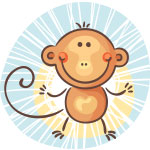 2016, 2004, 1992, 1980, 1968, 1956
---
Jan 19, 2022
Jan 20, 2022
Jan 21, 2022
---
Wednesday, January 19, 2022
You can gain a great deal of satisfaction through what you produce and how creative you are in that process just now.You're tapping into a new level of creativity which should be integrated into not only your working life but social and domestic experiences as well.This is a great couple of days for you.
Monkey Weekly Horoscope: Jan 17 to Jan 23, 2022
For the Monkey, the busy and industrious month of the Ox can be the busiest month of any lunar year and especially as you have also reached the final weeks of the Year of the Ox. Standing sentinel at the start of the week is not just a nostalgic and reflective Goat Moon but as a Full Moon, with a lot more influence than is normally the case. The Goat and Ox are opposing signs and as this Full Moon stands at the halfway point of the month of the Ox, they are going head to head, putting how well you know when to keep your work hat on and when to take it off to the test just as you move into what could be another busy week.
Monkey Monthly Horoscope: January 2022
There will be a significant sea change in the early days of the year that makes it important to embrace the final days of the fun, playful, romantic and creative month of the Rat, which will run its course on 2nd January. The year begins under a Rat Moon and this is the push needed to make the final days of this playful influence count but also future proof the coming month. For when the month of the Rat ends on 2nd January this will not only usher in the busy and industrious month of the Ox but the final month of the Year of the Ox. This will get the year off to a busy start, with the Rat first working to create a balance between work and play before it leaves.
69

60

2

48

41

50

24

29

26
Power Numbers: 16, 19, 27, 32, 40, 55
Friendly Signs: Ox & Tiger
Beware of: Goat
Colour of the day: Orchid
Born Today: James Watt, Tippi Hedren, Robert E. Lee, Edgar Allan Poe, Paul Cezanne, Janis Joplin, Dolly Parton
---
You may also like