Monkey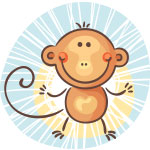 2016, 2004, 1992, 1980, 1968, 1956
---
Sep 29, 2022
Sep 30, 2022
Oct 1, 2022
---
Friday, September 30, 2022
Distance yourself from the influence of others. You need to reflect and ponder on some heavy issues, and you may appear pessimistic to those who see you deep in thought. If reflection turns to depression, turn to an older person who may be able to see the whole picture and help you in some way.
Monkey Weekly Horoscope: Sep 26 to Oct 2, 2022
Just starting the week under a Dog Moon is an advantage but even more so when Monday's New Moon is kicking off the month of the Dog. For the Monkey, the month of the Dog is the Swizz army knife of any lunar year, with a tool for every occasion. The Dog brings more mental clarity, making it easier to think on your feet, to communicate and express yourself. There isn't an area of your life that won't benefit from this, making you smarter and a lot more articulate. From your relationships to at work and everything in between, the Dog will have a positive impact over the next four weeks and especially during a Dog Moon on Monday and Tuesday.
Monkey Monthly Horoscope: September 2022
For the Monkey, the lucrative month of the Rooster can be a rich and positive month and not just financially. Always following on from the month of the Monkey, the Rooster gives you the confidence to start putting your intentions and resolutions into practice. With your confidence high you will find it easier to attract things your way, financially but also across all the currencies in your life. It is on 25th September that the month of the Rooster will make way for the month of the Dog, which for the Monkey is the Swizz army knife of any lunar year, with a tool for every occasion. The Dog makes it easier to express yourself, think on your feet and make smart choices, decisions and plans.
53

78

63

1

36

39

14

37

26
Power Numbers: 11, 17, 19, 30, 38, 60
Friendly Signs: Dog & Monkey
Beware of: Rabbit
Colour of the day: Lawn Green
Born Today: Lewis Milestone, Deborah Kerr, Truman Capote, Angie Dickinson, Eric Stoltz, Jenna Elfman
---
You may also like