Monkey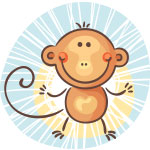 2016, 2004, 1992, 1980, 1968, 1956
---
Dec 8, 2021
Dec 9, 2021
Dec 10, 2021
---
Thursday, December 9, 2021
Mental concentration is excellent now. This is an optimum time for reading, writing, analyzing, and researching. The opportunity for quiet, disciplined activity presents itself now, and you should take full advantage of it.
Monkey Weekly Horoscope: Dec 6 to Dec 12, 2021
While Saturday's eclipsing New Moon has brought you to the start of the fun, playful, romantic and creative month of the Rat, something that comes around at roughly this time each year, this year has one not so subtle difference. For the first time in 12 years this is playing out during the busy and industrious month of the Ox and just to ensure you don't forget that an Ox Moon on Monday and Tuesday will bring that home. However, all this does is remind you just how important a balance between work and play is and as the month of the Rat only runs for four weeks, how important it is to embrace its influence. As the Monkey and Rat are part of the same triad of affinity, life should flow more smoothly if you let it.
Monkey Monthly Horoscope: December 2021
A New Moon will always bring one lunar month to a close while ushering in the next and as a New Moon comes around every four weeks, every calendar month will begin and end under a different influence. While the month begins under the influence of the month of the Pig and its focus on things close to home, this is contained to the very early days of the month, running its course on 4th December. This makes it important to make home, family and/or property matters a priority in the early days of the month. It is no ordinary New Moon that will usher in the fun, playful, romantic and creative month of the Rat on 4th December but a total solar eclipse, getting your attention from the start. You will remain under the Rat's influence for the rest of this year and into the early days of 2022.
60

69

16

10

19

7

97

98

66
Power Numbers: 9, 10, 23, 42, 46, 52
Friendly Signs: Monkey & Rooster
Beware of: Dog
Colour of the day: Light Sky Blue
Born Today: John Milton, Kirk Douglas, Redd Foxx, John Cassavetes, Joan Armatrading, Jakob Dylan
---
You may also like