Monkey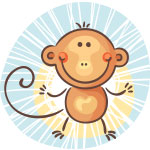 2016, 2004, 1992, 1980, 1968, 1956
---
May 29, 2023
May 30, 2023
May 31, 2023
---
Tuesday, May 30, 2023
You are serious and disinclined to frivolous or inconsequential activity. It's a time best spent working alone, structuring and organizing your life in some way, and focusing on whatever tasks (however distasteful or tedious) that you really need to do. You feel like withdrawing from people and find social situations unfulfilling or wasteful.
Monkey Weekly Horoscope: May 29 to Jun 4, 2023
As you move into the second but also the most potent week of the competitive and professionally charged month of the Snake, this could be a busy week. Whether at work or in the pursuit of your personal goals and ambitions, anything that you can channel your competitive spirit into is likely to be drawing your attention. What will help you prioritise is a lucrative Rooster Moon on Monday. Professionally a sense of where the money is will make it easier to work smarter, while outside of work as the Rooster and Snake are the best of friends, this will boost your confidence while giving you a better chance to prioritise your time in a way that works for you.
Monkey Monthly Horoscope: May 2023
Unless a New Moon falls very early in a calendar month, something that will bring one lunar month to a close while ushering in the next, you are going to have a month of two halves, with the energy at the start of the month different to how it ends. However, this time the difference couldn't be more extreme, in a month that begins under the influence of the adventurous month of the Dragon but ends under the influence of the competitive and professionally charged month of the Snake. While the month of the Dragon ends and the month of the Snake will start on 19th May, a Snake Moon from 17th May to 19th May will see the two overlap, allowing for an easier transition. In the meantime, this is a call to embrace the Dragon's passion for adventure and a hunger for life's richer experiences before things take a busier turn.
13

41

61

50

17

46

84

64

32
Power Numbers: 5, 13, 23, 30, 35, 48
Friendly Signs: Ox & Tiger
Beware of: Goat
Colour of the day: Crimson
Born Today: Howard Hawks, Mel Blanc, Benny Goodman, Wynonna Judd, Idina Menzel
---
You may also like