Monkey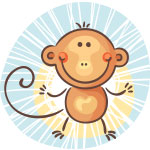 2016, 2004, 1992, 1980, 1968, 1956
---
Dec 1, 2022
Dec 2, 2022
Dec 3, 2022
---
Saturday, December 3, 2022
Stability and permanence satisfy a deep emotional need. Music is likely to play a more important role for you than usual, and a period of material acquisition can satisfy a deep yearning to be free from want. Envision what you need and it will appear for you right on time. Have faith, and you will have had reason to.
Monkey Weekly Horoscope: Nov 28 to Dec 4, 2022
A busy and industrious Ox Moon is just running its course on Monday, something that will get the new working week off to a good start but with the playful and creative month of the Rat helping to keep things in perspective. This is just the first full week of the month of the Rat, so you are still getting used to its influence, while the new lunar month is still in its waxing or growth phase. For the Monkey, this is one of the best months of any lunar year and not just because this puts the focus on matters of the heart and all things fun, playful, romantic and creative. The Monkey and the Rat are part of the same triad of affinity, with everything running more smoothly under its influence.
Monkey Monthly Horoscope: December 2022
In a way, this is a back to front month, in that the fun, playful, romantic and creative month of the Rat will be in charge until 23rd December when a New Moon will usher in the busy and industrious month of the Ox. This will see the Rat's fun, playful, romantic and creative influence run parallel with the final weeks of this professional year, while the busy and industrious month of the Ox will begin just as we are about to move into Christmas, New Year and the holiday period. However, the Rat will make it easier to maintain the right balance between work and play during what can be the busiest weeks of any year, while the Rat's influence will ensure you continue that lesson as you move into the busy month of the Ox. Meanwhile, a Tiger Moon is putting the focus on your relationships over Christmas itself.
Power Numbers: 1, 3, 5, 15, 36, 68
Friendly Signs: Rabbit & Monkey
Beware of: Rooster
Colour of the day: Crimson
Born Today: Robert Bloomfield, Joseph Conrad, Jean-Luc Godard, Ozzy Osbourne, Daryl Hannah, Katarina Witt, Anna Chlumsky
---
You may also like