Horse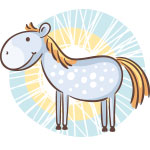 2014, 2002, 1990, 1978, 1966, 1954
---
Sep 29, 2022
Sep 30, 2022
Oct 1, 2022
---
Friday, September 30, 2022
All work and no play makes for a very dull star sign today. But there may be no other alternative unfortunately. Your personal energy and effort may be focused on your work just now. You might labor intensely on projects and assignments that are important to you. Since your attention is mostly aimed at fulfilling your own needs and ideas, you may inadvertently ignore those in your personal life for a little while.
Horse Weekly Horoscope: Sep 26 to Oct 2, 2022
While you might find it hard to keep your work hat on as you move into the new working week, a busy and industrious Pig Moon from Wednesday to Friday will soon allow you to catch up. Until then, it is not just about embracing a fun, playful, romantic and creative Dog Moon from Monday to Wednesday but the New Moon that is launching the month of the Dog. For the Horse, it isn't just the Dog's playful and creative influence that is important but the fact that it is part of your triad of affinity, with life naturally flowing more easily under its influence. While this comes around at this time each year, for the first time in 12 years this falls during the adventurous Year of the Tiger, also part of your triad of affinity.
Horse Monthly Horoscope: September 2022
This is one month where the best is being saved to last, creating a stark contrast between how the month begins and how it ends. The month of the Rooster will run through to 25th September and as well as putting the focus on home and family matters, the Rooster is all about duty and responsibility. While this is a good month for home and family matters you could be shouldering more responsibility. However, the month of the Rooster is always followed by the fun, playful, romantic and creatively charged month of the Dog and this year is no exception. Except, for the first time in 12 years this will play out during the adventurous Year of the Tiger. As the Dog and the Tiger are the best of friends, they are bound to have fun with this.
18

77

47

16

40

91

8

54

29
Power Numbers: 16, 17, 22, 30, 42, 46
Friendly Signs: Horse & Rabbit
Beware of: Rat
Colour of the day: Blue Violet
Born Today: Lewis Milestone, Deborah Kerr, Truman Capote, Angie Dickinson, Eric Stoltz, Jenna Elfman
---
You may also like