Horse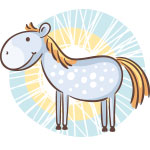 2014, 2002, 1990, 1978, 1966, 1954
---
Dec 8, 2021
Dec 9, 2021
Dec 10, 2021
---
Thursday, December 9, 2021
You are likely to experience an overwhelming happiness and friendship at this time.There is nothing too negative that can be said about the current influences and all seems lined up to assure you experience a rewarding period with few unwanted challenges or surprises.
Horse Weekly Horoscope: Dec 6 to Dec 12, 2021
Because the month of the Rat only began on Saturday's eclipsing New Moon this is something that you are still getting a feel for, with a chance to start in a way that is the most empowering for you. The Horse and the Rat are opposing signs and as the rat runs around its feet this can spook the horse, making this one of the more challenging months of any lunar year, especially if you fight it. In reality, the Rat is your friend and its job is to remind you of the intentions and promises that you made moving into this current personal 12 month lunar cycle six months ago. What you might perceive as criticism from others is your own inner voice as the Rat awakens your subconscious.
Horse Monthly Horoscope: December 2021
While the month might get off to a busy start this will ease back within days, giving you a chance to dial back from last month's breakneck speed. On the job front or with whatever it is that keeps you busy, this leaves you with plenty of momentum but once the month of the Pig ends on 4th December this will be something that you control rather than it control you. As the New Moon that brings the month of the Pig to a close and ushers in the month of the Rat is a total solar eclipse, this could see a fairly dramatic shift. The Rat is your opposing sign and six months after the month of the Horse kicked off this current personal 12 month lunar cycle, this is a chance to check in. The Rat will challenge you but where you need to be challenged. This also puts the focus on your relationships.
34

65

54

75

79

71

52

62

77
Power Numbers: 1, 9, 11, 13, 25, 45
Friendly Signs: Tiger & Rabbit
Beware of: Rat
Colour of the day: Royal Blue
Born Today: John Milton, Kirk Douglas, Redd Foxx, John Cassavetes, Joan Armatrading, Jakob Dylan
---
You may also like