Dragon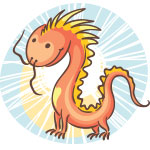 2012, 2000, 1988, 1976, 1964, 1952
---
May 24, 2022
May 25, 2022
May 26, 2022
---
Wednesday, May 25, 2022
An unconventional connection with someone in your social circle is developing today. Your instincts tell you to jump in and try something new, but your experiences have left a heavy weight upon your mind. Look to the future and discard the past.
Dragon Weekly Horoscope: May 23 to May 29, 2022
The final week of the month of the Snake will fit nicely into the week, with next Monday's New Moon ushering in the month of the Horse and with it a chance for a fresh start. Until then, there is a chance to make the most of what for the Dragon can be a lucrative month, but also a month where there is a lot of focus on all the currencies in your life and the things you value. The Snake works to build your confidence, knowing that you can't attract what you don't believe you deserve. In the meantime, a Dragon Moon from Wednesday to Friday is likely to have a rejuvenating effect and may even fire up your warrior and competitive spirit.
Dragon Monthly Horoscope: May 2022
Because the New Moons that bring one lunar month to a close and usher in the next fall at either end of May, the majority of the month will be dominated by the month of the Snake, which is rare. Normally what we have is a month of two halves, but May is almost totally dominated by the Snake. The month begins with a Snake Moon in effect and the eclipsing New Moon that gets the month off to an empowered start is in full effect on 1st May. For the Dragon, the month of the Snake can be a lucrative month but a rise in confidence and a belief in what you deserve can have a positive impact on all the currencies in your life. It is on 30th May that a Horse Moon will usher in the month of the Horse, with its focus on communication and all things intellectual coming into effect at the very end of the month.
75

95

17

56

21

52

96

22

74
Power Numbers: 3, 14, 25, 53, 54, 57
Friendly Signs: Dog & Goat
Beware of: Rooster
Colour of the day: Cadet Blue
Born Today: Thomas Moore, Ralph Waldo Emerson, Bennett Cerf, Rachel Carson, Robert Ludlum, Beverly Sills, Mike Myers
---
You may also like