Dragon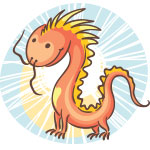 2012, 2000, 1988, 1976, 1964, 1952
---
Dec 9, 2023
Dec 10, 2023
Dec 11, 2023
---
Sunday, December 10, 2023
Attend social gatherings and spend time with people you care for. This will address your current need for affection and approval and will keep you from complicating situations that require an assertive approach.
Dragon Weekly Horoscope: Dec 4 to Dec 10, 2023
Away from the hype of last week's Full Moon and with the month of the Pig not ending until next week's New Moon, there is a chance to quietly get the most out of these remaining days. For the Dragon, the Pig has the focus on change and transformation, as well as on your financial situation and money matters. This is a chance to look at ways to change things up and especially when it comes to giving you more control. At the same time, with the adventurous month of the Rat drawing closer by the day, there is likely to be a sense of anticipation, as you start to crave a sense of freedom that will come with this.
Dragon Monthly Horoscope: December 2023
While the New Moons are starting to graduate more towards the start of the month, a New Moon on 13th December is still going to make this a month of two halves. This is also a month that is saving the best until last, with the New Moon on 13th December not only kicking off the adventurous month of the Rat, but this late in the year it means that this will run right through the holiday period and into the first two weeks of 2024. Until then, the final days of the month of the Pig offer a chance to focus on change and transformation, just as you are approaching the New Year. With this comes a sense that the hardest part of the year is behind you and that there are exciting times ahead.
53

59

20

41

56

90

26

58

3
Power Numbers: 2, 10, 23, 38, 59, 64
Friendly Signs: Snake & Pig
Beware of: Ox
Colour of the day: Pale Goldenrod
Born Today: Emily Dickinson, Chet Huntley, Dorothy Lamour, Michael Clarke Duncan, Emmanuelle Chriqui
---
You may also like