Dragon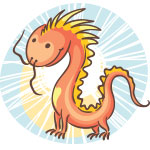 2012, 2000, 1988, 1976, 1964, 1952
---
May 29, 2023
May 30, 2023
May 31, 2023
---
Tuesday, May 30, 2023
This is your time to shine! You have an extra measure of energy and confidence now and will make a strong, good impression on those in your environment. This is a very good time to go for a job interview, go to social activities, or simply go out and be seen. You will be noticed more than usual.
Dragon Weekly Horoscope: May 29 to Jun 4, 2023
As you settle into the lucrative month of the Snake you will start to notice that it is not just about the money. For the Dragon, the Snake likes to enrich your life and give you the kind of confidence that allows you to attract what you believe you deserve. However, that includes across all the currencies in your life. In saying that, beginning the week under a busy, industrious and work focused Rooster Moon will get the week off to a good start on the income and job fronts. Yet the same enthusiasm that you can put into income and job matters you can also put into anything else that you care about.
Dragon Monthly Horoscope: May 2023
With the month of the Dragon not ending until 19th May and the Moon still in its early waxing or growth phase as you move into the new month, there is a new sense of enthusiasm and a call to embrace the future from the start. The month of the Dragon isn't just bringing you back to your native energy but to the start of a new personal 12 month lunar cycle, with an opportunity for new beginnings and for a reset. A Dragon Moon from 15th May to 17th May will help you get the most out of the remaining days and with the Moon in its waning phase, this will be a time for tying up loose ends, completing what you can and putting others on the right track. It is two days later that a New Moon on 19th May will usher in the lucrative month of the Snake.
Power Numbers: 9, 14, 30, 36, 38, 42
Friendly Signs: Rooster & Dog
Beware of: Rabbit
Colour of the day: Bisque
Born Today: Howard Hawks, Mel Blanc, Benny Goodman, Wynonna Judd, Idina Menzel
---
You may also like