Dragon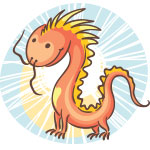 2012, 2000, 1988, 1976, 1964, 1952
---
Feb 1, 2023
Feb 2, 2023
Feb 3, 2023
---
Thursday, February 2, 2023
Your emotional security depends upon your financial security at this time. Use your imagination to earn money. You could benefit through financial matters concerning antiques, real estate, your mother and women. Open a new savings account earmarked for your own special needs. Spend more on your home and family, and spend some time figuring out your financial condition and long term fiscal goals. It's an excellent time to get customers to flow to your business.
Dragon Weekly Horoscope: Jan 30 to Feb 5, 2023
As you move into the second week of the Year of the Rabbit you will be starting to get a feel for its influence and more importantly, how you are coping with its slower and more relaxed pace. For the Dragon that always wants to be on the go, the Rabbit's slower approach to things can be frustrating but is also just what you need and especially after the busy Year of the Tiger. With the month of the Tiger still in effect for another three weeks life will remain busy, but there will be a greater appreciation of when you need personal space and how empowering time out to hear yourself think can be. Yet the Tiger will also keep you socially connected, giving you the best of both worlds.
Dragon Monthly Horoscope: February 2023
While the social and serendipitous Year of the Tiger ended and the more nostalgic and reflective Year of the Rabbit began last month, there is still a crossover between the two. Until the New Moon on 20th February brings the month of the Tiger to an end, its influence is still there but in a way that has to fit into the Rabbit's rule. At the same time, while this has brought you to the final year of your personal 12 year lunar cycle and this is a year for closing old doors and bringing closure as you prepare for the Year of the Dragon next year, it is not until the month of the Rabbit begins on 20th February that you will feel its full influence. Until then, there is a chance to make the most of both.
71

38

81

72

27

4

85

37

44
Power Numbers: 2, 10, 39, 44, 64, 69
Friendly Signs: Tiger & Snake
Beware of: Horse
Colour of the day: Dark Gray
Born Today: James Joyce, Jascha Heifetz, Ayn Rand, James Dickey, Graham Nash , Farrah Fawcett-Majors, Christie Brinkley
---
You may also like