Dog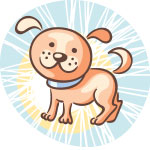 2018, 2006, 1994, 1982, 1970, 1958
---
Dec 8, 2021
Dec 9, 2021
Dec 10, 2021
---
Thursday, December 9, 2021
What may appear to be bad news today could actually turn out to be a blessing in disguise.Someone who has been feeling incredibly down in the dumps suddenly takes on a new attitude.Plans could be made to change residence, or renovate/ redecorate your abode.Be brave with color.
Dog Weekly Horoscope: Dec 6 to Dec 12, 2021
Because the month of the Rat only began on Saturday's eclipsing New Moon, this is something that you are adjusting to though as a total solar eclipse, this has given this exciting month a jump start. For the Dog, this is the Swiss Army knife of any lunar month, with a tool for every occasion. The Rat can make you smarter, more articulate and also easier to think on your feet, finding the right words, answers or solutions at the right time. You are likely to be one step ahead of the rest of us and in all you do, from your personal to your professional life the Rat is giving you a tool for every occasion.
Dog Monthly Horoscope: December 2021
The lucrative month of the Pig comes to an end on 4th December, making it important to start the month believing in yourself. While this can be a lucrative month, the Pig's main focus is on instilling a sense of confidence and a belief in what you deserve. As you can't attract what you don't believe you deserve, by working from within the Pig allows you to attract more and not just financially. The Pig has been working to attract what you deserve across all the currencies in your life. Meanwhile, the eclipsing New Moon on 4th December will usher in the month of the Rat, which for the Dog is the Swiss army knife of any lunar year. The Rat can make you smarter and more articulate, something that will benefit almost every aspect of your life.
29

78

59

20

32

19

66

10

47
Power Numbers: 9, 20, 31, 40, 41, 48
Friendly Signs: Tiger & Rat
Beware of: Pig
Colour of the day: Violet
Born Today: John Milton, Kirk Douglas, Redd Foxx, John Cassavetes, Joan Armatrading, Jakob Dylan
---
You may also like