Dog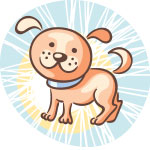 2018, 2006, 1994, 1982, 1970, 1958
---
May 29, 2023
May 30, 2023
May 31, 2023
---
Tuesday, May 30, 2023
It's a time for opening up and socializing some.Making new friends, exploring new avenues of communications and developing your existing affiliations are on the cards right now.New contacts will bring you new opportunities, and established relationships will provide support for your endeavors.
Dog Weekly Horoscope: May 29 to Jun 4, 2023
The second week of any lunar month is always the most expansive and a time when you can invest as much as possible and then, on the other side of the Full Moon start to narrow down your focus. In this case, the month of the Snake is not only putting the focus on change and transformation but on your financial situation and money matters, with the two sometimes overlapping. This makes this a good week for implementing any changes you might want to make on the financial front but also on the personal front as well. Starting the week under a Rooster Moon will make it easier to prioritise.
Dog Monthly Horoscope: May 2023
While the month of the Dragon is not the easiest month of any year for you, it is ultimately one of the most empowering and by the time it ends on 19th May, there will be a chance for a reset. The Dragon and the Dog are opposing signs, so it is hard for your energies to mesh and it can often feel like your own needs aren't being met. Yet this is what makes this such an empowering month because in the process this is making those needs more apparent and just as at the halfway point in this current personal 12 month lunar cycle, there is an opportunity for a reset. The month of the Dragon will end on 19th May, ushering in the month of the Snake and its focus on not just change and transformation but on your financial situation and money matters. This is when you can start making those changes that the Dragon has woken you up to.
28

93

92

56

82

96

41

85

84
Power Numbers: 4, 20, 29, 30, 53, 58
Friendly Signs: Rat & Dog
Beware of: Monkey
Colour of the day: Alice Blue
Born Today: Howard Hawks, Mel Blanc, Benny Goodman, Wynonna Judd, Idina Menzel
---
You may also like